Global intraocular lens market size was valued at USD 6,887.0 million in the year 2019 and is anticipated to grow at a CAGR of 5.9% over the forecast period of 2020 to 2026. The rise in the number of technological advancements such as extended depth of focus and custom cataract lens from the manufacturers has proliferated the demand for the intraocular lens across the globe.
North America currently holds the majority of the market share and is projected to witness similar trend over the forecast period. However, Asia Pacific is expected to exhibit the fastest revenue growth in the intraocular lens market. In the Asia-Pacific region, China and India are expected to show the fastest growth. Some of the key driving forces in emerging countries for the intraocular lens market are an increase in geriatric population, government initiatives to include eye care in social security systems, an increase in number of cataract cases and a projected increase in diabetic population.
Diabetic patients are prone to diabetes retinopathy, macular degeneration, and cataract disease. Therefore, a risk to the increase in the diabetic population results in an increased need for intraocular lenses. According to the International Diabetes Federation, India had a diabetic population of 50.8 million while the Eastern and Western regions of the Asia Pacific accounted for 59 million and 77 million diabetic patients, respectively.
The medical tourism industry and the massive pool of patients in the region are some of the other factors contributing highly to growth of the market. Increasing government and non-governmental organizations initiatives to deliver affordable and effective eye care facilities in the Asia-Pacific region are also projected to augur market growth over the forecast period.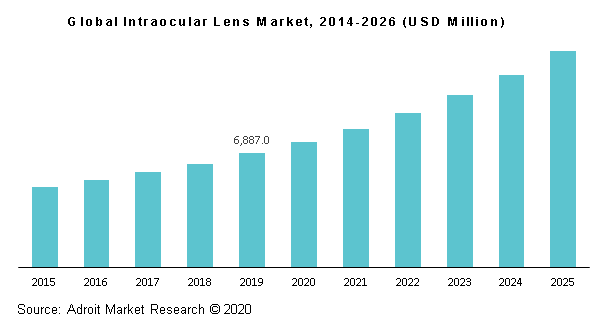 In terms of material, hydrophobic acrylic segment accounted for 59.2% of revenue and is anticipated to grow at a CAGR of 6.2% over the forecast period. On the other hand, Hydrophilic acrylic segment is anticipated to grow with the fastest CAGR of 6.7% compared to counterparts by 2026.
In terms of product, monofocal intraocular lens dominated the global market by contributing 83.5% revenue in 2019 and is likely to maintain its market leadership in coming years. High acceptance rates for the same in European countries is predicted to fuel the market growth in coming years.
In terms of end user, hospital segment dominated the global market later followed by ophthalmic clinics, ambulatory surgical centers, and research and academia. Of all, ambulatory surgical centers are likely to emerge as the most lucrative segment and is likely to grow at a CAGR of 7.4% over the forecast period.
The global intraocular lens market is consolidated in nature with major players accounting for over 60% of the overall market share. Key players within the market include Alcon, Inc., Johnson & Johnson, Bausch & Lomb, Inc., and Carl Zeiss Meditec AG. Key players are concentrating on new product launches and acquisitions to expand their presence. For instance, in October 2019, Johnson & Johnson Vision Care launched TECNIS Eyhance™ monofocal intraocular lens in India to deliver high-quality distance vision along with better low-light contrast. Furthermore, In December 2019, Bausch & Lomb launched a new product VYZULTA® (latanoprostene bunod ophthalmic solution, 0.024%) under the Ontario Public Drug Benefit (ODB) Program, which will help to reduce intraocular pressure (IOP) in patients with open-angle glaucoma or ocular hypertension. Such strategies are likely to increase the penetration of global leaders in untapped markets.
Key Segments of Global Intraocular Lens Market
Product Overview, 2014-2026 (USD Million)
Monofocal Intraocular Lens
Multifocal Intraocular Lens
Toric Intraocular Lens
Accomodative Intraocular Lens
Material Overview, 2014-2026 (USD Million)
Hydrophobic acrylic
Hydrophilic acrylic
PMMA
Silicone
End Use Overview, 2014-2026 (USD Million)
Hospitals
Ophthalmic Clinics
Ambulatory surgery Centers
Research and Academia
Regional Overview, 2014-2026 (USD Million)
North America
Europe

Germany
United Kingdom
France
Italy
Spain
Russia
Poland
Rest of Europe

Asia Pacific

China
Japan
India
Malaysia
Singapore
Philippines
Indonesia
Thailand
Vietnam
Rest of Asia Pacific

Central and South America

Brazil
Mexico
Colombia
Rest of Central and South America

Middle East & Africa

Saudi Arabia
UAE
Turkey
Egypt
South Africa
Nigeria
Rest of Middle East and Africa