The global intraocular lens market was valued at USD 6,887.0 million in the year 2019 and is anticipated to grow at a CAGR of 5.9% over the forecast period of 2020 to 2026. Growth in number of cataract patients coupled with other medical conditions such as diabetes causing retinopathy is anticipated to drive the global market for intraocular lenses in coming years.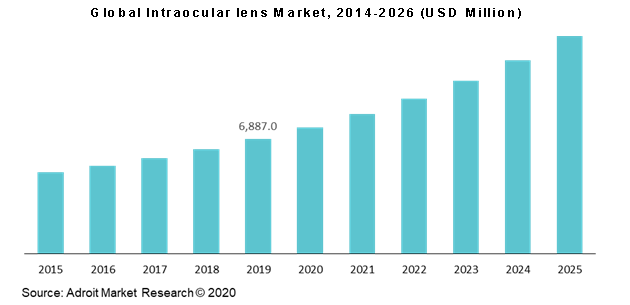 Despite several years of optimization of the results of cataract surgery and several IOL technology advances taking place, achieving the optimal refractive outcomes still pose challenges. Several studies suggest that only half of the patients lie in the high satisfaction range of attaining ideal eyesight.
It's being expected that by 2030, the Intraocular lens market cap will hit $5,067.05 billion at a CAGR growth of about 5.17%
Some of the major technological developments rendering positive growth opportunities in this space are mentioned ahead. Pseudoaccomodative multifocality technology and its latest models improve visual quality with proven patient satisfaction. The latest FluidVision technology exploits the concept of fluid dynamics in the lens in response to the forces in the capsule. The Juven accommodating intraocular lens (LensGen), addresses the issue of size, and splits the lens in two different components that can in inserted through small incisions. This lens assists in regaining near vision without dysphotopsia. Variation in the biometry at present remains the major source of error in effective lens positioning. The Gemini refractive capsule (from Omega Ophthalmics) is a silicone based 3D platform capsular tensioning ring, which is implanted post cortex removal. This helps in keeping the capsular bag open in a natural conformation while effectively holding the lens at the desired position.
Intraocular lens Market Scope
| | |
| --- | --- |
| Metrics | Details |
| Base Year | 2022 |
| Historic Data | 2020-2021 |
| Forecast Period | 2022-2030 |
| Study Period | 2020-2030 |
| Forecast Unit | Value (USD) |
| Revenue forecast in 2030 | $5,067.05 billion |
| Growth Rate | CAGR of 5.17 % during 2022-2030 |
| Segment Covered | By Type, by Material, By End-Use, Region. |
| Regions Covered | North America, Europe, Asia Pacific, South America, Middle East and Africa |
| Key Players Profiled | Alcon, Inc., Aurolab, Bausch + Lomb, Carl Zeiss Meditec, EYEKON MEDICAL, INC., HOYA Corporation, HUMANOPTICS AG., Johnson & Johnson Vision Care, Inc., LENSTEC, INC., NIDEK CO., LTD., Oculentis GmbH, Ophtec BV, PhysIOL, Rayner Intraocular Lenses Limited, STAAR Surgical Company |
Key Segment Of The Intraocular lens Market
By Type, 2022-2030 (USD Million)
• Monofocal Intraocular Lens
• Multifocal Intraocular Lens
• Accommodating Intraocular Lens
• Phakic Intraocular Lens
• Others
By Material, 2022-2030 (USD Million)
• Hydrophobic Acrylic
• Hydrophilic Acrylic
• Polymethylmeth Acrylate (Pmma)
• Others
By End User, 2022-2030 (USD Million)
• Hospitals
• Ophthalmic Clinics
• Ambulatory Surgical Centers
• Others
Regional Overview, 2022-2030 (USD Million)
North America
• US
• Canada
Europe
• Germany
• France
• UK
• Rest of Europe
Asia Pacific
• China
• India
• Japan
• Rest of Asia Pacific
South America
• Mexico
• Brazil
• Rest of South America
Middle East and South Africa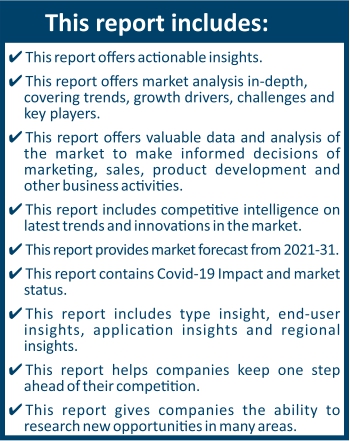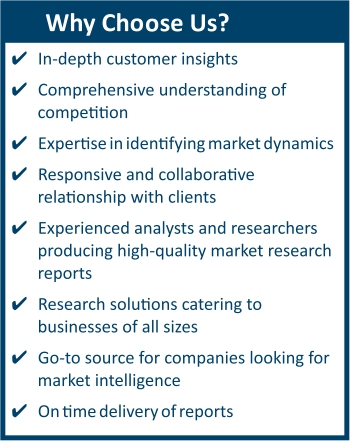 Frequently Asked Questions (FAQ) :
the intraocular lens market is growing at a CAGR of 5.9% during the forecast period
The major contenders in the global intraocular lens market Alcon, Inc., Johnson & Johnson, Bausch & Lomb, Inc., and Carl Zeiss Meditec AG.
North America dominated the market for intraocular lens market and accounted for the largest revenue share.
The global intraocular lens (IOLs) market is anticipated to progress at a CAGR of 5.9% during the forecast period between 2020 and 2026. Some of the key factors supporting the growth of this market is increasing incidence of ophthalmic conditions such as cataract, macular degeneration etc. High prevalence of obesity and diabetes also leads to high risk and incidence of ophthalmic conditions. Rowing prevalence of cataract contributes to huge economic and social burden, globally. This has led to introduction of different initiatives by governments and healthcare bodies and organizations regarding early diagnosis and treatment of cataract. Vision 202 is one of such initiatives by the International Agency for the Prevention of Blindness. This movement aims at elimination of the causative factors for emergence of avoidable blindness. There is also an active participation from governments to achieve such target through initiating eye check up camps, awareness programs etc. such movements are anticipated to drive the global intraocular lens market. Conversely, lack of reimbursements or copayments, and high costs of premium IOLs restrict the market from growing at its full potential. Further cost containment, and improving awareness in the emerging economies shall open new growth opportunities in the near future.
The global intraocular lens market is consolidated in nature with major players accounting for over 60% of the overall market share. Key players within the market include Alcon, Inc., Johnson & Johnson, Bausch & Lomb, Inc., and Carl Zeiss Meditec AG. Key players are concentrating on new product launches and acquisitions to expand their presence. For instance, in October 2019, Johnson & Johnson Vision Care launched TECNIS Eyhance™ monofocal intraocular lens in India to deliver high-quality distance vision along with better low-light contrast. Furthermore, In December 2019, Bausch & Lomb launched a new product VYZULTA® (latanoprostene bunod ophthalmic solution, 0.024%) under the Ontario Public Drug Benefit (ODB) Program, which will help to reduce intraocular pressure (IOP) in patients with open-angle glaucoma or ocular hypertension. Such strategies is likely to increase the penetration of global leaders in untapped markets.
Monofocal intraocular lens are the most commonly used lens in a majority of the cases. Similar opinion is also shared by a majority of ophthalmic surgeons worldwide. Ease of use, and consistency in surgical outcomes form the key factors for high preference by surgeons to monofocal intraocular lens. Some popular brands in this space are the Alcon IQ Aspheric IOL, J&J Vision Tecnis one-piece lens, B+L enVista, SofPort AO, and Akreos AO. The lens mostly fold slowly, have acrylic material and thus have less chances of causing inflammation or interference with silicone oil retinal procedures. Monofocal lens are more preferred as they are mostly fully covered by insurance.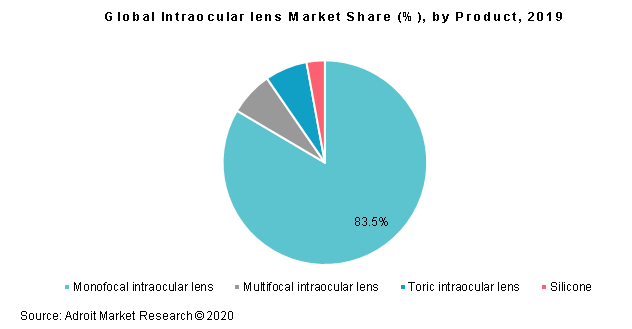 Based on regions, the global intraocular lens market is segmented into North America, Europe, Asia Pacific, Central and South America and Middle East & Africa.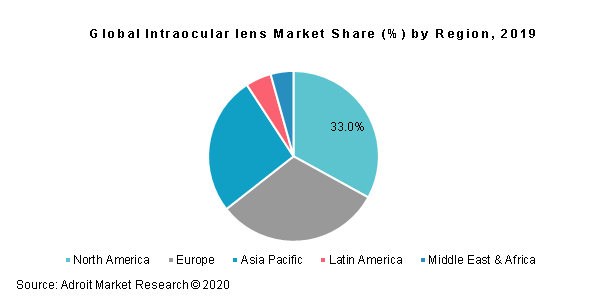 U.S. dominates the intraocular lens market across the North American region and is anticipated to grow at a CAGR of 5.3% over the forecast period. The market is forecasted to surpass mark of USD 2.5 billion by the year 2026. The rise in the number of technological advancements such as extended depth of focus and custom cataract lens from the manufacturers has proliferated the demand for the intraocular lens in the North America market.
The United States recorded around 7.7 million diabetic retinopathy cases and 24 million cataract cases in the year 2018, according to the National Eye Institute, and is forecast to reach 11.3 million and 38 million by the year 2030, respectively. In addition, the American Association of Ophthalmology states that a cataract is reported to be the major cause of visual impairment at the global level, and geriatric eye problems among the people is emerging as a prime factor in some of the developing countries. It is therefore predicted that such an improvement in ophthalmic conditions would drive the U.S. market growth for the intraocular lenses over the forecast period.