The global inorganic polymers market is estimated to reach the USD 31.69 billion by 2026, at a CAGR of 4% during the forecast period from 2020 to 2026. Polymer is a chemical that is widely employed in almost all industries, including aerospace, medical, packaging, construction, electrical appliances, automotive, and medicinal. A polymer with no carbon in its skeletal structure is known as an inorganic polymer. Low temperature flexibility, electrical conductivity, and nonflammability are all characteristics of inorganic materials. Smart inorganic polymers are inorganic polymers with unique turnable response features. Polymerization, which includes step growth, chai growth, and ring-opening polymerization, is used to produce them.
Inorganic polymers industry growth is expected to be boosted by factors such as increasing adoption in petrochemical and medical sectors in emerging countries throughout the world, as well as the usage of inorganic polymers in the aerospace, consumer products, and personal care industries across the world. Strength, elasticity, fiber-forming characteristics, film-forming characteristics, and other characteristics are all attributes of inorganic polymers. These properties support the extensive usage of polymers in a variety of sectors, which is a primary driver of inorganic polymer demand growth. Inorganic polymers, such as polydimethylsiloxanes, are widely used in the cosmetic and cosmetics industries, propelling market expansion throughout the projection period. In addition, inorganic polymers such as silicone rubber are employed as wire and cable jacketing in the electrical industry for safety reasons. Because of its strong flammability features, the main constraint of inorganic polymers is the risk of fire.
Inorganic polymers are expected to become more widespread as the global need for inorganic polymer is rising in various end use sectors including electronics and building and construction sectors at a rapid pace. In China, India, the United Kingdom, the United States, Germany, and other countries, inorganic polymers are extensively used. The presence of important companies in these countries, as well as expanding demand for inorganic polymers in a variety of end-use sectors, are boosting in the growth of the target sector in these countries. Furthermore, to obtain a competitive edge around the world, the leading players are focused on new product development, which is a crucial driver driving the market's worldwide expansion.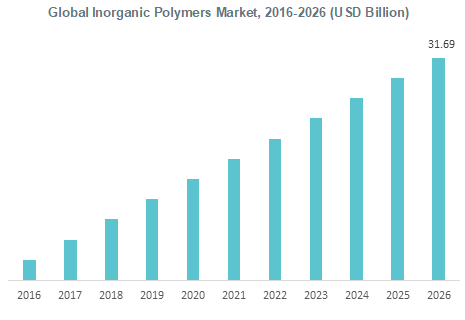 Adroit Market Research report on global inorganic polymers market gives a holistic view of the market from 2016 to 2026, which includes factors such as market drivers, restraints, opportunities and challenges. The market has been studied for historic years from 2016 to 2018, with the base year of estimation as 2019 and forecast from 2020 to 2026. The report covers the current status and future traits of the market at global as well as country level. In addition, the study also assesses the market based on Porter's five forces analysis and positions the key players based on their product portfolio, geographic footprint, strategic initiatives and overall revenue. Prominent players operating in the global inorganic polymers market have been studied in detail.
The worldwide inorganic polymers market may be divided into three main segments including types, class, and applications. The inorganic polymers industry by type includes chalcogenide glass, siliconesm, boron polymers, graphite, and others. On the basis of class the global industry is segregated into polysilanes, polyphosphazenes, polysiloxanes, and polygermanes and polystannanes. The global industry is further divided into building and construction, medical and healthcare, industrial processes, electronics, aerospace and defense, personal care and consumer products among others applications. Medical and healthcare applications are anticipated to grow at significant growth rate owing to increasing demand for these polymers in the manufacturing of various medical devices used in the treatment of COVID-19. These factors are projected to propel the inorganic polymers industry's expansion during the next ten years.
Asia Pacific dominated the global inorganic polymers market in terms of geography. Inorganic polymer are being more widely used in numerous end-use sectors, including as medical, construction, petrochemical, and consumer electronics, in the China, India, Japan and other Asian nations. Furthermore, North America is expected to register significant growth rate in the target industry during the forecast period of time. This surge is due to a steady increase in demand for industrial processes, consumer products and electronics, among North American countries, particularly in the U.S. Furthermore, rising adoption in medical sector as well as the presence of key companies in the area, are two important drivers driving the inorganic polymers industry's growth in Europe. Ashland Global Inc. DiamondPuber, KCC Corp, A.L.M.T, Tony Arkemafrance S.A. Asahi Diamond, WackerChemie Ag, HEG Ltd. Rogers Corp, SGL Carbon Se, Tokai Carbon CO. LTD. The Dow chemical Co. BASF Se, Evonik Industries Ag, and Graftech International Ltd. are all major participants in the worldwide inorganic polymers industry. To gain a solid position in the global market, major companies in the target sector are implementing numerous organic and inorganic tactics.
Key Segments of the Global Inorganic Polymers Market
Type Overview, 2016-2026 (USD Billion)
Silicones
Graphite
Chalcogenide Glass
Boron Polymers
Others
Class Overview, 2016-2026 (USD Billion)
Polysilanes
Polysiloxanes
Polyphosphazenes
Polygermanes and Polystannanes
Application Overview, 2016-2026 (USD Billion)
Medical and Healthcare
Electronics
Building and Construction
Personal Care and Consumer Products
Aerospace and Defense
Industrial Processes
Others
Regional Overview, 2016-2026 (USD Billion)
North America
Europe

Germany
United Kingdom
France
Rest of Europe

Asia Pacific

China
Japan
India
Rest of Asia Pacific

Latin America

Brazil
Mexico
Rest of Latin America

Middle East & Africa