The global home healthcare market is estimated to reach the USD 500 billion mark by 2026, at a CAGR of 8.2% during the forecast period from 2020 to 2026. The growth of this market is mainly attributed to the proven cost efficiency of home care as against institutional care, along with providing optimum comfort and restoration to the patient. As the global geriatric population pool is growing, so is the rate of chronic diseases. Such diseases and other age-related conditions require perpetual medical care and assistance and the need to contain healthcare expenditure is bringing home healthcare into the mainstream.
As the overall life expectancy improves, the geriatric population is expected to eventually outnumber the youth and children population. This scenario will lead to a significant challenge to the public health system worldwide, in terms of cost and the number of institutions to be set up, along with a significant requirement of healthcare workers. This has led to the future contingent need for aggressive preference for home healthcare. The demand for homecare services shall continue to grow as the patients with disabilities and age-related conditions increase. Furthermore, improvement in the quality of home healthcare services and tools work as another growth catalyst. This has led to emergence of more healthcare companies offering home care services. Existing companies offering primary care, assisted living and hospice facilities are also witnessed to be entering into this space.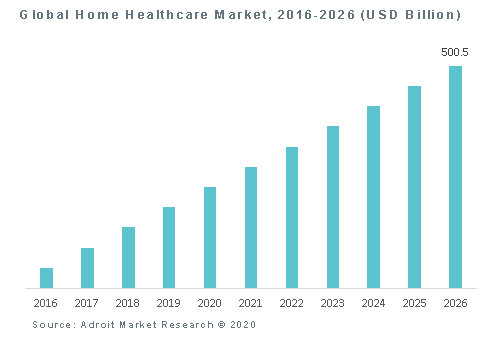 Adroit Market Research report on global home healthcare market gives a holistic view of the market from 2016 to 2026, which includes factors such as market drivers, restraints, opportunities and challenges. The market has been studied for historic years from 2016 to 2018, with the base year of estimation as 2019 and forecast from 2020 to 2026. The report covers the current status and future traits of the market at global as well as country level. In addition, the study also assesses the market based on Porter's five forces analysis and positions the key players based on their product portfolio, geographic footprint, strategic initiatives and overall revenue. Prominent players operating in the global home healthcare market have been studied in detail.
In the current scenario, the global home healthcare market can be classified into equipment and services segments. The equipment market is further categorized into various sub-classes of therapeutic and diagnostic devices. Between equipment and services, the latter segment dominates the global market. There is a consistently growing demand for skilled medical personnel in home care settings for primary care, and palliative care alike. Furthermore, the need for physiotherapists and occupation therapists providing good home care services is also growing. Skilled nurses are increasingly required for rehabilitation services such as wound care, feeding, etc. Post-acute care patients are also anticipated to opt for home care services in order to contain healthcare expenses.
Major players operating in the global home healthcare market are Nihon Kohden Corporation, Omron Corporation, Koninklijke Philips N.V., Shenzhen Mindray Bio-Medical Electronics Co., Ltd., OSI Systems, Inc., Welch Allyn, Medline Industries, F. Hoffmann-La Roche Ltd., Smiths Medical, ALTEN Calsoft Labs, Abbott, Boston Scientific Corporation, American TeleCare, Dräger Medical, Honeywell Life Care Solutions, GE Healthcare, Johnson & Johnson Services, Inc., Masimo, Medtronic Plc and LifeWatch.
Key Segments of the Global Home Healthcare Market
Product Overview, 2016-2026 (USD Million)
Equipment

Diagnostics Devices

BP Monitors
Glucose Monitors
Multiparameter Monitors
Apnea and Sleep Monitors
Heart Rate Monitors
Others

Therapeutic Devices

Respiratory Assistance
IV Pumps
Insulin Devices
Dialysis Equipment
Mobility Assist Devices
Others

Services

Nursing Care
Physical and Occupational Therapy
Nutrition and Diet
Primary Care
Supportive Care
Others
Regional Overview, 2016-2026 (USD Million)
North America
Europe

Germany
United Kingdom
France
Rest of Europe

Asia Pacific

China
Japan
India
Rest of Asia Pacific

Latin America

Brazil
Mexico
Rest of Latin America

Middle East & Africa