Global glass packaging market is set to reach USD 135,519.2 Million by 2025 growing at CAGR of 5.7%. Rising demand for alcoholic beverages and to reduce the problem of plastic pollution, demand for glass packaging has increased. However, almost 50% market is acquired by plastic in packaging industry, because plastic is prefer to glass owing to its non-brittle and non-fragile nature. Glass is prepared by these operations, such as action, melting, sharping, annealing and finishing. Glass is available in transparent and in various colours, such as amber and green colour. Glass packaging is also available in various size and shapes of the bottle.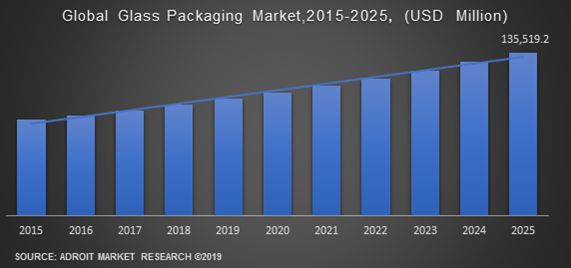 Global glass packaging market is segmented into application wise and region wise. Application segment includes industries such as pharmaceuticals, food and beverage and alcoholic beverages. Where dominating industry is alcoholic beverages in global glass packaging market. Half of the share of glass packaging is covered by the alcoholic beverages industry in global glass packaging market. Beer packaging also contributes to the global glass packaging market owing to the increased consumption of beer worldwide. Most of the beer brands has glass packaging but there are metal containers also available in the market. Which is hampering the global glass packaging market.
Glass packaging is widely used in pharmaceutical industry. Ampules and vials are made up of glass. Furthermore other liquid formulation required glass packaging to protect the drug from contamination. Hence, pharmaceutical industry is also contributes to the overall glass packaging market.
In food and beverage industry various glass bottles and jars are used in food packaging. It is approved by healthcare regulatory agencies worldwide. In cosmetic industry, perfume is widely uses glass packaging to protect the fragrance of the perfume and to make it more attractive. Perfume packaging has highest share in cosmetic industry in case of glass packaging. Hence, it is also contributes to the global glass packaging market.
Glass recycling is easier in compare to plastic. As plastic is creating pollution and it is unable to decompose, glass packaging is most preferable. Recycled glass can be used 40 times at least for making of container again.
Asia-Pacific region is the largest market for global glass packaging because of its growing urbanization and alcohol consumption due to increased disposable income.
Europe is fastest growing market in global glass packaging industry, owing to developed economy. It is expected to show similar trend over the forecast period. Consumer prefers glass packaging over plastic packaging due to hazardous nature of plastic.
Competitive landscape
Owens-Illinois, Inc.
Vidrala SA
Ardagh Packaging Group PLC
AGI Glaspac
Hindustan National Glass & Industries Ltd
Vitro
Consol Glass
Nampak Ltd
Amcor Ltd
Toyo Glass Co. Ltd.
Key segments of the global glass packaging market
Application Overview, 2015-2025 (USD Million) (Kilo Tons)
Alcoholic beverages (excluding beer)
Beer
Food & beverages
Pharmaceuticals
Others
Regional Overview, 2015-2025 (USD Million) (Kilo Tons)
North America
Europe
Asia Pacific
Rest of the World