The global food emulsifiers market size is estimated to be worth USD 4,001.4 Million by 2025. The global food emulsifiers market is growing, due to rise in consumption of bakery products and demand for processed food. The global food emulsifiers market is majorly driven by increasing investment in food and beverage industry. Additionally, rising demand for convenience foods across the world is boosting the overall food emulsifiers market. On the basis of application, the use of bakery and confectionery products are more and largest growing application of food emulsifiers market.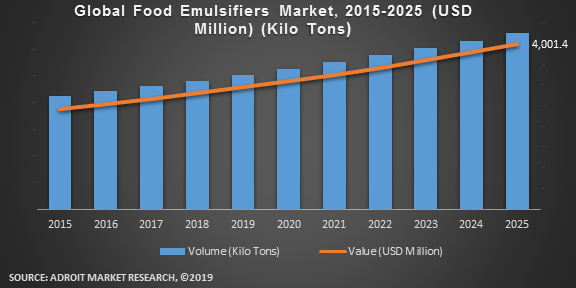 Changing lifestyle is the major factor for rising demand of processed food. Emulsifiers used to bind water & oil, improve the tolerance & efficiency of the product, and enhance shelf life of food, makes it preferred choice as a food additives.
Stearoyl lactylates are expected to witness fastest growing segment among the major food emulsifiers market types by 2025. Mono,di-glycerides & derivatives was dominating the global food emulsifiers market in 2018. It is estimated to show similar growth over the forecast period.
Increasing demand for innovative gluten-free baked products with improved shelf-life have escalated the growth of food emulsifiers market. However rules and regulation for food additives is the biggest hurdle faced by the food emulsifiers market. Manufacturers must need to follow the criteria given by the various FDA (Food and Drug Administration) across the world.
Geographically food emulsifiers market trends differ across the region. North America is projected to the largest market for food emulsifiers market, at an estimated volume of 384.95 Kilo tons in 2025, owing to broad consumer base, continued increase in disposable income as well as developed economy contributes to the global emulsifiers market.
The global food emulsifiers market is highly fragmented due to presence of large number of players. The key players are DuPont, Cargill, Incorporated, RIKEN VITAMIN Co., Ltd, Palsgaard A/S, Lonza Group, Kerry Inc., BASF SE, LASENOR EMUL, S.L, Futura Ingredients (Singapore) Pte Ltd. and Estelle Chemicals Pvt. Ltd. Developed innovation in global food emulsifiers market has opened up for new opportunities for the entire growth of new players in the global food emulsifiers market.
Key segments of the global food emulsifiers market
Type Overview, 2015-2025 (Kilo Tons) (USD Million)
Mono, Di-Glycerides & Derivatives
Lecithin
Stearoyl Lactylates
Sorbitan Esters
Others
End-use Overview, 2015-2025 (Kilo Tons) (USD Million)
Bakery & Confectionery
Convenience Foods
Meat Products
Dairy Products
Others
Regional Overview, 2015-2025 (Kilo Tons) (USD Million)
North America
Europe

Germany
France
UK
Italy
Rest of Europe

Asia Pacific

India
Japan
China
Rest of APAC

Latin America
Rest of the World