The global food emulsifier market accounted for a market revenue of USD 3 billion in the year 2019 and is projected to grow at a CAGR of more than 5% over the forecast period. An emulsifier is a material that allows the fusion of oil and water in the simplest terms. Many people understand the need for an emulsifier in foods such as salad dressings and mayonnaise, few obvious examples of emulsions. Nevertheless, many do not realize that emulsifiers are used in virtually all refined foodstuffs, where in addition to their well-known role in mixing they perform important functions. Emulsifiers are in many people's minds connected to water and oil emulsions. Emulsifiers are constantly targeted like other food additives by health bloggers who are afraid of ingredients they cannot pronounce. As a result, many food manufacturers seek to minimize or eliminate from their products synthetic emulsifiers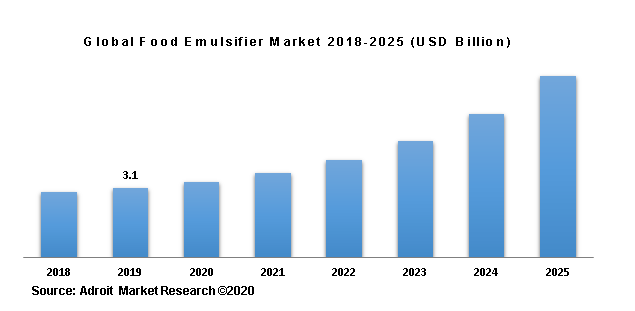 By 18 June 2018, the US Food and Drug Administration (FDA) has approved the elimination from foods of partially hydrogenated oils (PHO). Since PHO raw materials often contain a common class of emulsifiers, emulsifier manufacturers were obliged to recognize non-PHO choices. The growing environment of the emulsifier poses problems for food safety and cost-efficiency.
Key Segments Across Food Emulsifier Market
Source Overview, 2018-2025, (USD Billion)

Plant Source
Animal Source

Applications Overview, 2018-2025, (USD Billion)

Bakery Products
Meat Products
Confectionery Products
Convenience Foods
Meat Products
Other

Regional Overview, 2018-2025, (USD Billion)

North America
Europe

Germany
UK
France
Rest of Europe

Asia Pacific

China
India
Japan
Rest of Asia-Pacific

Central & South America

Brazil
Argentina
Rest of Central & South America

Middle East & Africa

Saudi Arabia
Rest of Middle East & Africa
Reasons for the study
The purpose of the study is to give an exhaustive outlook of the global Food emulsifier. Benchmark yourself against the rest of the market.
Be prepared for how glass industry investments and Food emulsifier will be impacted by socio-political and economic factors over the next few years
Ensure you remain competitive as new innovations by existing key players boost the market.
What does the report include?
The study on the global Food emulsifier includes qualitative factors such as drivers, restraints, and opportunities.
The study covers the competitive landscape of existing/prospective players in the industry and their strategic initiatives for the product development
The study covers a qualitative and quantitative analysis of the market segmented on the basis of Source and application. Moreover, the study provides similar information for the key geographies.
Actual market sizes and forecasts have been provided for all the above-mentioned segments.
Who should buy this report?
This study is suitable for industry participants and stakeholders in the global Food emulsifier. The report will benefit:
Every stakeholder involved in manufacturing and distributing components or solutions.
Managers within financial institutions looking to publish recent and forecasted statistics pertaining to the global Food emulsifier.
Government organizations, regulatory authorities, policymakers and financial organizations looking for investment trends in global Food emulsifier.
Analysts, researchers, educators, strategy managers, and academic institutions looking for insights into the market to determine future strategies.
Emulsifiers were historically defined as ingredients that contribute to emulsion formation and stabilization. However, the concept can be expanded to include a mixture of insoluble phases. Emulsifiers can stabilize foams and dispersions. The terms emulsifier and surfactant are therefore used on an analogous basis. Naturally, surface-active proteins like egg or casein were the first emulsifiers. With advances in chemical and engineering technologies, the array of emulsifiers has been greatly expanded. Applications to food products have enabled the widespread distribution of packaged foods. Selection and design of emulsifiers was done by experienced product developers who were familiar with the behaviour and interactions of each emulsifier. In recent decades' significant improvement in basic understanding of dispersions, emulsions and foams has been made.
Source Segment
In terms of source, the global food emulsifier market is segmented into plant and animal source. Ingredients and formulations based on plants are one of the most important developments in the food industry. And renewable and manufactured emulsifiers will help plant success stories in a perfect way.
Despite one in ten Germans claiming to be vegan and almost 1 in 20 Americans claiming the same, the movement toward vegetable and animal food has become a big stumbling block in any large food producer's radar network. Indeed, in recent decades' vegan numbers in the UK grew by over 350%, with young people giving plant-based diets in particular.
Application Segment
In terms of application, the global food emulsifier is segmented into Bakery Products, Dairy & Frozen Desserts, Confectionery Products, Convenience Foods, Meat Products, Others. Bread and sweet cakes are typically manufactured in large quantities in supermarkets and convenience stores. Time and pace from start to finish are important for mass production and mass distribution. Emulsifiers are used as long as possible to preserve softness and make bread dough suitable for the development of the machines. The following are the main effects of emulsifiers on bread production. To produce an easy to handle sticky and elastic dough. Also, to increase the dough resistance to mechanical force to soften and create easy raising.
In terms of region the global Food emulsifier market is segmented into North America, Europe, Asia Pacific, Central & South America, and Middle East and Africa. North America accounted for a major market revenue share and is projected to show similar trend over the forecast period.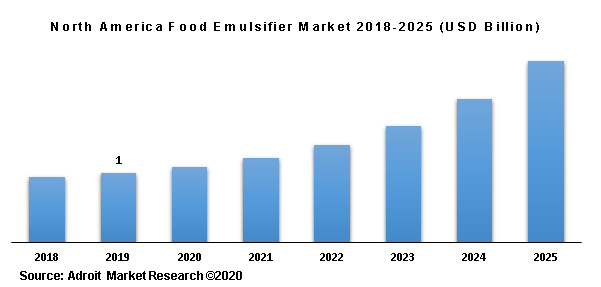 Key players involved in this industry include Lonza Group Ltd., Archer Daniels Midland Company, Cargill, DowDupont, Ingredion Incorporated, Kerry Group Plc, Corbion, Beldem, Riken Vitamin Co. Ltd, Tate & Lyle Plc