Coating Resins are polymer compounds that retain a coating formulation and give adherence to the substrate. It gives coatings faster drying times, better gloss retention, and better weathering. Hardening, corrosion resistance, weather resistance, and stain resistance are achieved by coating resins applied to the object's surface. Pigments, additives, and solvents are all included in the formulation of a liquid coating. Apart from the inclusion of solvents, powder coating systems have a similar makeup.
Adroit Market Research study on the global market for global coating resins offers a holistic view of the industry from 2020 to 2028 as forecast period, including factors such as market drivers, limitations, opportunities, threats and regulatory overview. The market has been analyzed from 2018 to 2028, with a base year estimate of 2019 and a projection from 2020 to 2028.
The report covers the current status and potential characteristics of the market at both the global and the country level. Moreover, the report also assesses market competition with Porter's analysis of five strengths and places leading players on the basis of their product range, regional presence, strategic initiatives and overall sales. Prominent players in the global carbon offset/carbon credit trading service market have been analyzed in depth.
Porter's Five Forces Model analysis, supply chain analysis, and cost structure analysis are all part of the in-depth business chain. This global coating resins Market study provides an overview of the current situation, as well as historical data and forecasts for the future. It provides comprehensive data on global coating resins sales, usage, trade figures, and prices over the last few years.
The new global coating resins market report aims to help companies, advertisers, and other stakeholders gain a deeper understanding of the industry's growth drivers and capitalize on high-profit opportunities. Furthermore, it offers suggestions for overcoming current and future obstacles in this field.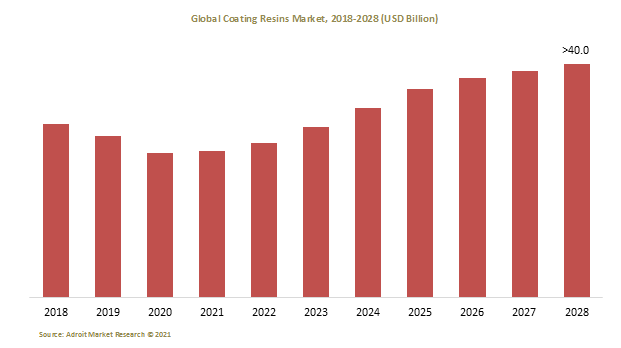 The effect of Covid-19 on carbon offset demand and price has been a topic of discussion in the carbon market. Fortunately, Covid-19 has no impact on offset ventures because trees and grasses are immune to the new coronavirus. Since food is obviously essential, organic waste will continue to be produced, providing biogas projects with a steady supply of feedstock that can be converted to biogas, which reduces pollution when burned. Covid-19's indirect effects on project offset supply may trigger significant delays or lapses in issuing offsets.
During the assessment period, the worldwide coating resin market is likely to grow due to increased demand for coating resins from different end-use industries. The market is predicted to develop because to an increase in demand for green and environmentally friendly coating systems in architectural designs.
Key player in this industry includes Huntsman International LLC., Polynt-Reichhold, BASF SE, Wacker Chemie, Covestro, Allnex Netherlands B.V., Arkema S.A., Evonik Industries AG, Royal DSM N.V., The Sherwin©Williams Company
Key Segments of the global coating resins Market
Technology Overview, 2018-2028 (USD Billion)
Waterborne
High Solid
Powder Coating
Radiation Cured
Application Overview, 2018-2028 (USD Billion)
Architectural
Industrial
Protective & Marine
Automotive
Packaging
Others
Regional Overview, 2018-2028 (USD Billion)
Americas
U.S.
Canada
Mexico
Brazil
Rest of Americas
Europe
UK
Germany
France
Italy
Russia
Spain
Rest of Europe
Asia Pacific
China
Japan
Korea
Southeast Asia
Australia
India
Rest of Asia-Pacific
Middle East and Africa
Egypt
South Africa
Israel
Turkey
GCC Countries
Rest of Middle East and Africa