Coating resins are used for heavy or light-duty vehicles as well as passenger automobiles to obtain mechanical strength, adhesion to metals, and heat resistance in a variety of end-use industries, such as the automotive sector. Moreover, there is a rising trend of producing furniture that is both attractive and resistant to dampness and pests. As a result, coating resins are increasingly being used to varnish timber structures in the furniture business. As a result, the worldwide coating resin market is predicted to grow throughout the assessment period due to increased demand for coating resins from various end-use industries.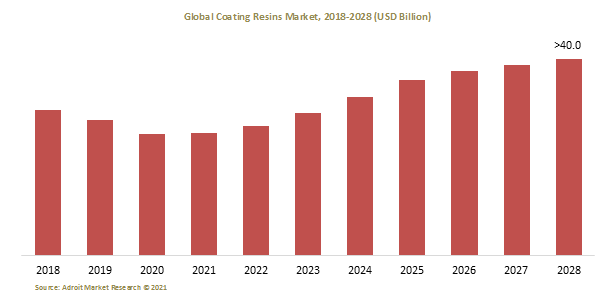 The price volatility of these commodities is a prominent issue that is projected to stifle market expansion over the evaluation period. The price swings are related to raw material mining and extraction, which is influenced by geological and geopolitical variables. These are petroleum-based items that increase in price due to the crude oil supply-demand mismatch. The fastest-growing use of coating resins is expected to be general industrial coatings. The market in this area is driven by population increase, increasing living standards, infrastructure development, global GDP growth, and construction sector expansion. The demand for coating resins will be driven by government restrictions relating to emission limits and an increase in demand for coating resins from the electronic sector.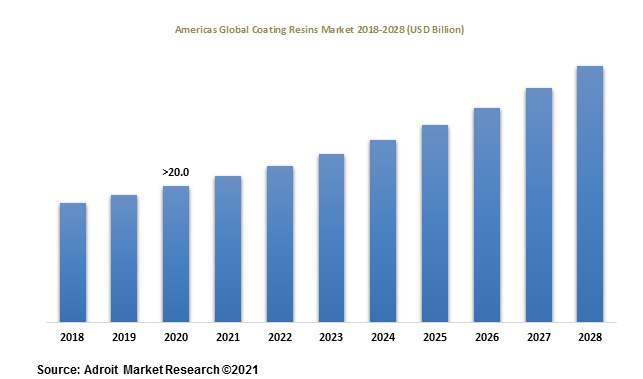 The aim of the report is to estimate the size of the market for Global Coating Resins and the future growth potential of the market for Global Coating Resins across various segments, such as type and application. The base year considered for the analysis is 2019 and from 2020 to 2028 the market size is estimated. Strategic partnerships, such as mergers and acquisitions, and technical innovation, have occurred in the market. Technological advances, product launches, and company technological acceptance are the main drivers of business growth.
Key Segments of the global coating resins Market
Technology Overview, 2018-2028 (USD Billion)
Waterborne
High Solid
Powder Coating
Radiation Cured
Application Overview, 2018-2028 (USD Billion)
Architectural
Waterborne
Protective & Marine
Automotive
Packaging
Others
Regional Overview, 2018-2028 (USD Billion)
Americas
U.S.
Canada
Mexico
Brazil
Rest of Americas
Europe
UK
Germany
France
Italy
Russia
Spain
Rest of Europe
Asia Pacific
China
Japan
Korea
Southeast Asia
Australia
India
Rest of Asia-Pacific
Middle East and Africa
Egypt
South Africa
Israel
Turkey
GCC Countries
Rest of Middle East and Africa
Important Companies in Global Coating Resins market
Huntsman International LLC.
Polynt-Reichhold
BASF SE
Wacker Chemie
Covestro
Allnex Netherlands B.V.
Arkema S.A.
Evonik Industries AG
Royal DSM N.V.
The Sherwin©\Williams Company
Reasons for the study
The purpose of the study is to give an exhaustive outlook of floor coating Market Benchmark yourself against the rest of the market.
Ensure you remain competitive as innovations by existing key players to boost the market.
What does the report include?
The study on Global Coating Resins Market includes qualitative factors such as drivers, restraints, and opportunities
The study covers the competitive landscape of existing/prospective players in the field service management industry and their strategic initiatives for the product development
The study covers a qualitative and quantitative analysis of the market segmented based on solution, service, and industry vertical. Moreover, the study provides similar information for the key geographies.
Actual market sizes and forecasts have been provided for all the above-mentioned segments.
Who should buy this report?
This study is suitable for industry participants and stakeholders in the Global Coating Resins Market. The report will benefit: Every stakeholder involved in the Global Coating Resins Market.
Managers within the field service management industry looking to publish recent and forecasted statistics about Global Coating Resins Market.
Government organizations, regulatory authorities, policymakers, and organizations looking for investments in trends of Global Coating Resins Market.
Analysts, researchers, educators, strategy managers, and academic institutions looking for insights into the market to determine future strategies.