The inorganic alkaline compound caustic potash (KOH), also known as potassium hydroxide, is made by electrolysis of potassium chloride solution. It's a powerful foundation that comes in a variety of shapes, including flakes, pellets, and powders. When immersed in water or alcohol, it forms a volatile solution that produces heat. Caustic potash can be made pure by mixing sodium hydroxide with impure potassium to make a potassium hydroxide and salt foundation. It has recently become an important industrial chemical all over the world, and it is commonly used as a cleaning agent in wineries, especially to remove bacteria and yeast biofilms from within tanks.
Adroit Market Research study on the global market for Caustic Potash offers a holistic view of the industry from 2020 to 2028 as forecast period, including factors such as market drivers, limitations, opportunities, threats and regulatory overview. The market has been analyzed from 2018 to 2028, with a base year estimate of 2019 and a projection from 2020 to 2028.
The report covers the current status and potential characteristics of the market at both the global and the country level. Moreover, the report also assesses market competition with Porter's analysis of five strengths and places leading players on the basis of their product range, regional presence, strategic initiatives and overall sales. Prominent players in the global Caustic Potash market have been analyzed in depth.
Porter's Five Forces Model analysis, supply chain analysis, and cost structure analysis are all part of the in-depth business chain. This Caustic Potash Market study provides an overview of the current situation, as well as historical data and forecasts for the future. It provides comprehensive data on Caustic Potash sales, usage, trade figures, and prices over the last few years.
The new Caustic Potash market report aims to help companies, advertisers, and other stakeholders gain a deeper understanding of the industry's growth drivers and capitalize on high-profit opportunities. Furthermore, it offers suggestions for overcoming current and future obstacles in this field.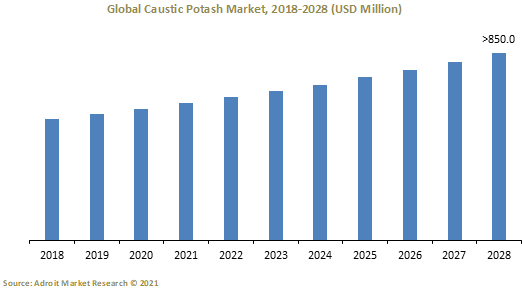 Key player in this industry includes Tessenderlo Group, Olin Corporation, Erco Worldwide (USA) Inc., UNID Company Ltd., Oxy Chemical Corporation, Chengdu Huarong Chemical Company Limited
Key Segments of the Global Caustic Potash Market
Form Overview, 2018-2028 (USD Million)
Grade 2018-2028 (USD Million)
Industrial
Reagent
Pharma
Regional Overview, 2018-2028 (USD Million)
North America
Europe
UK
Germany
France
Rest of Europe
Asia Pacific
China
Japan
India
Rest of Asia-Pacific
Middle East and Africa
UAE
South Africa
Rest of Middle East and Africa
South America
Brazil
Rest of South America