The global Caustic Potash market is expected to develop by , at a compound annual increase in price (CAGR) of % throughout the forecast period.
There are many local and regional vendors in this industry. Both end-user markets are catered to by these businesses. The industry's major players compete on the basis of commodity costs, designs, and global supply distribution networks. Business strategies are developed by both proven firms and new entrants. To extend the shelf life of products, caustic potash is used as a stabiliser, thickening agent, and pH adjuster in the food and beverage industry. As a flexible washing agent, caustic potash is also used to make liquid soaps, lotions, shampoos, and hairsprays.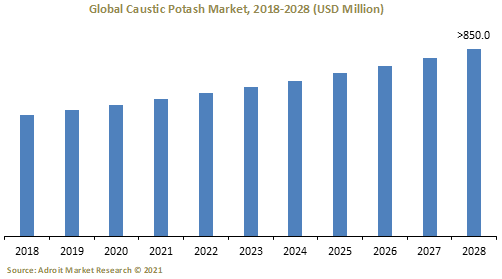 Potassium hydroxide soaps are more water soluble than sodium hydroxide soaps and are thus known to be safer for the atmosphere. Furthermore, potassium hydroxide (KOH) is used in medicine to prepare wet mounts of clinical specimens for microscopic visualization of fungi and fungal components in skin, blood, and other tissues.
The aim of the report is to estimate the size of the market for Caustic Potash and the future growth potential of the market for Caustic Potash across various segments, such as type and application. The base year considered for the analysis is 2019 and from 2020 to 2028 the market size is estimated. Strategic partnerships, such as mergers and acquisitions, and technical innovation, have occurred in the market. Technological advances, product launches, and company technological acceptance are the main drivers of business growth. Because of the existing plastics and textile industries in Europe, the industry is expected to expand at a significant pace.
Because of its excellent detergent and antimicrobial properties, KOH is widely used in the food industry. KOH is an alkaline washing agent that can help with emulsification and saponification as well as eliminating oils and greases. Since it can cause severe chemical burns and irreversible eye injury, skin and eye protection is required. If used in too high doses, it can corrode stainless steel tanks, so caution must be taken not to misuse it.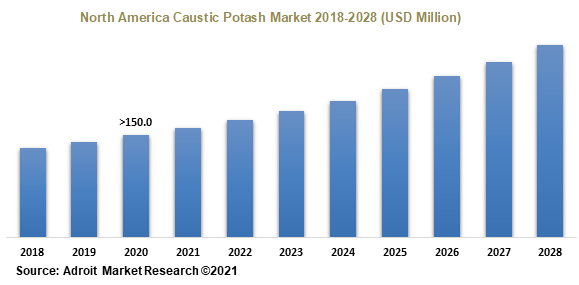 Key Segments of the Global Caustic Potash Market
Form Overview, 2018-2028 (USD Million)
Grade 2018-2028 (USD Million)
Industrial
Reagent
Pharma
Regional Overview, 2018-2028 (USD Million)
North America
Europe
UK
Germany
France
Rest of Europe
Asia Pacific
China
Japan
India
Rest of Asia-Pacific
Middle East and Africa
UAE
South Africa
Rest of Middle East and Africa
South America
Brazil
Rest of South America
Important Companies in Global Caustic Potash market
Tessenderlo Group
Olin Corporation
Erco Worldwide (USA) Inc.
UNID Company Ltd.
Oxy Chemical Corporation
Chengdu Huarong Chemical Company Limited
Reasons for the study
The purpose of the study is to give an exhaustive outlook of floor coating Market Benchmark yourself against the rest of the market.
Ensure you remain competitive as innovations by existing key players to boost the market.
What does the report include?
The study on Caustic Potash Market includes qualitative factors such as drivers, restraints, and opportunities
The study covers the competitive landscape of existing/prospective players in the field service management industry and their strategic initiatives for the product development
The study covers a qualitative and quantitative analysis of the market segmented based on solution, service, and industry vertical. Moreover, the study provides similar information for the key geographies.
Actual market sizes and forecasts have been provided for all the above-mentioned segments.
Who should buy this report?
This study is suitable for industry participants and stakeholders in the global Caustic Potash Market. The report will benefit: Every stakeholder involved in the Caustic Potash Market.
Managers within the field service management industry looking to publish recent and forecasted statistics about Caustic Potash Market.
Government organizations, regulatory authorities, policymakers, and organizations looking for investments in trends of global Caustic Potash Market.
Analysts, researchers, educators, strategy managers, and academic institutions looking for insights into the market to determine future strategies.
Frequently Asked Questions (FAQ) :
The major contenders in the global market are Tessenderlo Group, Olin Corporation, Erco Worldwide (USA) Inc., UNID Company Ltd., Oxy Chemical Corporation, Chengdu Huarong Chemical Company Limited
The base year for the report is 2021 in caustic potash market.
To get latest version of caustic potash market report can be obtained on demand from the website.