A carbon credit represents ownership of the equivalent of one metric ton of carbon dioxide that can be traded, sold or retired. If an organization is regulated under a cap-and-trade system (e.g., the California Cap and Trade Program) it likely has an allowance of credits it can use towards its cap. If the organization produces fewer tons of carbon emissions than it is allocated, the organization can trade, sell or hold the remaining carbon credits. When a credit is sold, the buyer is purchasing the seller's allowance of emissions.
Adroit Market Research study on the global market for Global Carbon Offset/Carbon Credit Trading Service offers a holistic view of the industry from 2020 to 2028 as forecast period, including factors such as market drivers, limitations, opportunities, threats and regulatory overview. The market has been analyzed from 2018 to 2028, with a base year estimate of 2019 and a projection from 2020 to 2028.
The report covers the current status and potential characteristics of the market at both the global and the country level. Moreover, the report also assesses market competition with Porter's analysis of five strengths and places leading players on the basis of their product range, regional presence, strategic initiatives and overall sales. Prominent players in the global carbon offset/carbon credit trading service market have been analyzed in depth.
Porter's Five Forces Model analysis, supply chain analysis, and cost structure analysis are all part of the in-depth business chain. This Global Carbon Offset/Carbon Credit Trading Service Market study provides an overview of the current situation, as well as historical data and forecasts for the future. It provides comprehensive data on Global Carbon Offset/Carbon Credit Trading Service sales, usage, trade figures, and prices over the last few years.
The new Global Carbon Offset/Carbon Credit Trading Service market report aims to help companies, advertisers, and other stakeholders gain a deeper understanding of the industry's growth drivers and capitalize on high-profit opportunities. Furthermore, it offers suggestions for overcoming current and future obstacles in this field.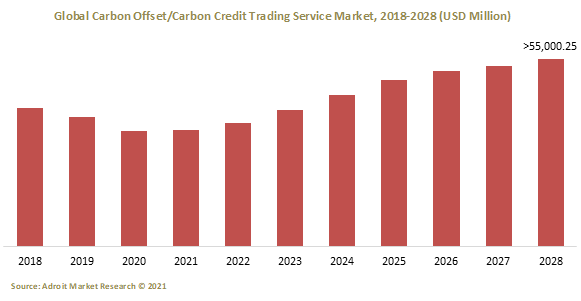 The effect of Covid-19 on carbon offset demand and price has been a topic of discussion in the carbon market. Fortunately, Covid-19 has no impact on offset ventures because trees and grasses are immune to the new coronavirus. Since food is obviously essential, organic waste will continue to be produced, providing biogas projects with a steady supply of feedstock that can be converted to biogas, which reduces pollution when burned. Covid-19's indirect effects on project offset supply may trigger significant delays or lapses in issuing offsets.
Key player in this industry includes, Carbon Credit Capital, Terrapass, Renewable Choice, 3Degrees, NativeEnergy, GreenTrees/ ACRE Investment Management, LLC, South Pole Group, Aera Group, Allcot Group, Carbon Clear, Forest Carbon Offsets, LLC, Biofílica, WayCarbon, Guangzhou Greenstone
Key Segments of the Global Carbon Offset/Carbon Credit Trading Service Market
Type Overview, 2018-2028 (USD Million)
Industrial
Household
Energy Industry
Others
Application Overview, 2018-2028 (USD Million)
REDD Carbon Offset
Renewable Energy
Landfill Methane Projects
Others
Regional Overview, 2018-2028 (USD Million)
Americas
U.S.
Canada
Mexico
Brazil
Rest of Americas
Europe
UK
Germany
France
Italy
Russia
Spain
Rest of Europe
Asia Pacific
China
Japan
Korea
Southeast Asia
Australia
India
Rest of Asia-Pacific
Middle East and Africa
Egypt
South Africa
Israel
Turkey
GCC Countries
Rest of Middle East and Africa