There has also been considerable growth in the voluntary OTC market. However, due to the number of standards in the voluntary market, as well as the number of uncertified projects, it is difficult to tell how many projects are functional and selling credits in this market. Nevertheless, the growth in transaction volume does suggest a strong growth in the number of projects being established. For voluntary market projects, the US is a major market in terms of transaction volume. This can be explained by the fact that the US lacks a large compliance market, so companies developing projects there have up to now tended to look to the voluntary market. It can also be attributed to the fact that the US is not a signatory to the Kyoto Protocol, and so US-based projects are not eligible to participate in CDM mechanisms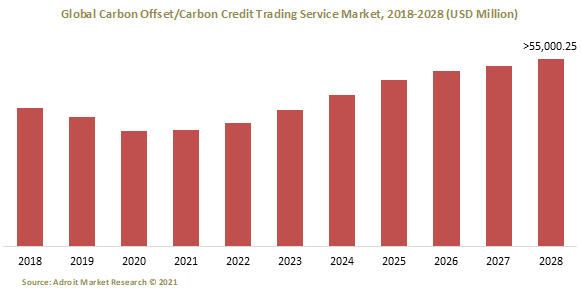 Delays in verification site visits may cause significant delays in offset issuance. To receive offsets during many reporting years, a site visit is needed. Many project sectors, however, allow for desk-top verification on some years. Registries should start thinking about virtual site visits using current and new virtual communication mediums. Covid-19's effect on reporting period deadlines is also being considered by carbon offset registries. It may be difficult to complete verification within the given reporting period if there are delays, such as missed site visits. If the reason for the extension is specifically related to Covid-19, the Climate Action Reserve would allow programmatic deadlines to be extended by 6 months.
Growing concern about the climate crisis across the world is a major factor forcing the huge increases in individuals and businesses choosing to offset their emissions by investing in carbon-reducing projects in developing countries. NGOs and organizations involved in carbon offsetting have seen as much as a fourfold increase in investment from people who want to try to mitigate their carbon footprints. Agencies who work with large corporations have also seen a spike in investment in carbon offsetting over the last 18 months. For instance, ClimateCare, a company that provides programs to help organizations offset residual carbon emissions, has seen the amount of carbon offset increase from about 2m tonnes to 20m tonnes in that time, according to its chief executive, Edward Hanrahan.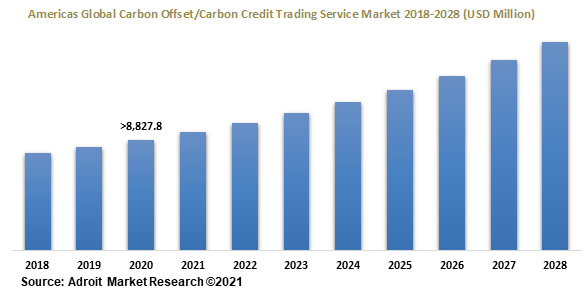 The aim of the report is to estimate the size of the market for Global Carbon Offset/Carbon Credit Trading Service and the future growth potential of the market for Global Carbon Offset/Carbon Credit Trading Service across various segments, such as type and application. The base year considered for the analysis is 2019 and from 2020 to 2028 the market size is estimated. Strategic partnerships, such as mergers and acquisitions, and technical innovation, have occurred in the market. Technological advances, product launches, and company technological acceptance are the main drivers of business growth.
Key Segments of the Global Carbon Offset/Carbon Credit Trading Service Market
Type Overview, 2018-2028 (USD Million)
Industrial
Household
Energy Industry
Others
Application Overview, 2018-2028 (USD Million)
REDD Carbon Offset
Renewable Energy
Landfill Methane Projects
Others
Regional Overview, 2018-2028 (USD Million)
Americas
U.S.
Canada
Mexico
Brazil
Rest of Americas
Europe
UK
Germany
France
Italy
Russia
Spain
Rest of Europe
Asia Pacific
China
Japan
Korea
Southeast Asia
Australia
India
Rest of Asia-Pacific
Middle East and Africa
Egypt
South Africa
Israel
Turkey
GCC Countries
Rest of Middle East and Africa
Important Companies in Global Carbon Offset/Carbon Credit Trading Service market
Carbon Credit Capital
Terrapass
Renewable Choice
3Degrees
NativeEnergy
GreenTrees/ ACRE Investment Management, LLC
South Pole Group
Aera Group
Allcot Group
Carbon Clear
Forest Carbon Offsets, LLC
Biofílica
WayCarbon
Guangzhou Greenstone
Reasons for the study
The purpose of the study is to give an exhaustive outlook of floor coating Market Benchmark yourself against the rest of the market.
Ensure you remain competitive as innovations by existing key players to boost the market.
What does the report include?
The study on Global Carbon Offset/Carbon Credit Trading Service Market includes qualitative factors such as drivers, restraints, and opportunities
The study covers the competitive landscape of existing/prospective players in the field service management industry and their strategic initiatives for the product development
The study covers a qualitative and quantitative analysis of the market segmented based on solution, service, and industry vertical. Moreover, the study provides similar information for the key geographies.
Actual market sizes and forecasts have been provided for all the above-mentioned segments.
Who should buy this report?
This study is suitable for industry participants and stakeholders in the Global Carbon Offset/Carbon Credit Trading Service Market. The report will benefit: Every stakeholder involved in the Global Carbon Offset/Carbon Credit Trading Service Market.
Managers within the field service management industry looking to publish recent and forecasted statistics about Global Carbon Offset/Carbon Credit Trading Service Market.
Government organizations, regulatory authorities, policymakers, and organizations looking for investments in trends of Global Carbon Offset/Carbon Credit Trading Service Market.
Analysts, researchers, educators, strategy managers, and academic institutions looking for insights into the market to determine future strategies.