The global biosimilars market is projected to reach USD 107.04 billion by 2025, growing at a CAGR of 33.2%. Increased incidences of chronic diseases and cost-effectiveness are driving the growth of the biosimilars market.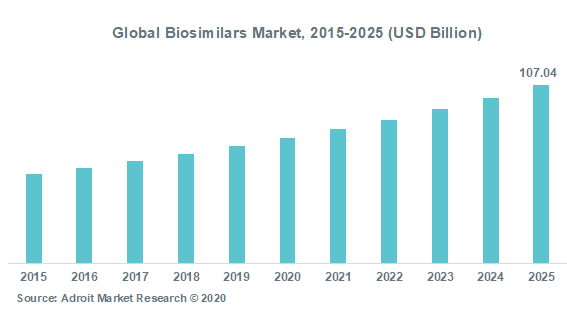 Adroit Market Research report on global biosimilars market gives a holistic view of the market from 2015 to 2025, which includes factors such as market drivers, restraints, opportunities and challenges. The market has been studied for historic years from 2015 to 2017, with the base year of estimation as 2018 and forecast from 2019 to 2025. The report covers the current status and future traits of the market at global as well as country level. In addition, the study also assesses the market based on Porter's five forces analysis and positions the key players based on their product portfolio, geographic footprint, strategic initiatives and overall revenue. Prominent players operating in the global biosimilars market have been studied in detail.
Biologic medicines have revolutionized the treatment of many life-threatening illnesses such as cancer and autoimmune diseases as well as many rare diseases. Many biologic products can actually slow the progress of or even prevent disease, leaving healthy cells unaffected and generally causing fewer side effects. As technology advances and major biologic products are no longer under exclusivity, follow-on products have begun expanding the biologics market considerably. Yet, because of their intricate molecular structure and complex manufacturing process in living cells, unlike generic follow-on products to traditional chemical entities, the production and manufacturing process of biosimilars cannot guarantee that the follow-on product's properties are identical to those of the reference product. For this reason, follow-on products of innovative biologic medicines are referred to as biosimilars.
The global biosimilars market has been segmented based on product, type of manufacturing, and application. Based on application the market is segmented into oncology, blood disorders, chronic diseases, autoimmune diseases, growth hormone deficiency, infectious diseases and other diseases. The blood disorder segment dominated the market in 2018.
Europe was the largest market for biosimilars in 2018, whereas Asia Pacific is set to register highest CAGR during the forecast period. Asia is expected to emerge as the fastest growing regional market, with developing economies expanding at a substantial pace and incorporating developments to sustain the competition. Several international companies are seeking outsourcing of biopharmaceutical production to Asian countries owing to continuous expansion of Asian Contract manufacturing organizations (CMO) that offer services at a reduced price, compared to service providers based in western countries. There have been several factors contributing to the growth of the biologics industry in Asia. It was one of the first regions to embrace biosimilars by establishing biosimilar guidelines by most regulatory agencies to improve access to high-cost biologics products. While India has been at the forefront of the biosimilar evolution, China has also made several reforms to their drug registration and drug reimbursement regulations over the past couple of years which is opening up the market for external players as well as accelerating domestic biotech development activities.
Key players of the biosimilars market include Pfizer, Sandoz International, Teva Pharmaceuticals, Amgen, Biocon, Dr. Reddy's Laboratories, Celltrion and Samsung Biologics among others.
Key segments of the global biosimilars market
Product Overview, 2015-2025 (USD Billion)
Recombinant Non-glycosylated Proteins
Recombinant Glycosylated Proteins
Recombinant Peptides
Type of Manufacturing Overview, 2015-2025 (USD Billion)
In-house Manufacturing
Contract Manufacturing
Application Overview, 2015-2025 (USD Billion)
Oncology
Blood Disorders
Chronic Diseases
Autoimmune Diseases
Growth Hormone Deficiency
Infectious Diseases
Other Diseases
Regional Overview, 2015-2025 (USD Billion)
North America
Europe

Germany
United Kingdom
France
Rest of Europe

Asia Pacific

China
Japan
India
Rest of Asia Pacific

Latin America

Brazil
Mexico
Rest of Latin America

Middle East & Africa

GCC
South Africa
Rest of MEA