Several reasons are driving market revenue growth, including increased demand for biosimilars due to their cost-effectiveness and the rising prevalence of chronic diseases around the world. Other drivers driving the global market's revenue growth include increased pressure to reduce healthcare spending, patent expiration of many highly effective pharmaceuticals, and an increase in the number of biosimilar drug approvals by the FDA.
The Biosimilars market is expected to grow at a CAGR of 15.5% to reach US$ 85 Bn in 2031.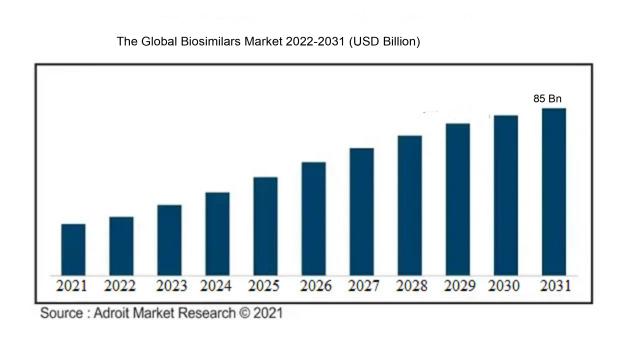 Covid-19 Impact & Market Status
Coronavirus disease 2019 (COVID19) is an acute respiratory infectious disease caused by the coronavirus 2 (SARSCoV2) of the severe acute respiratory syndrome. COVID-19, which was mostly unknown until the outbreak in Wuhan, China, in December 2019, has gone from a regional issue to a global pandemic in a matter of weeks. On March 11, 2020, the World Health Organization (WHO) proclaimed COVID-19 a pandemic. To cure the infection, a great deal of effort has gone into finding new medicines and vaccinations. Companies began developing medications and treatments to combat the virus after only a few weeks of investigation.
Product Segment
In 2020, monoclonal antibodies were the most popular sector. Monoclonal antibodies are widely used in the treatment of disorders like cancer, rheumatoid arthritis, cardiovascular disease, and multiple sclerosis. This sector accounts for more than a quarter of the market. Monoclonal antibodies' increased effectiveness in the treatment of cancer and diabetes is likely to fuel category growth in the future years.
Application Segment
In 2020, the oncology category dominated the market. According to the International Agency for Research on Cancer, 19.3 million new cancer cases and 10 million cancer-related deaths will be reported worldwide in 2020. Breast cancer is becoming more common in women, accounting for roughly 11.7 percent of new cancer cases in 2020, followed by lung cancer (11.4 percent) and colorectal cancer (10.1 percent). As a result, the increased demand for biosimilar pharmaceuticals for cancer treatment is propelling the industry forward.
Pfizer received FDA approval for its Nyvepria, which is intended to reduce infection rates, in 2020. Fresenius Kabi received FDA and EMA clearance for its MSB11455, a pegfilgrastim biosimilar, in May 2020. The approval of drugs is a major strategy used by market participants. Acquisition, partnerships, mergers, and government policies, among other development tactics, stimulate market expansion and provide attractive growth prospects for market participants.
Regional Segment
North America has the largest revenue share in the worldwide market and is likely to continue to outperform other regional markets in the future. The high incidence of various types of chronic diseases, such as malignancies, as well as rising expenditure by major market players in research and development activities, are the major drivers driving revenue growth in this regional market.
Oncology, inflammatory and autoimmune illnesses, chronic diseases, blood disorders, growth hormone insufficiency, infectious diseases, and other indications are divided into the biosimilars market (infertility, hypoglycemia, myocardial infarction, postmenopausal osteoporosis, chronic kidney failure, and ophthalmic diseases). Due to the availability of biosimilars at a cheaper cost than novel biologics and the vast number of cancer patients, oncology is the largest category in this market. In the field of oncology, the availability of biosimilars has cut prices and made cancer therapy more reasonable and accessible. Furthermore, due to the high incidence and prevalence of cancer, healthcare systems all over the world are working on lowering cancer's burden by implementing cost-effective treatment alternatives.
Monoclonal antibodies, insulin, Granulocyte Colony-Stimulating Factor, Erythropoietin, Recombinant Human Growth Hormone, Etanercept, Follitropin, Teriparatide, Interferons, Enoxaparin Sodium, Glucagon, and Calcitonin make up the biosimilars industry. Monoclonal antibodies accounted for roughly 27% of the market. Because of the wide applications of monoclonal antibodies in the treatment of cancer, autoimmune disorders, and osteoporosis, and rising incidences of insulin-dependent diabetes globally and increasing demand for cost-effective treatment options, monoclonal antibodies and insulin are expected to be the leading segments in terms of growth rate during the forecast period.
A biosimilar is a biologic medical product that is identical to another biological medicine that has been approved. These medical items are highly similar and meet the same pharmaceutical quality, efficacy, and safety criteria as all other biological medications.
The development of biosimilars, as well as their validation using reference biologics, is an important part of the whole development process. Biosimilars regulations are critical for preserving the viability and balance of original medications and biosimilars products. Several regulatory agencies, including the European Medicines Agency (EMA) and the Food and Drug Administration (FDA), are actively involved in regulating the sale and development of biosimilars.
The high cost of reference biological goods is impeding market revenue development, adding to the financial burden on patients and reimbursement service providers. Reduced demand for biosimilar products is also a stumbling block to the global market's revenue growth.
The global market for blood disorders is predicted to rise at a strong CAGR in the next years, owing to the rising prevalence of blood diseases worldwide and the quick acceptance of biosimilars due to their low cost compared to other biologics, which reduces overall treatment costs.
The rising frequency of chronic diseases, as well as increased demand for biosimilars due to their cost-effectiveness, are driving market expansion. Regulatory approvals and other rules in various countries that encourage the use of biosimilars are also a major driving force in the biosimilars industry. However, during the projection period, the challenges of biosimilar development and production, as well as pushback from reference biologic manufacturers, are projected to limit the market's expansion.
Biosimilars are 20–30% less expensive than their parent/branded counterparts, according to the American Journal of Managed Care. Patients benefit from both cost reductions and access to highly effective medicines as a result of this. When compared to originator biologics, biosimilars have cheaper R&D expenses. Biosimilars are less expensive since R&D expenses are reduced. Biosimilars with lower prices have a tendency to drive down the prices of reference biologics due to price rivalry among manufacturers. Biosimilar medications' considerable cost-to-benefit ratio is predicted to increase their demand in the coming years.
Key players in the biosimilars market include Novartis AG (Switzerland), Pfizer, Inc. (US), Dr. Reddy's Laboratories Ltd. (India), Amgen, Inc. (US) and Eli Lilly and Company (US). Biosimilar manufacturers face competition from both biosimilar and original biologic manufacturers in the biosimilars industry. When new biosimilar drugs enter the market, the original biologic producer can fight back with a variety of strategies, including the launch of second-generation treatments, reformulations, dosage changes, supporting devices, and price competition.
Latest Innovations in the Global Biosimilars Market: a Snapshot
In the first half of the twentieth century, most early biologic medications lost their patent protection, and many of today's best-selling drugs are set to lose their patent protection in the next years. This opens up new possibilities for biosimilar medications. Nearly 20 cancer biologics' patents will expire by 2023, potentially paving the way for new biosimilars in the sector.
Cancer, rheumatoid arthritis, viral illnesses, psoriasis, anaemia, kidney failure, type 1 and type 2 diabetes, postmenopausal osteoporosis, and growth hormone abnormalities are among the diseases and conditions for which biosimilars are currently accessible. Oncology, autoimmune disorders, diabetes, and hepatitis are among the primary therapeutic areas for which biosimilars are being developed. Other chronic diseases for which biosimilars could be developed include meningitis, breast cancer, adult T-cell leukaemia, obesity, hypertension, and hepatitis E.
Biosimilars Market Scope
| | |
| --- | --- |
| Metrics | Details |
| Base Year | 2022 |
| Historic Data | 2021-2022 |
| Forecast Period | 2022-2031 |
| Study Period | 2021-2031 |
| Forecast Unit | Value (USD) |
| Revenue forecast in 2031 | US$ 85 Bn |
| Growth Rate | CAGR of 15.5 % during 2021-2031 |
| Segment Covered | Product, Regions |
| Regions Covered | North America, Europe, Asia Pacific, South America, Middle East and Africa |
| Key Players Profiled | Pfizer, Inc., Intas Pharmaceuticals Ltd., Biocon, Dr. Reddy's Laboratories Ltd., Teva Pharmaceutical Industries Ltd., Sandoz International GmbH (A Novartis Division) |
Key Segments of the Global Biosimilars Market
Product Overview (USD Billion)
Monoclonal Antibodies
Glucagon
Insulin
Erythropoietin
Interferon
Calcitonin
Others
Application Overview (USD Billion)
Oncology
Growth Hormonal Deficiency
Blood Disorders
Chronic & Autoimmune Disorders
Others
Regional Overview (USD Billion)
North America
Europe
Germany
France
UK
Rest of Europe
Asia Pacific
China
India
Japan
Rest of Asia Pacific
South America
Mexico
Brazil
Rest of South America
Middle East and South Africa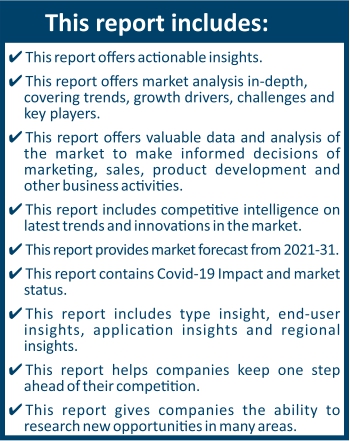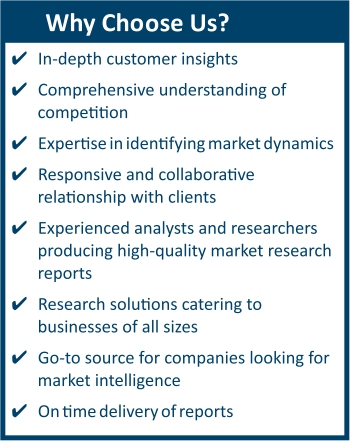 Frequently Asked Questions (FAQ) :
The global Biosimilars market size is projected to reach USD 66 billion by 2028.
North America dominated the market for Biosimilars market and accounted for the largest revenue share.
The top companies that hold the market share in Biosimilars market are Novartis AG (Switzerland), Pfizer, Inc. (US), Dr. Reddy's Laboratories Ltd. (India), Amgen, Inc. (US) and Eli Lilly and Company (US)
To get latest version of Biosimilars market report can be obtained on demand from the website.