The global biosimilars market was valued at USD 14.58 billion in 2018. Factors driving the growth of the biosimilars market include cost-effectiveness, strategic collaborations resulting in enhanced productivity and increasing incidences of chronic diseases.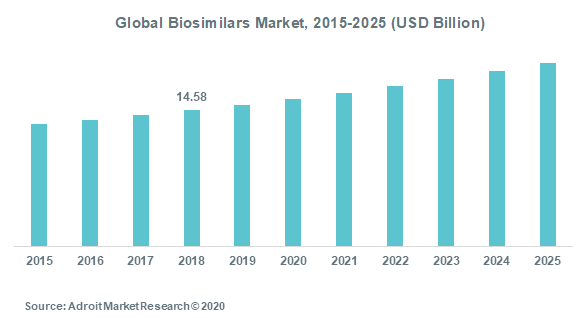 A biosimilar is defined as a biologic that is already authorized for use. Here the biologic can be a medicinal substance derived from living organisms such as bacteria or yeast. These biologics can be smaller molecules or complex heavy chained molecules. For a biosimilar to be approved it must possess similarities with the reference medicine. Biosimilars usually show high molecular complexity, and are often sensitive to changes in the manufacturing process. Moreover, they are anticipated to swiftly increase market share and foster economic significance as more biologics reach patent expiry. However, regardless of several challenges biosimilars will fanfare in the foreseeable years owing to the increasing financial load on the global healthcare system.
The global biosimilars market is categorized based on product, type of manufacturing, and application. Based on application, the market is segmented into oncology, chronic diseases, autoimmune diseases, blood disorders, growth hormone deficiency, infectious diseases, and other diseases. Blood disorder dominated the market in 2018. Early biologics, such as insulin, growth hormones and erythropoietin, have been priceless in the treatment of serious illnesses such as anemia, diabetes, and renal diseases. More intricate biologics, such cytokines, as monoclonal antibodies and therapeutic vaccines, are aiding to renovate the treatment of autoimmune disorders, cancer and other difficult-to-treat diseases. For such higher-cost disease areas, biosimilars are involved in increasing access to populations who need these therapies but are incapable to access them today.
Region wise, Europe was the largest market in 2018; however, Asia Pacific is expected to witness the highest CAGR by 2025. Major players operating in the global biosimilars market include Pfizer, Sandoz International, Teva Pharmaceuticals, Amgen, Biocon, Dr. Reddy's Laboratories, Celltrion and Samsung Biologics among others.
Key segments of the global biosimilars market
Product Overview, 2015-2025 (USD Billion)
Recombinant Non-glycosylated Proteins
Recombinant Glycosylated Proteins
Recombinant Peptides
Type of Manufacturing Overview, 2015-2025 (USD Billion)
In-house Manufacturing
Contract Manufacturing
Application Overview, 2015-2025 (USD Billion)
Oncology
Blood Disorders
Chronic Diseases
Autoimmune Diseases
Growth Hormone Deficiency
Infectious Diseases
Other Diseases
Regional Overview, 2015-2025 (USD Billion)
North America
Europe

Germany
United Kingdom
France
Rest of Europe

Asia Pacific

China
Japan
India
Rest of Asia Pacific

Latin America

Brazil
Mexico
Rest of Latin America

Middle East & Africa

GCC
South Africa
Rest of MEA
Reasons for the study
Biologics patent expiry
Increasing clinical trials of biosimilars
· Developing economies emerging as the destination of choice to outsource biosimilar production
What does the report include?
The study on the global biosimilars market includes qualitative factors such as drivers, restraints and opportunities
Additionally, the market has been evaluated using the Porter's five forces analysis
The study covers qualitative and quantitative analysis of the market segmented on the basis of product, technology, application and end user. Moreover, the study provides similar information for the key geographies.
Actual market sizes and forecasts have been provided for all the above-mentioned segments
The study includes the profiles of key players in the market with a significant global and/or regional presence
Who should buy this report?
The report on the global biosimilars market is suitable for all the players across the value chain including raw material suppliers, R&D labs, pharma, biopharma & medical device manufacturers, healthcare organizations, distributors and suppliers
Venture capitalists and investors looking for more information on the future outlook of the global biosimilars market
Consultants, analysts, researchers, and academicians looking for insights shaping the global biosimilars market
There are variations in regulatory consideration for biosimilars products around the world which impacts globally. As, in Canada does not support automatic substitution. The UK and Belgium recommend prescribing by brand name so as to avoid substitutions. Spain and Germany prohibit automatic substitution. In Ireland, Poland and Portugal have no clear position. In Japan substitutions should be avoided during the pharmacovigilance study period. Hence, as the global market of biosimilars expand and biosimilars become more complex, it is very essential to ensure clarity in prescribing regulations and make uniform regulations for global practice to get a therapeutically important biosimilars. There is no single uniform international guideline for biosimilars. Rather, there is a contrast of a highly regulated and a less regulated registration pathway.
Highly regulated approval pathways:
European Medicine Agency (EMA) - The announcement of the initial "guidelines on similar biological medicines" in 2005, the EMA has continued to be at the forefront of legislation governing biosimilars and a standard for regulatory authorities in other countries.
US Food and Drug Administration (FDA) - In 2009, the US congress released the Biologic Price Competition and Innovation Act (BPCIA) as part of Patient Protection and Affordable Care Act, which empowered the FDA to identify an abbreviated approval pathway for biosimilars.
Less regulated regulatory pathways: In some countries, approval criteria for copies of original biologics are less stringent, to accelerate their potential for cost savings. The less rigorous comparative assessments in these countries have seen them referred to as a biopharmaceutical not subjected to regulatory approval. However, the guidelines for them are relatively vague.
China: State Food and drug Administration (SFDA) regulates the biosimilars law, states that a biosimilars product must be registered and approved as new biological products.
In the type of manufacturing segment in-house manufacturing dominated the market in 2018, however contract manufacturing is set to grow at a highest CAGR. Patent expiries, lower R&D productivity, cost and time pressure have driven the CRO market till now. Over the years of relationship between sponsors and service providers has also changed. CROs have moved from being a service provider to being a preferred vendor and now acting as strategic partners with innovative companies across the globe.
Total biologic production capacity worldwide was estimated at approximately 2800m in 2010, 2000m of it was meant for captive use. This is expected to be augmented to approximately 3900m3 in 2017. Industry saw some consolidation of assets/ fresh capacity creation with Boehringer Ingelheim purchasing Amgen's Fremont (CA) Biomanufacturing facility in 2011, Fujifilm acquiring Merck & Co's contract manufacturing business in February 2011 and Samsung announcing plans to create manufacturing capacity of 120m, by 2017.
South Korea has taken the lead in active biologics, biosimilars and CRO manufacturing whereas contract biomanufacturing in India, China and Brazil is yet to reach scale. Multiple factors are driving the outsourcing of Biomanufacturing. Biosimilars API demand is expected to grow aggressively as biological drugs expiry will continue and more biosimilar products go for late stage clinical trials. Organizations trying to reduce their fixed costs and reduce their time to market will continue to outsource.
In 2018, Europe was the largest market for biosimilars and is anticipated to retain its position by 2025. However, Asia Pacific is expected to show promising growth in the forecast period.
Europe and the EU have historically been pioneers with regards to the regulatory approval and use of biosimilars – being the first to develop a biosimilar pathway in 2003 and the first to approve a biosimilar for marketing in 2006 and is now reaping the economic benefits, with increased availability of biological treatments at lower prices. At the same time, Europe maintains its lead role in fostering innovation, with more than 12,000 clinical trials on biologic medicines conducted in Europe to date, and a steady growth of biologic clinical trials activity. With increased patient access and healthcare system efficiencies generated through competition on the one hand and continued innovation on the other, the biosimilars represents a rapidly-growing segment of the European biopharmaceutical market, whose health, social and economic impact on the European economy is significant. Securing a sustainable future for the European biologics and biosimilars market is a top priority for European countries and for the European economy as a whole. 8 Driven by increasing demand for healthcare and its associated costs, many European countries are increasingly focusing on maximizing short-term savings rather than ensuring the long-term sustainability of this market. The lack of a unified approach and the high diversity of policies governing the daily practice of off-patent biologics may eventually undermine the goal of creating a sustainable European market for off-patent biologics.