The global analytics of things market size is anticipated to hit USD 58 billion by 2028, at a CAGR of 30% over the forecast period. AoT analytics provide users with real-time data. Because of high-tech sensor partnerships, it is now simple to generate meaningful data. Enterprises can utilize the extracted data to make better real-time choices. The ease of implementation and lower component prices are accelerating the use of analytics of things. Analytics of Things (AoT) is utilized in a variety of applications, including building automation, infrastructure management, and security management. It also makes it easier to analyze vast volumes of data provided by AoT. It aids in data connectivity, management, transformation, aggregation, and processing, as well as delivering real-time insights. Enterprises may profit from the solutions' cost efficiency, real-time reviewing, and scalability. These factors are anticipated to give the market a substantial boost during the projected period.
Analytics of things (AoT) is critical for making connected devices smart and allowing them to take intelligent action. Analytics of things assists companies in making sound judgments and improving overall company operations. It aids in the connection, processing, analysis, management, and comprehension of data patterns. It has applications in a variety of industries, including medical and healthcare, retail and e-commerce, manufacturing, and many more. The growing number of connected devices, technical improvement, improved cyber-security in the AOT system, and rising need for data analytics to better company operations are the key drivers predicted to drive market growth. Benefits such as cost reduction, scalability, and real-time monitoring have further fueled the growth of the AOT industry. However, the absence of common protocol and qualified operators may stymie the expansion of the analytics of things industry.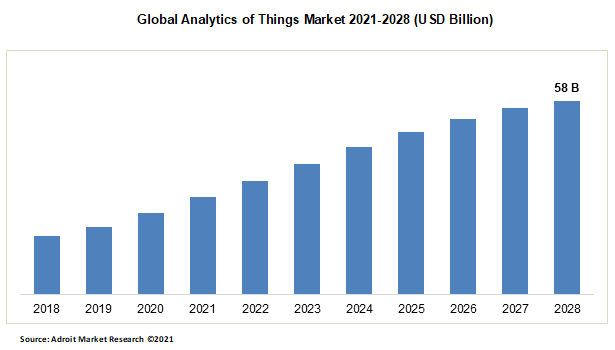 Adroit Market Research examines the regional and global markets, providing an in-depth analysis of the industry's overall growth prospects. Furthermore, it offers insight into the worldwide market's entire competitive landscape. The study also includes a dashboard review of prominent firms that includes their effective marketing tactics, market contribution, and recent advancements in both historical and current settings for the forecast span 2021 to 2028. The research provides a detailed overview of the market by including data on many aspects such as drivers, constraints, opportunities, and threats. This information can help partners make informed decisions before contributing. The market has been extensively gauged for historic years 2018 to 2020, with 2020 as the base year of estimation and forecast era 2021 to 2028. The study contains factual inputs and analysis based on primary and secondary research, as well as insights derived through in-depth interviews with primary research participants. Furthermore, the data is obtained from reliable secondary sources and validated by important thought leaders in the target market.
The analytics of things (AoT) market has stiff competition with massive investments from industry veterans. New players as well as established players in transactional email software market are aggressively targeting new growthspots with untapped potential. Some of the other prominent growth strategies braced by lead players include M&A investments and commercial partnership agreements to justify their lead. Some of the leading players in the competitive landscape include Hewlett Packard Enterprise Company, Cisco Systems, IBM Corporation, SAP SE, Hitachi, Amazon Web Services, Google, Dell Technologies, Teradata Corporation among others.
On considering the industry vertical, the healthcare and life sciences segment is expected to account for more than 13% of total revenue in the coming years. The segment's rise may be due to analytics of things solutions, which offer doctors real-time alerts and assist them in data monitoring and generating actionable insights.
In terms of geography, the AoT Market is expected to grow at a high rate in the future years. North America is seeing a rapid increase in adoption as the region's need for the analytics of things market grows across a broad variety of industries such as healthcare, retail, healthcare, telecommunications & IT, transportation & logistics, and many more. North America was a forerunner in the use of Analytics of Things Market networking management services and solutions.
Key Segments of the Global Analytics of Things Market
Deployment Type Overview, 2021-2028 (USD Billion)
Service Type Overview, 2021-2028 (USD Billion)
Deployment and Integration
Managed Services
Support and Maintenance
Consulting Services
Industry Vertical Overview, 2021-2028 (USD Billion)
Healthcare
Retail
Telecommunications & IT
Transportation & Logistics
Healthcare
Government & Defense
Manufacturing
Energy & Utilities
Others
Type of Application Overview, 2021-2028 (USD Billion)
Remote Monitoring
Security and Emergency Management
Inventory Management
Energy Management
Predictive Maintenance
Sales and Customer Management
Infrastructure Management
Building Automation
Others
Regional Overview, 2021-2028 (USD Billion)
North America
Europe

France
UK
Germany
Rest of Europe

APAC

China
Australia and New Zealand
Japan
Rest of APAC

MEA

UAE
Saudi Arabia
South Africa
Rest of MEA

Latin America

Mexico
Brazil
Rest of Latin America