Several reasons are driving the global woven fabric market. The demand for clothing and other textile products is on the rise, which is the most significant of these. Both population increase and rising consumer spending power are contributing to this. The expanding usage of woven fabrics in industry and the rising acceptance of mixed and blended fabrics are two more significant drivers. Furthermore, the high-end fabrics market is driven by technological developments in weaving and finishing techniques. Last but not least, growing environmental concerns are encouraging the use of eco-friendly textiles like organic cotton and bamboo.
The manufacture of apparel, furniture, and other products depends on the woven fabric market. Numerous industries use woven fabrics, including clothes, home furnishings, vehicle interior trim, medical textiles, and industrial fabrics. Due to their strength and durability, woven fabrics are becoming more and more popular. Manufacturers must develop more of these materials to meet the rising demand for woven fabric. Additionally, businesses must modernize their manufacturing processes to satisfy the needs of the market for high-quality goods. Additionally, businesses need to invest in new technologies that cut waste and conserve resources during manufacturing given the growing environmental concerns surrounding sustainability and green efforts.
A cloth created through weaving is called a woven fabric. It is made up of several strands known as the warp and the weft. The weft crosses the fabric while the warp runs parallel to it. Woven fabrics can be used for a multitude of things, such as clothes, home furnishings, and industrial uses. They are also quite sturdy. Pure fabric, blended fabric, and mixed fabric are the three basic categories of woven fabrics. Pure textiles are created entirely from natural fibres like cotton or linen. Fabrics with a blend of natural and synthetic fibres are produced. A variety of types of yarns are woven together to create mixed fabrics. Clothes and home furnishings are the most typical uses for woven materials. However, they can also be utilized in industrial settings for things like tarpaulins, sacks, and filtering.
From 2021 to 2031, the global woven fabric market is projected to grow at a CAGR of 4.8%, reaching an estimated value of USD 199.2 billion.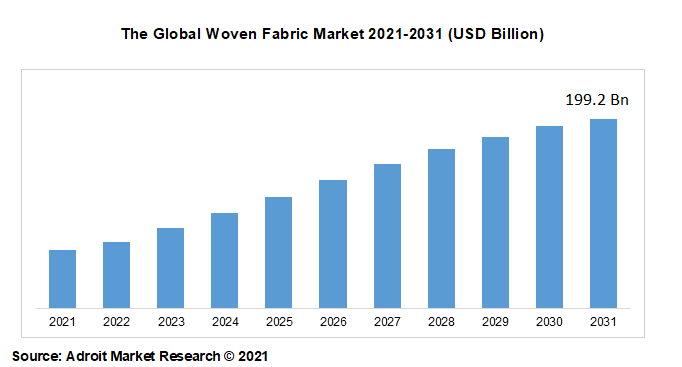 The market is driven by rising eco-friendly fabric demand, growth in the apparel industry, and advancements in fabric technology. Additionally, this growth is attributable to customers' rising disposable income and shifting preferences for fabric quality.
Raw materials needed to make woven fabrics, like cotton, polyester, and nylon, have extremely erratic pricing. This impacts the manufacturers' margins and makes it challenging for them to plan their output in advance. Second, the usage of advanced machinery and equipment results in woven fabric production having a higher cost than other types of cloth. Small-scale producers find it challenging to compete with large-scale manufacturers as a result.
Thirdly, to reduce pollution levels, the textile industry is subject to several environmental restrictions. These rules have increased the cost and duration of the woven fabric manufacturing process. Finally, as consumers increasingly want to purchase contemporary clothing at low prices, the fast fashion trend has significantly hampered the development of the woven fabric business. The market for woven fabrics is anticipated to increase in the upcoming years despite these restraints because of its reputation for power, durability, and comfort.
Over the course of the forecast period, the global market for woven fabrics is anticipated to expand at a CAGR of 4.3%. Propex Operating Company, Inc., WEAVERCO LP, JV textile Mills, Glen Raven Custom Fabrics, LLC, and PDF - Texco Limited Partnership are some of the key companies competing in the global woven fabric market. Along with other vendors, these ones have used a variety of techniques to increase their position in the market, including product launches, mergers and acquisitions, cooperation and partnerships, and investments.
Segment Analysis
The Pure Fabric Segment emerged as the Most Lucrative Type
The market is divided into three types of fabric: pure fabric, blended fabric, and mixed fabric. Due to the higher demand it receives from numerous end-use industries, the pure fabric segment is predicted to experience the highest development among them. The growing inclination for natural fibres is another element promoting the growth of this market.
The Most Prominent Application is the Cloth Segment
The clothes, home textile, and industry segments make up the application segment. Due to the extensive usage of woven fabrics in the production of garments for all genders and age groups, the clothing segment leads the worldwide woven fabric industry. The use of woven fabrics in household textiles like carpets, curtains, and furniture upholstery is another element boosting demand for them.
The North American Region to render Ample Financing Opportunities
The paper analyses North America, South America, Asia Pacific, Europe, the Middle East, and Africa. Due to the presence of mature textile industries in the US and Canada, the North American region is anticipated to dominate the market. The market in this region is also being driven by a number of other reasons, including the rising demand for technologically advanced materials and the expanding fashion and apparel industry.
COVID-19 Impact and Market Status
The market for woven fabrics has been badly affected by the COVID-19 pandemic outbreak. The lockdown imposed by several governments throughout the world has hampered the production of woven fabrics. Because fewer clothes and other textile items are being produced, there is less need for woven materials. In 2021, the market is anticipated to recover from the epidemic. The market is also anticipated to increase favorably in the upcoming years as a result of the rising demand for protective fabrics from the healthcare and other industrial sectors.
Recent Developments in the Woven Fabric Market
• According to a survey from January 2020, the market for woven fabrics is anticipated to develop at a CAGR of 5.4% from 2020 to 2025, reaching USD 115.1 billion. This rise is linked to the rising demand for soft, breathable, lightweight materials for apparel as well as other uses including home decor and automobile interiors.
• A new kind of woven fabric known as "Smart Fabric" has reportedly been invented in April 2020. This fabric can detect human touch and react appropriately. The conductive yarns and fibres utilized in the smart fabric can be employed in robots, medical gadgets, and other applications in addition to clothing.
• According to research from May 2020, recycled polyester yarn is being used more frequently to create woven fabrics since it has the ability to have a minimal negative impact on the environment while yet having good performance qualities. Utilizing recycled polyester yarn lessens waste produced during manufacturing and increases the availability of sustainable textiles, both of which contribute to resource conservation.
• According to a survey from July 2020, people are favoring biodegradable fabrics made from bamboo more and more since they are better for the environment than conventional cotton materials. Bamboo materials are very breathable and absorbent, making them perfect for usage in sportswear and other activewear clothing.
Woven Fabric Market Scope
| | |
| --- | --- |
| Metrics | Details |
| Base Year | 2022 |
| Historic Data | 2020-2021 |
| Forecast Period | 2022-2030 |
| Study Period | 2020-2030 |
| Forecast Unit | Value (USD) |
| Revenue forecast in 2030 | USD 199.2 billion |
| Growth Rate | CAGR of 4.8 % during 2021-2030 |
| Segment Covered | Type, Application, Regions |
| Regions Covered | North America, Europe, Asia Pacific, South America, Middle East and Africa |
| Key Players Profiled | Propex Operating Company, Inc., WEAVERCO LP, JV textile Mills, Glen Raven Custom Fabrics, LLC, and PDF - Texco Limited Partnership |
Key Segments of the Woven Fabric Market
Type Overview, 2021-2031 (USD Billion)
• Pure Fabric
• Blended Fabric
• Mixed Fabric
Application Overview, 2021-2031 (USD Billion)
• Clothing
• Home Textile
• Industry
Regional Overview, 2021-2031 (USD Billion)
North America
• U.S
• Canada
Europe
• Germany
• France
• UK
• Rest of Europe
Asia Pacific
• China
• India
• Japan
• Rest of Asia Pacific
South America
• Mexico
• Brazil
• Rest of South America
• Middle East and South Africa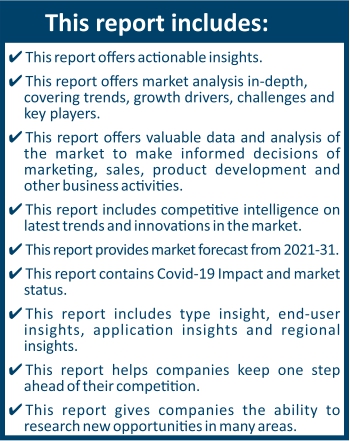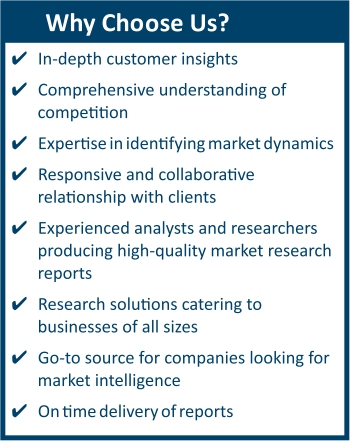 Frequently Asked Questions (FAQ) :
Woven Fabric Market is projected to reach USD 199.2 billion by 2031, growing at a CAGR of 4.8