Terahertz has played a significant role in laboratory research, drug investigation, and many other science fields. By 2028, the market size is expected to surpass almost US$1,500.89 million with annualized growth rate of 26.90%, as the global terahertz market experiences strong growth in productivity brought about by rapid implementation of innovative technologies.
Increasing adoption of terahertz technology-based products in research, growing demand for terahertz for achieving more efficient results, analysis and development of applications are some key factors boosting the global terahertz market. In addition to this, the increasing adoption of terahertz based products in defense, homeland security, and healthcare sectors is also driving the global terahertz market.
However, the global terahertz market is likely to be impacted as a result of economic consequences of Covid-19, declined profit margins due to falling demand, relatively low adoption of terahertz as it is new technology, significantly high costs, and failure in detecting objects. Nevertheless, recent advances in devices and circuits in terahertz based products, products being available at in-budget process, increasing demand for terahertz based imaging in research laboratories, and growing commercial applications for advanced imaging and communications will remain high and support component growth of global terahertz market.
Thus, the developments predict that component profitability will remain high in the forecasted years. The market players are focused on terahertz imaging technology. To gain competitive advantages the market players are providing cutting edge products efficient for scientific and technological breakthroughs.
They are equipped with advanced terahertz technology for developing substances detection, medical imaging, and other crucial products. It is providing the market players with a lot of business opportunities in the global terahertz market and a wide range of applications for the end users.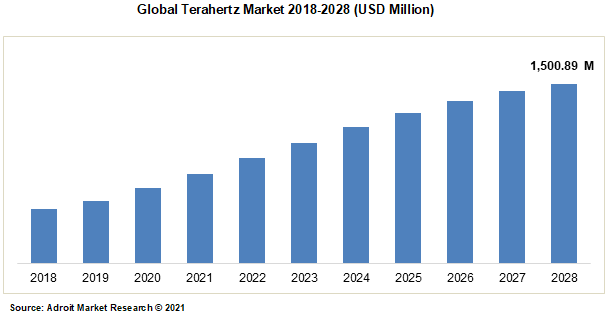 The leading companies manufacturing state-of-the-art terahertz technology based products are Applied Research & Photonics, TeraSense, Acal PLC, Advantest Corporation, Digital Barriers PLC, Toptica Photonics AG, TeraView Limited, Microtech Instruments, Menlo Systems GmbH, and Advanced Photonix among others. These companies have strong distribution networks worldwide and are popular across the globe for bringing innovation in the field. The companies have grown stronger as they have happy clients from different industries and there are used in over several countries.
Key Segments of the Global Terahertz Market
Type Overview, 2018-2028 (USD Million)
Terahertz Imaging Systems
Terahertz Spectroscopy Systems
Terahertz Communication System
Application Overview, 2018-2028 (USD Million)
Medical & Healthcare
Defense and Security
Food & Agriculture
Others
Component Overview, 2018-2028 (USD Million)
Terahertz Sources
Terahertz Detectors
Regional Overview, 2018-2028 (USD Million)
North America
Europe
Germany
UK
France
Rest of Europe
Asia Pacific
China
Japan
India
Rest of Asia Pacific
South America
Brazil
Mexico
Rest of South America
Middle East and Africa
Reasons for Study
To don an extensive analysis and granular level review of the developments taking place in the global terahertz market and discuss future prospects in this field.
To suggest paths for achieving more profitability in the terahertz technology and strategies to face the challenges.
To discuss the state-of-the-art terahertz technology and its wide range of application in different fields.
What Does the Report Include?
Financial analysis of the global terahertz market along with segment and region wise analysis.
Growth opportunities, market restraints, leading players, growth forecasts, and current market sizes.
Company profiles and comprehensive analysis of the market status, latest events, and market competitive strategies.
Segmentation of global terahertz market based on product type, region, and country with forecasts from 2021 to 2028.
Market sizes and revenues of all segments in terms of USD million.
Study of segments and regions that are witnessing tremendous growth and are poised to greater market growth in future are included in the report
Who Should Buy the Report?
The report can be crucial reference point for manufacturers, scientific researchers, technology builders, end users, business professionals, industrial customers, prominent scientific & research institutions, high profile customers and all the interested public.
The terahertz technology has been progressing remarkably. Technological advancements are being made in terahertz generation methods using electronic devices, accelerators, and other modern equipment. This is leading to the development of various terahertz active components thereby increasing the applications of terahertz technology. The terahertz technology is attracting a lot of attention the fields including medical, science, security, pharma, food, ceramics, wood, automotive, medicine, etc. These factors are likely to bode well with progressive growth stance in the global terahertz market.
The number of applications and unique solutions that are providing efficiency, reliability, etc are increasing the demand for terahertz technology products. This is one of the major reasons that is boosting the global terahertz market growth. Moreover, terahertz products developed with integrating advanced technologies is offering thrice return on investment to the manufacturers as well as improved and highly efficient results to the end users.
Terahertz technology advantages like greater bandwidth, high contrast imaging, high spatial resolution and safety, minimal effect on human body, etc are attracting small, medium, and large firms from the aforementioned industries to integrate terahertz technology thereby driving the global terahertz market.
Component Segment
Based on different market approaches terahertz technology market is classified based on different components including terahertz sources and terahertz detectors. The terahertz detectors segment has done a valuable contribution to the global terahertz market.
Its market revenue is expected to increase three-fold as the segment experiences strong growth in productivity led by implementation of advanced technology in the detectors leading greater efficiency for example easily detecting concealed explosives and drugs. Other features of terahertz technology includes its high end penetration of terahertz detectors into various materials such as leather, wood, paper, plastic and other dielectric materials.
Type Segment
On the basis of type, global terahertz market is classified into terahertz spectroscopy systems, terahertz communication system, and terahertz imaging systems.
The terahertz imaging systems is being used at a greater stage in the medical and defense and security applications which are the key reasons for the segment's growth in global terahertz market.
Application Segment
Based on different market approaches terahertz technology market is classified based on different applications including medical & healthcare, defense and security, food & agriculture, and industrial applications. The most lucrative segments based on application of the global terahertz market comprise healthcare and medical variants.
The increasing demand for advanced diagnostics methods for early-stage disease detection, growing demand for higher contrast image for the diseased tissue are also boosting terahertz technology growth in medical and defense segments.
North America is one of the most mature markets in global terahertz market and leading among all other regions, reflected in its high rates of terahertz technology penetration in various industries like medical, science, defense, homeland security, etc.
Increased digitization of component and services is also the key reason for growth of terahertz technology in North America. Also, Asia Pacific is driving the global terahertz market particularly due to rising awareness of using advanced technologies for efficient detection and use of minimally invasive techniques in medical and other industries.