The global Smart Electricity Meters market size is expected to reach close to US$ 54,254.7 Million by 2029 with an annualized growth rate of 10% through the projected period.
The global smart electricity meters market size was valued at USD 9,099.97 million in 2018. It is estimated to witness a CAGR of 7.8% over the forecast period. In the energy sector the growing demand for energy security has long prevailed. The generation of renewable energy has to some degree sufficed the need. Still, the energy generated by these systems is intermittent, and thus the main aspects of energy protection are energy efficiency and efficient use of electricity. Smart meters provide instant data on power usage that can be analyzed, and monitor usage, stabilizing energy demands.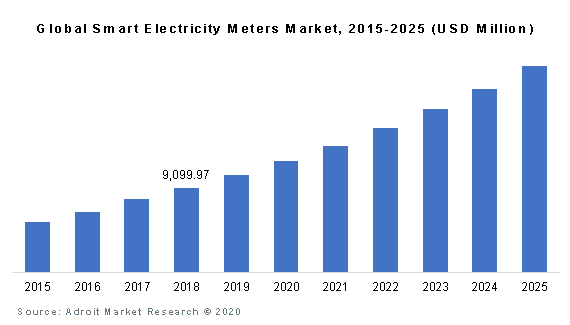 These smart systems significantly benefit the commercial end-use segment as they help improve energy efficiency by providing real-time pricing and usage data that is directly linked to the division's expenditure. Smart meters are an integral part of an intelligent network of grids. The smart grids are used to track and manage the transmission network, which is an improvement over the traditional electrical grid. The installation of smart grids in different regions is expected to increase demand over the forecast period for smart electric metering systems.
The global smart electricity meters market has been segmented on the basis phase, end-user, and region. Based on phase, the global smart electricity meters market is categorized into single-phase and three-phase. On the basis of end-user, the global smart electricity meters market is segmented into residential, commercial and industrial. Asia-Pacific is the market leader since the technological advancement is leading towards cumulative growth.
Key players operating in the global smart electricity meters market include Schneider Electric, Inc., ABB, Itron Inc., Holley Technology Ltd., Iskraemeco d.d., Siemens, General Electric, Elster Group GmbH and Landis+Gyr.
Smart Electricity Meters Market Scope
| | |
| --- | --- |
| Metrics | Details |
| Base Year | 2022 |
| Historic Data | 2021-2022 |
| Forecast Period | 2022-2032 |
| Study Period | 2021-2032 |
| Forecast Unit | Value (USD) |
| Revenue forecast in 2032 | US$ 54,254.7 Million |
| Growth Rate | CAGR of 10 % during 2022-2032 |
| Segment Covered | By Product, By End-Use, By Phase, Regions |
| Regions Covered | North America, Europe, Asia Pacific, South America, Middle East and Africa |
| Key Players Profiled | Siemens, Itron, Schneider Electric, Landis+GYR, Holley Metering, Iskraeeco, Osaki Electric, Sensus Sentec, Neptune Technology |
Key Segment Of The Smart Electricity Meters Market

By Product, 2022-2032 (USD Million)
• Smart Electric Meter
• Smart Water Meter
• Smart Gas Meter
By End-Use, 2022-2032 (USD Million)
• Residential
• Commercial
• Industrial
By Phase, 2022-2032 (USD Million)
• Single
• Three
Regional Overview, 2022-2032 (USD Million)
North America
• US
• Canada
Europe
• Germany
• France
• UK
• Rest of Europe
Asia Pacific
• China
• India
• Japan
• Rest of Asia Pacific
South America
• Mexico
• Brazil
• Rest of South America
Middle East and South Africa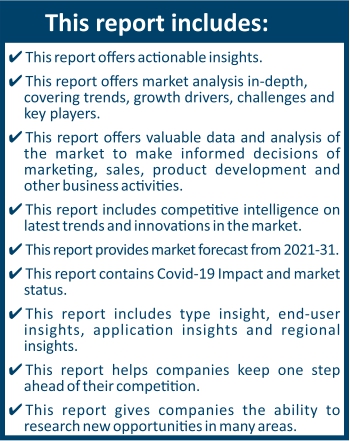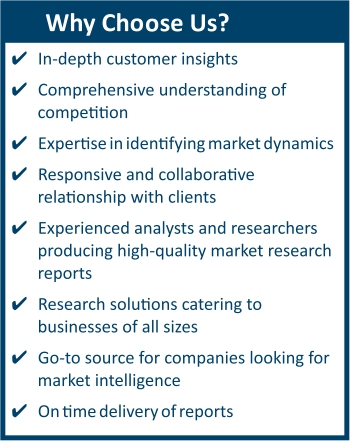 Frequently Asked Questions (FAQ) :
The market value of smart electricity meters market in 2025 was USD 16,066.58 million
the smart electricity meters market is growing at a CAGR of 7.8% during the forecast period.
The base year for the report is 2019 in smart electricity meters market
Smart energy metering systems are used to reduce the peak demand for electricity, allowing end-users to quickly track and minimize power usage accordingly. Energy suppliers exploit these tools by aligning their reaction time reduction benefits to resolve equipment faults and power outages and enhancing customer service quality due to remote read conveniences. Because the use of sustainable approaches to energy production differs over time, low power generation eventually results in unstable efficiency. Having the metering system, however, helps to compensate for this loss by monitoring the energy usage of different electronic devices, since this can accommodate intermittent supplies. Several smart meter implementation schemes in different regions, such as favorable policy measures being taken in countries like the United States and the United Kingdom, promote the development of such tools, which are expected to play a vital role in the growth of the industry. Such metering devices serve as a perfect remedy for these fraudulent acts. Concentrator meters used to track the metering devices connected to the substation, aggregate data obtained from various metering systems to control the usage of electricity and detect the amount of intermittent theft of energy. In addition, metering control centers provided by advanced technology are capable of handling data divergence. Intelligent metering systems are built into automated data simulators that predict potential energy needs based on current energy consumption levels, thus giving both energy sources and customers benefits. In addition, environmental awareness, related procedures and policies are expected to monitor the increasing radiation emission levels, thereby promoting the use of smart electrical metering systems. Throughout the UK, for example, governments have controlled the implementation of smart meters where the Department of Energy and Climate Change (DECC) administers the progress of the research and comprehensive, timely facilities. The market is therefore projected to experience a high competition among suppliers as they seek to differentiate themselves according to the regulated criteria, based on quality and cost. Intelligent electrical meters provide capabilities for analysis and energy estimation which are absent in traditional metering systems. A centralized capacity for processing and transmitting information from these metering systems is intended to prevent potential abuse and theft of metered electricity. The forecasts of significant growth can be awarded for the extensive promotion of green energy and effective transmission facilities. An integrated presence across the value chain is viewed as a competitive advantage, especially for the exchange of real-time information about consumption and tariff rates. Growing awareness among consumers about the benefits of these tools over the forecast period is expected to positively influence the growth of the smart electricity meters market.
The global smart electricity meters market has been segmented on the basis phase, end-user, and region. Based on phase, the global smart electricity meters market is categorized into single-phase and three-phase. On the basis of end-user, the global smart electricity meters market is segmented into residential, commercial and industrial.
On the basis of phase, the market is segmented into single-phase and three-phase. The sub-segment in three phases is projected to expand at a faster pace than in the single phase. This rise is due to its growing use in commercial and industrial applications. The three-phase electrical meters can accommodate more load and have the flexibility to split the load into three separate components.
Increasing numbers of industries and commercial buildings are expected to drive three-phase electric meter installation. Furthermore, in residential applications, the advantage of versatility offered by the three-phase electric meters paves the way for these meters. In addition, single-phase electrical meters are primarily used in residential buildings where energy is lower than commercial buildings as they are less costly and affordable to residential customers.
The end-use segment comprises of residential, commercial, and industrial sub-segments. Suburban / urban apartments and independent bungalows are included in the suburban end-use category. The end-use commercial section includes all commercial buildings and associated infrastructures such as hotels, residential lodges, small to large shopping centers, and offices. The manufacturing section includes facilities for making products and processing plants.
The commercial end-use segment is expected to show a healthy growth over the forecast period. Growth in this area is due to legislative, administrative and increasing awareness of energy use reduction and related expenses. In 2018, the residential end-use sector dominated the global market, owing to the increasing energy demand requirements of the appliances. For example, the U.S. says Energy Information Administration, U.S. electricity utilities have about 86.8 million smart metering network systems, where residential customers accounted for around 88 percent in 2018.
The global smart electricity meters market is cumulative to North America, Europe, Asia Pacific, Latin America and Middle East & Africa. Asia Pacific region, due to regulatory conditions and uniform policies, has highest deployment of smart electricity metering systems. However, the smart meter market in Asia Pacific is also projected to show substantial growth and is projected to expand from 2019 to 2025 at a revenue-based CAGR of 9.1 per cent.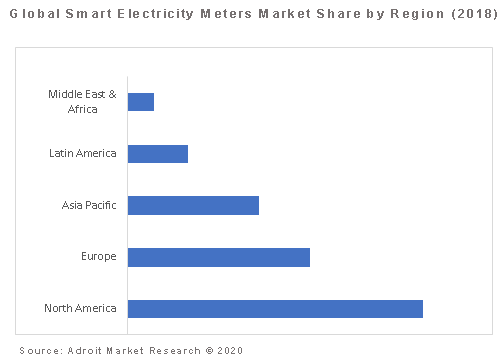 With large reserves for smart grid deployment, China is moving towards sustainable energy management. Smart meters are also expected to promote improved grid control, and are main areas of emphasis for smart grid initiatives. The residential sector is expected to emerge as the most lucrative segment for this industry, owing to the increasing smart grid adoption proposals in selected. The deployment of these metering systems allows domestic customers to utilize varied important features such as reducing peak purchases, responding to demand, and direct load control. It thus exerts downward pressure on spot energy prices, potentially reducing carbon emissions by incorporating cleaner distributed generation, compensating for the need for a new generation through transmission and distribution (T&D) power, and reducing domestic usage.