The worldwide smart commercial drones market was valued at USD 20.31 billion in 2019 and is anticipated to grow at a CAGR of 55.7% over the forecast period. Commercial drones with smart motors, improved onboard processors and software, precise sensors, and built-in compliance technologies provide safe and effective flight control for transportation and logistics. Artificial intelligence (AI) and machine learning (ML) are used in smart commercial drones to provide a greater knowledge of their surroundings, precise mapping of areas, tracking and monitoring of specific items, and analytical feedback.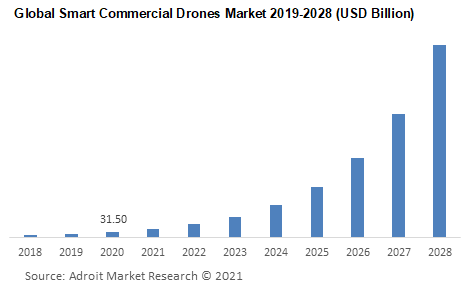 Smart commercial drones are a low-cost and effective way to aid wildlife conservation. The smart drone allows for the monitoring of wildlife populations and a better understanding of the health of animal species and ecosystems. Smart commercial drones are also widely employed in regeneration operations; these drones clean up burned-out forest floors and drop seed containers containing seeds, fertilizers, and nutrients to aid plant growth. The use of smart drones to plant seeds maintains the forest healthy. Over the last few years, the number of business use cases for drones has increased dramatically. Drone manufacturers and software solution providers, for example, are continuously creating, testing, and upgrading solutions for diverse markets.
Over the projected period, the fast increase in demand in commercial sectors such as chemicals, conservation, agriculture, construction, and filmmaking has had a direct impact on the growth of the smart commercial drones market. Furthermore, the growing need for drone analytics in commercial and industrial applications, as well as increased expenditures in the development of advanced drone software, are fueling the growth of the smart commercial drones market.
The market's growth is also being aided by fast technical improvement and development in smart commercial drones. Furthermore, the growing use of smart commercial drones in e-commerce is propelling the smart commercial drones market forward. Furthermore, emerging nations' strong investment in technology is creating a big demand for smart commercial drones and propelling the market's growth.
Prominent players operating in the global market are Parrot Drones SAS, 3D Robotics, Inc., Elbit Systems Ltd., Israel aerospace industries, Ascending Technologies GmbH, XAIRCRAFT Technology Co.Ltd., Yamaha Motor Company Ltd, Draganfly Innovations Inc.
Key Segments of the Global Smart Commercial Drones Market
Application Overview, 2019-2028 (USD Million)
Agriculture
Delivery & Logistics
Energy
Media & Entertainment
Real Estate & Construction
Security & Law Enforcement
Others
Type Overview, 2019-2028 (USD Million)
Fixed-Wing
Rotary Blade
Hybrid
Regional Overview, 2019-2028 (USD Million)
North America
Europe
UK
Germany
France
Rest of Europe
Asia Pacific
China
Japan
India
Rest of Asia-Pacific
Middle East and Africa
UAE
South Africa
Rest of Middle East and Africa
South America
Brazil
Rest of South America
Reasons for the study
The purpose of the study is to give an exhaustive outlook of the global Smart Commercial Drones market. Benchmark yourself against the rest of the market.
Ensure you remain competitive as innovations by existing key players to boost the market.
What does the report include?
The study on the global Smart Commercial Drones market includes qualitative factors such as drivers, restraints, and opportunities
The study covers the competitive landscape of existing/prospective players in the Smart Commercial Drones industry and their strategic initiatives for product development.
The study covers a qualitative and quantitative analysis of the market segmented based on component, application, and industry vertical. Moreover, the study provides similar information for the key geographies.
Actual market sizes and forecasts have been provided for all the above-mentioned segments.
Who should buy this report?
This study is suitable for industry participants and stakeholders in the global Smart Commercial Drones market. The report will benefit Every stakeholder involved in the Smart Commercial Drones market.
Managers within the Smart Commercial Drones industry looking to publish recent and forecasted statistics about the global Smart Commercial Drones market.
Government organizations, regulatory authorities, policymakers, and organizations looking for investments in trends of the global Smart Commercial Drones market.
Analysts, researchers, educators, strategy managers, and government institutions looking for insights into the market to determine future strategies.
Drones equipped with artificial intelligence can better comprehend their environment, correctly map regions, track and monitor the movement of specific items, and provide exact analytical input. They also give their consumers the opportunity to make real-time, data-driven decisions by ensuring that data is captured, processed, and sent quickly. Users may also cooperate and access footage collected by other drones, as well as track drone flight patterns in real time, with AI-powered drones. AI and machine learning, when combined with predictive learning models, provide for quicker data processing and actionable insights.
The drone industry is intended to support from the introduction of the 5G delivery system and the incorporation of cloud computing technologies into the drone development process. Drones with high-speed internet can interact in high-demand situations and execute tasks like media sharing, command and control, and autonomous flight. Service providers may now offer seamless mobile broadband access, ultra-low latency communications, and huge Machine-to-Machine (M2M) communications deployments thanks to the ability to conduct effective 5G network sharing. This allows service providers to offer a Drone-as-a-Service (DaaS) model to their customers, allowing them to expand their business and generate new income streams.
Product Segment
In terms of revenue, the rotary blade category accounted for more than 70% of the market in 2020 and is anticipated to continue dominating the market during the forecast period. Because of its capacity to retain a visual on a single target for an extended period of time, hover, and conduct rapid movement, rotary blade drones are projected to become more popular for inspection purposes. Drones are commonly thought to be a feasible choice for a variety of business uses, including filmmaking and photography, surveillance, and monitoring. Furthermore, they are less difficult to handle than their fixed-wing and hybrid counterparts.
Hybrid category is anticipated to grow at the highest rate, with a CAGR from 2021 to 2028. Commercial drones that are hybrids use the benefits of batteries and fuel to increase their power and efficiency. Furthermore, even in bad weather, these drones can fly for longer periods of time and carry heavier payloads. Hybrid drones are being used by technology companies like Facebook and Amazon to provide internet access in distant locations and for efficient parcel delivery, respectively
North America leads the smart commercial drones market because to widespread adoption for a number of activities in the area, including traffic control, jamming analysis, and crime scene investigation. Because of the rising use of smart commercial drones in the e-commerce business in this area, Asia-Pacific is anticipated to develop at a substantial rate during the forecast period. By 2028, the demand for commercial drones in the area is expected to approach 9 million units, exceeding that of North America. A favorable regulatory framework, particularly among developed countries, is expected to fuel market expansion.