The global drones market size was valued at USD 13.20 billion in 2018. Drones help in optimizing traditional business process such as data collection in mining sites and others, which is the key reason for the adoption of drone across the globe.
In numerous business activities, UAV's can substitute outdated methods of operation. This development comes after the (FAA) Federal Aviation Administration extended permissions for the commercial, non-hobbyist practice of UAVs. With fewer human operation and no safety infrastructure, UAVs can save time and costs.
The global Drones market is projected to reach US$ 279 bn 2032, growing at a CAGR of 25%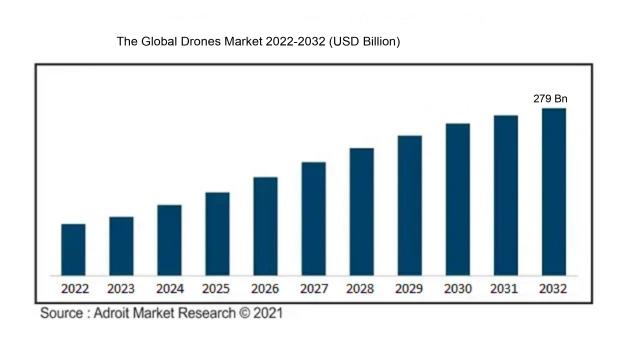 They can also improve data analytics that enables companies to understand and forecast operating performance in a better way. In some industries, UAV's will even facilitate new business models and opportunities. For instance, Amazon is planning to launch PrimeAir service, which will use a drone to deliver products to Amazon buyers.
Based on end-user, the global drone market is segmented into government, commercial and consumer. The commercial segment is further bifurcated into a general purpose, precision agriculture, construction and real, mining/oil & gas, meteorology & environment, power & utilities, insurance, media & entertainment, and delivery & logistics. The government segment holds the largest market share and also it is expected that the segment is anticipated to show high CAGR during the coming years. Followed by government, Commercial segment holds the second largest market share and in this segment, the agriculture drones market is expected to witness exponential growth rate in the coming years owing to many benefits associated with it. European countries have the most number of small and mid-sized farms which is suitable for using Unmanned Aerial Vehicles (UAV) also known as drones. Drones are relatively cheap and very easy to use for a various number of types such as mapping, scouting, water management, dusting, and others. Though there are few barriers including regulations in the US and Europe. Japan, on the other hand, have regulations in place from over a decade and use unmanned helicopters to perform 90.0% of the nation's aerial crop spraying.
The key players associated with the global drone market are SZ DJI Technology Co., Ltd, Parrot S.A, Yuneec International Co. Ltd. Kespry Inc., Pix4D SA22, Insitu, Inc., Delair-Tech SAS, EHang, Inc., Aeryon Labs Inc., and SenseFly SA. The companies are continuously innovating new product offerings to sustain in the market. DJI technology is the players, which hold the major chunk of market share in the overall drone market.
Drones Market Scope
| | |
| --- | --- |
| Metrics | Details |
| Base Year | 2022 |
| Historic Data | 2022-2023 |
| Forecast Period | 2022-2032 |
| Study Period | 2022-2032 |
| Forecast Unit | Value (USD) |
| Revenue forecast in 2032 | US$ 279 Bn |
| Growth Rate | CAGR of 25 % during 2022-2032 |
| Segment Covered | End-user , Regions |
| Regions Covered | North America, Europe, Asia Pacific, South America, Middle East and Africa |
| Key Players Profiled | Yuneec Holding Ltd, Skydio, Inc., Parrot Group, Intel Corporation, Teal Drones, Ehang Holdings Limited, AeroVironment Inc., 3D Robotics, Inc. |
Key Segments of the Global Drone Market
End-user Overview (USD Billion)
Government

Military

Homeland security

Commercial

General Purpose

Precision Agriculture

Construction and Real

Mining/Oil & Gas

Meteorology & Environment

Power & Utilities

Insurance

Media & Entertainment

Delivery & Logistics

Consumer
Regional Overview (USD Billion)
North America

U.S.

Canada

Rest of North America

Europe

UK

Germany

Rest of Europe

Asia-Pacific

India

China

South Korea

Rest of Asia-Pacific

Latin America

Brazil

Rest of Latin America

Middle East & Africa

UAE

Rest of Middle East & Africa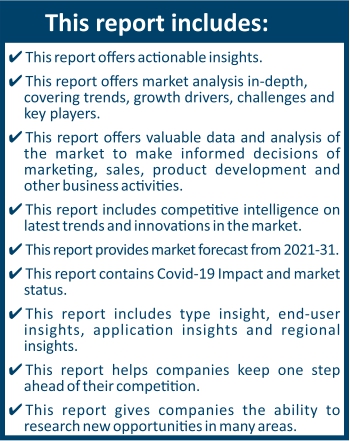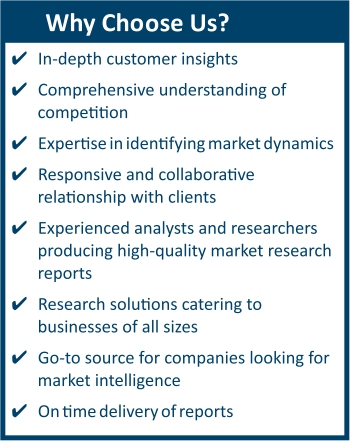 Frequently Asked Questions (FAQ) :
The drones market is expected to grow at a CAGR of 40.7% during 2021-2028.
North America dominated the market for drones market and accounted for the largest revenue share.
The major players are SZ DJI Technology Co., Ltd., Parrot S.A., Yuneec International Co. Ltd., Kespry Inc., Insitu, Inc., Delair-Tech SAS, EHang, Inc., Aeryon Labs Inc., and senseFly SA.
To get latest version of drones market report can be obtained on demand from the website.
The base year for the report is 2019 in drones market.
Drones are significantly gaining adoption across numerous end-user applications, due to increasing security concerns, predominantly, increasing domestic crime frequencies, terrorist threats, and border intrusion. Drone's demand is mainly generated from Military end-user application, followed by Precision Agricultural. Moreover, the introduction of government policies has additionally increased the demand for drones across the globe.
The usage of UAVs in business operations has widened in different industries in the last few years owing to their capability to drive competence and data analytics. Venture capitalists have capitalized more than USD 1.00 billion since 2012 in UAVs commercial start-ups that are shaping the market.
Since UAV's peripherals have become more inexpensive to manufacture and purchase, and the hardware itself will not determine the market growth going forward. In its place, services, which manages and operates UAV's for companies is projected to generate most of the value. End-user businesses will turn over services, which will manage drone data, operate drones, and manage the complete maintenance to third parties. For instance, telecommunications businesses are anticipated to end up marketing drone data communications services for supervising the drones and communicating the data they collect.
With an increase in the drone services market, it is expected that huge jobs related to drone management and handling are likely to grow during the forecast time frame. Over the next seven years, it is projected that the commercial drones segment will drive numerous job opportunities. The emergence of commercial drone not only boost the economy but also enables the industries to realize savings from cost-effective means of transportation, inventory, and distribution.
The mainstream of investments and well-funded start-ups in UAV's technology are located in Israel, China, and the US. Though, each country has a different concentration within the market: like, China is leading the consumer market and peripheral solutions with Dajiang Innovations that captures ~ 36% of North American consumer UAV's sales last year. Wherein, US companies are concentrating on producing specific commercial hardware solutions or end-to-end software for commercial applications, and Israel is focusing on developing the military application of drone. Israeli based drone vendors are also inventing and developing new autonomous solutions for an organization with Tel Aviv-based Airobotics.
Based on end-user, the government segment captures 53.8% of the market share. Nations around the world are anticipated to continue adding (UAS) unmanned aircraft systems to their military arsenals, which is the key factor driving factor for the growth of the government segment. To enhance border security, domestic violence, proper law enforcement drones are widely adopted by the government sector. Apart from enhancing the security features of drones, it is also deployed to monitor the places, where human lives are prone to risk.
The commercial segment captures the second largest market share in the market. In the commercial sector, the majority of the revenue comes from construction sites, wherein drones are used for surveying sites, 3D mapping, and taking photos to create maps.
North America captures 36.4% of the total market share in terms of revenue. Followed by North America, Asia Pacific captures the second largest market share, owing to an increase in a number of manufactures particularly in China. China-based players are majorly focusing on developing low cost and efficient drone hardware. Apart from this, these players are rigorously inventing new drone solution with high processing power, unlimited flying capacity, and load endurance.
Key Regional Highlights

To adopt drones in the agricultural sector, huge initial capital is required as compared to traditional farming techniques. Developed economies such as the US and Europe have already observed an inclination towards automated agricultural activities to increase the productivity on the advent of increasing labor costs. China is ahead in the race of adoption for the Asia-Pacific region followed by Japan. In coming years, the technology is expected to proliferate and reduce the costs which will lead to changing the scenes in developing economies in terms of adopting automated farming.
Labor regulations for operating agricultural machinery vary from country to country. For example, in the US, the FAA currently limits the drone operations below 400 feet during the day, within a line of sight and speed below 100 miles per hour. In the UK, drone spraying is only allowed through derogation for jobs, for instance, bracken spraying in remote areas on difficult terrain. Australia has seen some relaxation in rules after the laws were amended in 2016. Remote Operator Certificate (ReOC) or Remote Pilot License (RePL) requirements to fly UAVs up to 25kg no longer apply.
North America region led the global drone market in terms of revenue, owing to a surge in government spending to promote efficient defense devices such as drone is the key reason for the regional growth.
Low-cost manufacturing of drones is the key focus of the Chinese players and these companies such as SZ DJI Technology Co., and others are significantly involved in product R&D to develop drones with unlimited flying capacity, load endurance, and processing power.