Digital transformation plays a critical role in staying competitive in a constantly changing business environment and technology landscape. This report is part of a series of reports based on a study of digital transformation initiatives, potential and investments in the leading industry verticals and business sectors. Transportation and logistics are one of the lifelines of any business and it is being transformed through digital solutions. These collective initiatives from the industry have, in fact, turned digital mobility solutions and enabling products into a megatrend.
It's being expected that by 2028, the Digital Transformation in Transportation and Logistics market cap will hit 22170 at a CAGR growth of about 11.5 %.
The global market size for digital transformation was valued at USD 54.92 billion in 2018 and is anticipated to rise up to USD 145.28 billion by 2025 with a CAGR of 13.0% during the forecast period. Clearly, there is high adoption of digital technologies in field of transportation and logistics as developing robust new platforms solve problems related to asset underutilization, reduces supply chain inefficiencies, improve demand-supply matching, and increase connectivity and visibility across systems. With the improved operational connectivity and visibility between previously siloed systems, stakeholders are able to seamlessly connect to each other throughout the supply chain.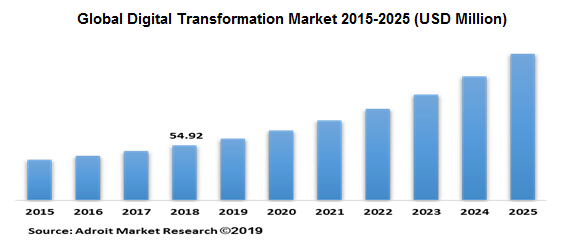 Digital Transformation in Transportation and Logistics Market Scope
| | |
| --- | --- |
| Metrics | Details |
| Base Year | 2020 |
| Historic Data | 2018-2019 |
| Forecast Period | 2021-2028 |
| Study Period | 2018-2028 |
| Forecast Unit | Value (USD) |
| Revenue forecast in 2028 | US$ 22170 million |
| Growth Rate | CAGR of 11.5 % during 2021-2028 |
| Segment Covered | By Type, Application, Regions |
| Regions Covered | North America, Europe, Asia Pacific, Middle East and Africa, South America |
| Key Players Profiled | Corportion, Digilogistics, Hexaware Technologies, IBM, JDA Software, Oracle, Samsung Co, SAP Ag, Tech MahindrA, UTI Worldwide Inc. |
Key Segment Of The Digital Transformation in Transportation and Logistics Market
by Type, 2021-2028 (USD Million)
• Consulting services
• System integration services
• Other services
by Application, 2021-2028 (USD Million)
• Warehouse management
• Labor management
• Transportation management
Regional Overview, 2022-2030 (USD Million)
North America
• US
• Canada
Europe
• Germany
• France
• UK
• Rest of Europe
Asia Pacific
• China
• India
• Japan
• Rest of Asia Pacific
South America
• Mexico
• Brazil
• Rest of South America
Middle East and South Africa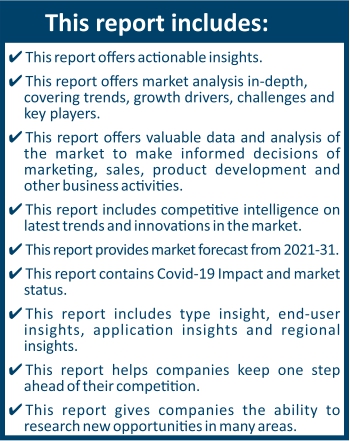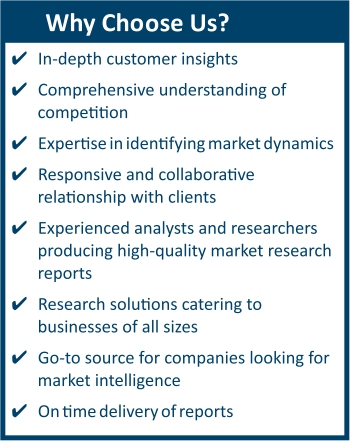 Frequently Asked Questions (FAQ) :
The market value of digital transformation in transportation and logistics market in 2025 was USD 145.28 billion.
The digital transformation in transportation and logistics market is growing at a CAGR of 13.0% over the forecast period.
The top companies that hold the market share in digital transformation in transportation and logistics market are Amazon Amazon, APL Logistics Ltd., IBM Corporation, Walmart, Logitech Corporation, Samsung Electronics & among others.
Digital transformation in transportation and logistics is predicted to be the major market in the next five year. The immense competitive pressure, the importance of cost optimization and the critical need for improvement of the overall supply chain are the common factors driving the adoption of digital transformation in the transportation and logistics industry. Other than that, various other technologies are entering the market.
The potential for ML and AI in logistics is tremendous: supply chain is goldmine for structured as well as unstructured data, and by utilizing and examining it, finding patterns and creating insight into every link of the supply chain, transportation and logistics firms can dramatically transform operations.
Ml is helping companies unveil patterns in supply chain data by using algorithms, along with continuous and simultaneous learning. These patterns eventually aid companies in extracting knowledge and insights in order to improve supplier performance, reduce freight costs and minimize supplier risk. While AI help logistics companies find financial anomalies by fetching critical information from invoices; help companies plan freight more efficiently and use natural language processing tools monitor online news and supply chain factors and take corrective action.
Following are the common IT priorities of organizations in the transportation and logistics industry,
Automating and digitize the business processes
Updating or replacing the legacy systems and IT infrastructure modernization
Leverage IoT and Cloud
Embrace new IT delivery models such as SaaS, PaaS and agile
Leverage Big Data and Artificial Intelligence for actionable insights
Apart from the above key IT priorities, the transportation and logistics companies are also keen on leveraging and investing in technologies such as AR, VR, and Blockchain to address business challenges.
Geographically, North America led by contribution in the global digital transformation market and had value of USD 18.67 Billion in 2018 and is expected to grow during the forecast period 2019 – 2025. However, Asia-Pacific is anticipated to have fastest growth rate in the forthcoming years. International companies are growing into this region and able to reap gain from the digital transformation. In the New-Asia, China lies at the centre and used to be low-based manufacturing which is now shifting to Cambodia, Laos, Vietnam and frontier markets like Bangladesh and Myanmar.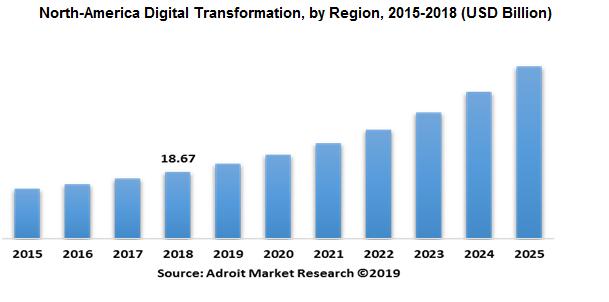 The key digital transformation vendors for transportation and logistics sectors are Amazon Web-Services, IBM, Oracle, Google, SAP, Daimler, BMW, VMware, Inc., Renault-Nissan, Microsoft Azure and others.