The popularity of online retailers is rising, new products are being introduced, and mergers and acquisitions are becoming more common. Modern neck and shoulder massagers are simple to use and handle without the need for professionals thanks to advances in creativity and technology. Demand for the product is being driven by the growing popularity of these massagers for personal usage in addition to in salons and spas. Demand for neck and shoulder massagers is also being driven by an increase in the usage of massagers in spas, salons, and physical therapy, as well as rising stress issues among millennials and generation Z, as well as a rise in physical diseases, sports injuries, and muscle discomfort.
Neck and shoulder pain are becoming more common due to sedentary lifestyles and an increase in workplace accidents. persons with osteoarthritis, rheumatoid arthritis, spondylosis, and cervical spondylitis are on the rise. Among the elderly population, shoulder massagers are in high demand. growing demand for massage therapy as a form of treatment. technological developments in shoulder and neck massagers. increasing use of devices for residential use, etc.
Several types of neck massagers are available for use in the comfort of one's own home to alleviate back, shoulder, and neck pain. Massagers for the neck are useful for alleviating the pain that might result from sprains, strains, and conditions like osteoarthritis. They are also helpful in relieving tension headache pain.
As the name implies, one may massage their neck and shoulders with a neck and shoulder massager. Massagers for the neck and shoulders can be either electronic or manual. While manual devices employ pressure from the hands to offer massage, electronic ones use motors to produce vibration or heat. These two devices have broad consumer and industrial applicability. They are frequently employed to alleviate stress, discomfort, and muscular spasms.
The market for back and neck massagers was valued at UAD 9.19 billion in 2021 and is projected to grow at a CAGR of 7.2% to reach USD 16.15 billion in 2031.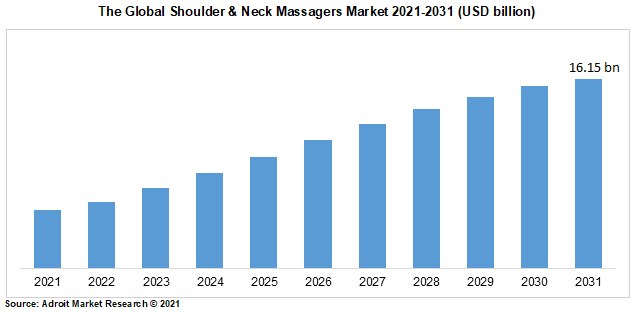 The main factors influencing the growth of the back and neck massagers market are the rising prevalence of chronic pain brought on by ageing or unsuitable lifestyle choices, growing public awareness of the benefits of massagers, as well as the rise in the number of massage parlours and physiotherapy facilities.
Rarely, a massage can cause serious side effects including vertebral artery damage and stroke if it is performed too vigorously or if there is a neck injury that already exists. Most people don't require a vigorous massage to feel the relaxing advantages of a neck massage. Numerous implements, including rollers, are used by massage chairs to twist and kneed your body tissues.
Similar to how exercise tears your muscles and connective tissues, they can cause inflammation and discomfort in your muscles. This is more typical in muscles that haven't been used in a while.
Market participants are developing new strategies to launch their products in various geographic areas. The increased competition is the reason for these actions and efforts. Established businesses are carefully examining their marketing tactics. Innovation in products, partnerships, and collaborations are all strongly influencing market expansion. The top five producers of neck and shoulder massagers are OSIM International, Family Inada Co., Ltd., JSB Health & Fitness Pvt. Ltd., HoMedics, and Panasonic Corp., who control more than 39% of the market.
SEGMENT ANALYSIS
In terms of product, Shiatsu massager demand is anticipated to grow at an extraordinary rate of 12.7% CAGR. The majority of these gadgets have lightweight construction and ergonomic designs. A large variety of these gadgets are rechargeable and only require two to three hours to reach full power, making them very user-friendly. Depending on the sensitivity of the muscles, the massage's intensity can be adjusted and thus regulated. The growing awareness of shiatsu massagers' efficacy, the widespread occurrence of chronic and acute pain, and the visibility of these products through e-Commerce channels are all factors that are expected to raise the market for shiatsu massagers in the future years.
In terms of patients, elderly adults are anticipated to make up a large portion of the demand, or 56.3%. Some of the elements driving this segment's revenue growth include the growing older population and the high prevalence of back pain among them.
In terms of power, Cordless electric massagers are anticipated to experience a substantial CAGR of 11% in terms of power over the course of the projected year. Since cordless variants don't require a power source to operate, the user can use them almost anyplace. Since consumers love cordless massagers, more businesses are concentrating on releasing them, which is anticipated to accelerate expansion of the cordless electric industry in the years to come.
On the basis of end user, Spa and massage parlours are anticipated to hold a significant portion of the market, accounting for 41.6% of end users. This is because, especially in developing countries, there has been a rise in the popularity of massage therapy and the number of spas and massage parlours offering therapeutic massage as a means of pain management. However, it is expected that the residential sector will see the highest CAGR. There is a substantial interest in purchasing massage instruments for use with shiatsu, facials, legs, back, and capillaries. As they aid in muscle relaxation, enhance the texture of the skin, and ease chronic pain, neck and shoulder massagers are growing in popularity.
The COVID-19 epidemic had a detrimental effect on the sales of neck and shoulder massagers during the first quarter of 2020.
To comply with laws and stop the virus from spreading, businesses like JSB Health & Fitness Pvt. Ltd, Nekteck, and OSIM International stopped producing in a number of nations. However, the first quarter of 2021 saw a growth in the sector. Sellers began offering free shipping and delivery to offline businesses in nations with low COVID-19 case rates in order to address a number of issues. The merchants used this tactic to get rid of a lot of merchandise in their warehouses that was massage equipment. Work from home policies and the expanding trend of internet shopping were further factors influencing the industry's expansion during COVID-19.
Therabody introduced the Wave Duo massage roller in May 2021.
This contraption is a cordless vibrating roller that eases pain in the lower back and neck. Arogya Health Care introduced a luxury automated massage chair in India in May 2021. This massage chair has many cutting-edge technologies, including Bluetooth technology, 3D massaging, infrared heating, and an integrated control panel. In the areas of the neck, shoulders, waist, and back, it aids in stimulating blood circulation.
Shoulder & Neck Massagers Market Scope
| | |
| --- | --- |
| Metrics | Details |
| Base Year | 2021 |
| Historic Data | 2020-2021 |
| Forecast Period | 2022-2031 |
| Study Period | 2021-2031 |
| Forecast Unit | Value (USD) |
| Revenue forecast in 2031 | USD 16.15 billion |
| Growth Rate | CAGR of 7.2 % during 2021-2031 |
| Segment Covered | product, Power Type, patient, Regions |
| Regions Covered | North America, Europe, Asia Pacific, Middle East and Africa, South America |
| Key Players Profiled | OSIM International, Family Inada Co., Ltd., JSB Health & Fitness Pvt. Ltd., HoMedics, and Panasonic Corp., |
Key Segments of the Photonics Market
By Type Overview, 2021-2031 (USD Billion)
• Lasers
• Waveguides
• Optical Modulators
• Optical Interconnects
• Filters
• Photo Detectors
• Amplifiers
• Others
By Application Overview, 2021-2031 (USD Billion)
• Consumer Electronics
• Displays
• Safety & Defense Technology
• Communication
• Metrology
• Sensing
• Medical & Healthcare
• High-performance Computing
• Others
By Regional Overview, 2021-2031 (USD Billion)
North America
• U.S
• Canada
Europe
• Germany
• France
• UK
• Rest of Europe
Asia Pacific
• China
• India
• Japan
• Rest of Asia Pacific
South America
• Mexico
• Brazil
• Rest of South America
Middle East and Africa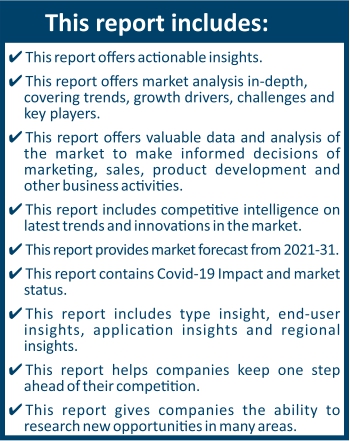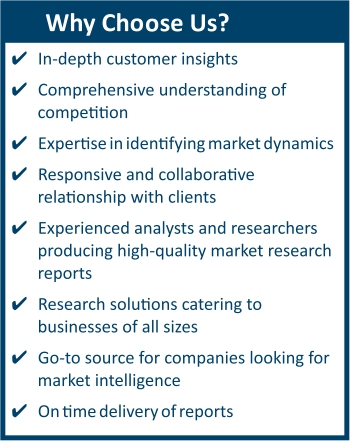 Frequently Asked Questions (FAQ) :
The global Shoulder & Neck Massagers market size is expected to reach USD 16.15 billion in 2031.