Covid-19 Impact & Market Status
In a short amount of time, the COVID-19 pandemic had a profound influence on markets, customer behaviour, economies, and society. Businesses are increasingly looking for solutions to assist them navigate through these hard times, with offices, educational institutions, and manufacturing facilities closing indefinitely, significant sports and events being postponed, and work-from-home and social distance laws in place.
The global market for the Security and Surveillance is anticipated to develop at a compound annual growth rate (CAGR) of 11.7% throughout the course of the forecast, to reach $ 114.9 billion by 2030.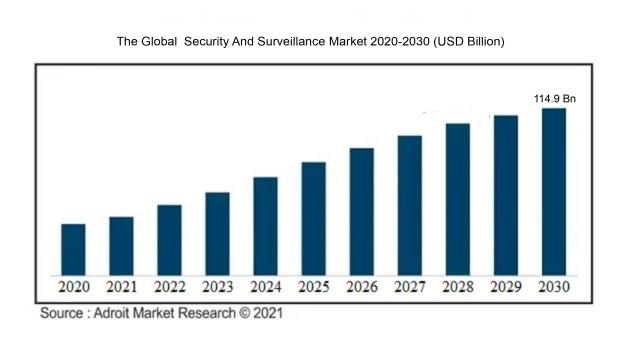 The present COVID-19 pandemic has had an influence on Internet usage. Several large IT infrastructure providers must migrate their networking architecture to support the work-from-home concept. The widespread usage of a VPN for teleconferencing, as well as the work-from-home concept, has resulted in a significant growth in global internet traffic. As a result of this situation, all IT infrastructure providers are now required to use VNF and SDN.
These developments have resulted in stock market inefficiencies, supply chain breaches, and vendor instability. These are continually interfering with industry's usual operations.
In the midst of the pandemic, new dynamics have emerged in the global Security and Surveillance Market, prompting the development of new business models and techniques to recuperate growth and revenue streams.
Video Surveillance is estimated to be lucrative segment in the upcoming years
Video surveillance systems use several cameras to monitor people, buildings, and locations from afar. Video surveillance technology is a very efficient and cost-effective way to protect people, residencies, and possessions. In current video cameras, 4K quality video technology is now available. 4K IP video cameras have a resolution that is twenty-seven times that of analogue cameras, nine times that of a conventional HD camera, and four times that of a Full HD camera. These higher resolution cameras guarantee that small and finer details remain visible even when expanding a segment of a still image. 4K resolution video cameras produce a more detailed image, allowing for more detail extraction. On modern cameras, variable zoom lenses are also available. Many cameras now include built-in microphones that can transmit and capture sounds. Manufacturers are adopting a range of hardware advancements to improve video's low-light performance.
Asia Pacific is the region of focus for Market Players
During the projected period, the Asia Pacific region is expected to hold the greatest share of the security and surveillance market. Due to increase in population density in major cities and investments in smart city initiatives, Asia Pacific is likely to continue to account for the highest market size in the security and surveillance market. The Asia Pacific market is growing as the number of small businesses, residential apartments, retail chains, and hospitality businesses grows, as well as government initiatives in various countries to install security and surveillance solutions in public places like schools, religious institutions, cities, colleges, and airports. The rising population of developing countries like India and China, combined with falling security and surveillance technology prices, is driving tremendous growth in smart security and surveillance systems.
Following the terrorist attacks in the United States on September 11, 2001, there has been a significant surge in demand for effective security and monitoring systems. Another factor predicted to boost market expansion in North America over the forecast period is the increasing deployment of advanced surveillance systems. One of the primary trends identified in this region is the integration of video surveillance technologies in the transportation industry.
The importance of security and surveillance in protecting public safety cannot be overstated. The demand for security has grown as the value of securing employees, property, and content has grown. Three of the most serious worldwide concerns are national security, personal information security, and network security. Governments are deploying video surveillance systems, detectors, alarms, access restrictions, and communication and information management systems to improve law enforcement and public safety as a response of increased security concerns. Traditional forms of identification, such as IDs and passwords, are particularly vulnerable to hacking and can be lost or forgotten. To address these problems, smart identification and surveillance systems have been used in a range of applications, including e-passports, national identity programmes, and border control programmes.
The market for security and surveillance is expanding. Technology helps to increase security and surveillance capabilities by providing a variety of more technological options, such as alarms, video surveillance, and access control devices.
The security and surveillance market is transforming, and solutions have progressed well beyond simple alarm monitoring. For enterprises that wish to protect their employees, assets, and facilities, live video surveillance and other remote security features have boosted visibility. The Internet of Things (IoT) is helping to make cities, homes, and businesses safer by allowing public and private organisations to safely and remotely monitor facilities and public places utilising smart security and surveillance systems in real time.
A smart home is one in which networked devices and appliances save time, money, and energy by performing certain functions. A smart home can incorporate the security alarm into a larger system that can perform additional tasks such as limiting exits or offering Internet access to surveillance feeds. The most typical home security products are security cameras and video doorbells. The smart doorbell industry is now dominated by Google's Nest doorbell and Amazon's Ring doorbell. Connected doorbells and cameras are frequently designed to integrate into a specific smart home ecosystem and can generate continuous money in the form of a monthly membership charge for access to recorded footage.
Information security is the practise of controlling access to information. Upcoming technologies, such as big data or the internet of things, are shaping security trends, according to analysts (IoT). One outcome of this has been a trend toward managed security services, which has resulted in overall market growth for security equipment.
Remote work concepts have become more popular as a result of the global COVID-19 epidemic, which has led to an increase in the deployment of workplace surveillance tools. This trend is exemplified by a rise in the number of online searches seeking employee surveillance. In April 2020, for example, the word "employee monitoring software" was searched 108 percent higher than the previous year. Employers can utilise workforce management tools designed for employee time tracking and productivity monitoring to monitor their staff.
The major players of the global Security and Surveillance Market are Palo Alto Networks, Cisco, Fortinet, Check Point, Huawei, SonicWALL, Juniper, Symantec, McAfee, Blue Coat, Intel Security, Hubstaff, Time Doctor, FlexiSPY, ActivTrak, SPYERA, Vivint Smart Home and Securitas Electronic Security among others.
Key Developments in the Global Security and Surveillance Market: A Snapshot
Bosch Security & Safety Systems introduced the FLEXIDOME panoramic 5100i camera line in July 2021, which includes indoor and outdoor IR variants with 6- or 12-megapixel resolution and a stereographic fish-eye lens. The cameras also have a microphone array integrated in.
Johnson Controls bought the whole of Qolsys Inc., a prominent residential and commercial security and smart-home maker, in August 2020. Long-term potential for broad cloud-enabled IoT solutions in its fire safety industry is projected to be enhanced as a result of this acquisition.
Security and Surveillance Market Scope
| | |
| --- | --- |
| Metrics | Details |
| Base Year | 2022 |
| Historic Data | 2020-2021 |
| Forecast Period | 2022-2030 |
| Study Period | 2020-2030 |
| Forecast Unit | Value (USD) |
| Revenue forecast in 2030 | $ 114.9 billion |
| Growth Rate | CAGR of 11.7% during 2020-2030 |
| Segment Covered | Based on Type, Hardware Type, Regions |
| Regions Covered | North America, Europe, Asia Pacific, South America, Middle East and Africa |
| Key Players Profiled | Honeywell International Inc.,Hanwha Techwin Co. Ltd.,Agent Video Intelligence Ltd.,Tiandy Technologies Co. Ltd.,Genetec Inc.,Dahua Technology USA Inc.,MOBOTIX,VIVOTEK,Axis Communications AB |
Key Segments of the Global Security and Surveillance Market
Technology Type Overview
Video surveillance

Video Surveillance camera
Video surveillance as a service (VSaaS)

Smart Home Security

Home Monitoring/Security
Smart Speaker
Lighting
Thermostat
Smart Doors and Smart Locks
Others

IT Security

Cloud security
Data security
Application security
Security services
Network security equipment
Other information security software

Workplace Surveillance

Employee monitoring software
Employee monitoring
Employee tracking
Others
End Use Type Overview
Residential
Commercial
Defense
Government
Regional Overview
North America
Europe
Germany
France
UK
Rest of Europe
Asia Pacific
South America
Mexico
Brazil
Rest of South America
Middle East and South Africa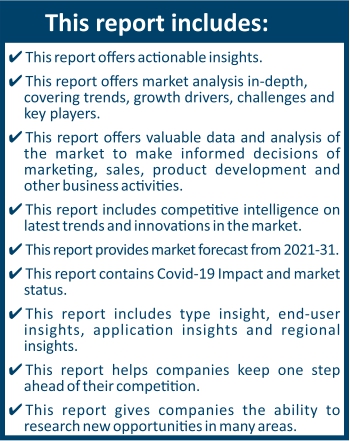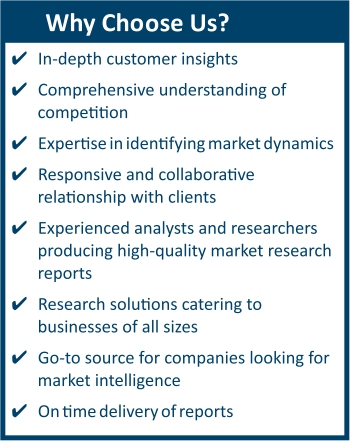 Frequently Asked Questions (FAQ) :
The global security and surveillance market is projected to grow at a CAGR of 15.0% during the forecast period (2021 - 2028).
The most active companies in the market include key players, such as Palo Alto Networks, Cisco, Fortinet, Check Point, Huawei, SonicWALL, Juniper, Symantec, McAfee, Blue Coat, Intel Security, Hubstaff, Time Doctor, FlexiSPY, ActivTrak, SPYERA, Vivint Smart Home and Securitas Electronic Security among others.
Asia Pacific dominated the security and surveillance market across the world, with the largest consumption from the United States.
The sample for playout security and surveillance market report can be obtained on demand from the website. Also, the 24*7 chat support and direct call services are provided to procure the sample report.