By Application
The smart transportation segment dominated the market in 2020 and accounted for a revenue share of over 35%. Growing traffic congestion problems owing to rapid urbanization, coupled with the need to modernize public transportation infrastructure, are driving the market growth in both developing and developed countries globally. The increasing adoption of IoT technology in the field of transportation has also empowered authorities by offering efficient traffic management in cities. The growing adoption of on-demand mobility, driverless cars, ridesharing, and electric vehicles is the key factor driving smart city projects in the transportation segment. These factors combined with increasing government initiatives and growing consumer awareness are anticipated to propel the demand for smart transportation solutions in the near future.
The smart governance segment is expected to witness significant growth over the forecast period. Smart governance enables government organizations to improve transparency, accountability, collaboration, security, and citizens' participation in the overall governance process by creating a progressive government-public partnership. With the use of information and communication technology, smart governance focuses on supporting and facilitating better planning and decision-making by transforming public service delivery processes. For instance, with the help of system integrators, OEMs, and distributors, several governments are implementing video surveillance systems in various cities to detect and prevent criminal activities and improve smart governance. For instance, Dahua Technology, along with Luxriot VMS, has implemented more than 300 cameras in Lincoln with the help of Videcom Security Ltd (System Integrator).
By Transportation:
The Intelligent Transportation System (ITS) segment dominated the smart transportation segment in 2020 and accounted for a revenue share of over 40%. The need for presenting real-time traffic information to drivers and passengers is one of the key factors driving the demand for ITS. The improved traffic efficiency enables transportation authorities to respond to emergencies more efficiently. The use of such systems maximizes efficiency in traffic management, reduces travel duration, and encourages the increased use of public transit. The higher use of public transportation results in the reduction of airborne pollutants and carbon dioxide emissions. Moreover, the rapid decline in the cost of telecommunication technologies and the evolution of IT systems in recent years are expected to drive the ITS segment growth over the forecast period.
By Region:
North America dominated the market in 2020 and accounted for a revenue share of over 30%. The growth can be attributed to the continuous digital transformation across various industry verticals such as telecom, retail, and banking. North America has emerged as the dominant region owing to its well-developed ICT infrastructure, the collaboration of federal and local governments with ICT vendors and start-ups, and the presence of prominent technology vendors. These factors are expected to drive innovation around smart technologies in the region. Moreover, the presence of various international councils is boosting the regional market growth. For instance, The Smart Cities Council and the U.S. Department of Transportation promote the concept of smart cities in the region by organizing networking events.
Asia Pacific is expected to emerge as the fastest-growing regional market over the forecast period. This growth can be attributed to the increased focus on the development of digital infrastructure in the region. Moreover, growing urbanization and a rise in disposable income are further expected to propel the regional market growth over the forecast period. The increasing focus of governments across the region to improve parking management and reduce traffic congestion and air pollution is expected to fuel the demand for smart parking systems over the forecast period. Organizations in the region are keen on exploiting benefits such as cost-effectiveness associated with cloud-based solutions, which bodes well for the growth of applications such as smart transportation, smart governance, smart utilities, and smart building.
A smart city is a well-connected city that deploys various information and communication technologies to share information among the public and improve the quality of government services as well as citizen welfare. This technology has been widely adopted in recent years to improve public safety which can range from monitoring areas of high crime rates to improving emergency preparedness with sensors and many more. The global smart cities market is projected to reach $4.4 Billion by 2028, registering a CAGR of 21.28% from 2018 to 2028.
The smart infrastructure segment dominated the overall smart cities market share in 2018 due to its significant adoption of security and transportation solutions among its users. Moreover, smart energy is expected to attain the highest growth rate during the forecast period.
The growth of the worldwide smart towns marketplace is pushed with the aid of using proactive authorities' smart cities initiatives, developing urbanization, and the growing need for a better-quality life. However, protection and privacy concerns of smart cities answers are predicted to abate the marketplace growth throughout the forecast period. Moreover, the growing adoption of synthetic intelligence answers amongst smart city tasks is anticipated to offer tremendous growth opportunities throughout the forecast period.
Globally, governments were playing a major role in the smart cities marketplace thru their guidelines and projects targeted on the deployment of smart offerings as a main a part of their infrastructure. For instance, General Services Administration's (GSA) Smart Buildings initiative commenced in May 2012 aimed to reduce charges and promote smart services modernized federal authorities' homes in huge components through related technology is one such predominant mission recorded in the recent years. Similarly, Europe's smart cities marketplace size is anticipated to develop at a considerable price because of its attention on power and weather objectives. Therefore, the authorities are focusing at the distribution of power with efficient models and techniques for progressing towards a low carbon future in this region. Moreover, governments in rising economies including China, South Korea, Dubai, India, Singapore, and Japan are aimed for clever improvement in their economies. The Indian authorities has devoted a funding of 107.95 crores to smart cities. Further, China has introduced 500 smart cities pilot initiatives that are once more a big funding through the authorities in the region. Furthermore, Dubai's goal to achieve the goal of the Smart Dubai Plan 2021 for remodelling their USA right into a 100% paperless authority has been promoting the adoption of smart offerings in the USA and playing the main function in the increase of the smart cities marketplace.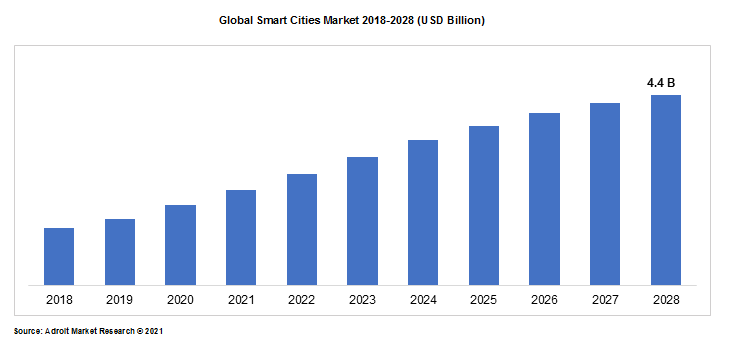 Smart cities deploy millions of sensors and smart devices in healthcare facilities, public institutions, transport services, and so forth, which tend to share a large amount of personal information on multiple devices, thus privacy and security is a major concern among the users. The significantly adopted advanced surveillance system and IP-based cameras in the system are vulnerable to several risks due to connectivity with the internet which allows the hackers to hack the system easily. Various hacking cases have been identified globally in the recent years where the data is breached and published publicly. In addition, as the resources are being distributed among various cloud clients, the privacy and security of the data is facing major threats from unethical or eavesdropper clients. This data security and privacy concern is the major factor that restrains the growth of the global smart cities market.
The key industry participants include ABB Limited; Cisco Systems, Inc.; Schneider Electric SE; International Business Machines Corporation; Siemens AG; and Microsoft Corporation. Companies such as Honeywell International Inc.; Oracle Corporation; Huawei Technologies Co. Ltd.; Hitachi, Ltd.; and Intel Corporation are also at the forefront of developing smart cities solutions. The industry is also expected to witness a rise in small companies that address the niche markets and provide customized solutions with limited scope. However, the marketplace will still be dominated by large technology corporations. The industry is also marked by a growing number of collaborations between governments and companies to develop and implement pilot projects. The key players are also collaborating to develop and deploy customized smart city solutions in the areas of city surveillance, energy management, smart transportation, and smart utilities, among others. Some of the companies are also playing the role of system integrators across smart city projects.
Smart Cities Market Scope
| | |
| --- | --- |
| Metrics | Details |
| Base Year | 2020 |
| Historic Data | 2018-2019 |
| Forecast Period | 2021-2028 |
| Study Period | 2018-2028 |
| Forecast Unit | Value (USD) |
| Revenue forecast in 2028 | USD 4.4 Billion |
| Growth Rate | CAGR of 21.28% during 2021-2028 |
| Segment Covered | BY AREA, Regions |
| Regions Covered | North America, Europe, Asia Pacific, Middle East and Africa, South America |
| Key Players Profiled | ABB Limited; Cisco Systems, Inc.; Schneider Electric SE; International Business Machines Corporation; Siemens AG; and Microsoft Corporation. Companies such as Honeywell International Inc.; Oracle Corporation; Huawei Technologies Co. Ltd.; Hitachi, Ltd.; and Intel Corporation |
Key Segments of the Global Smart Cities Market
BY AREA

Smart Infrastructure

Smart Transportation
Smart Water Management
Smart Stadium
Smart Public Safety and Security
Smart Lighting
Others

Smart governance and smart education
Smart energy

Smart Grid
Power Electronics
Smart Energy Storage

Smart mobility

Smart Ticketing
Smart Parking
Others

Smart healthcare

Connected Healthcare
Telemedicine
Others

Smart buildings

Facility Management Systems
Buildings Safety and security
Others

Others
Regional Overview, 2018-2028 (USD Billion)
North America
Europe
Germany
France
UK
Rest of Europe
Asia Pacific
China
India
Japan
Rest of Asia Pacific
South America
Mexico
Brazil
Rest of South America
Middle East and South Africa
Frequently Asked Questions (FAQ) :
The smart cities market is expected to grow at a compound annual growth rate is 21.28% from 2021 to 2028 to reach $4.4 billion by 2028.
North America dominated the smart cities market in 2020 and accounted for a revenue share of over 30%.
Some key players operating in the smart cities market include ABB Limited; Cisco Systems, Inc.; Schneider Electric SE; International Business Machines Corporation; Siemens AG; and Microsoft Corporation. Companies such as Honeywell International Inc.; Oracle Corporation; Huawei Technologies Co. Ltd.; Hitachi, Ltd.; and Intel Corporation
The report sample for smart cities market report can be obtained on demand from the website. Also, the 24*7 chat support & direct call services are provided to procure the sample report.