The growing awareness of grain wastage during cultivation is what is driving the Global Market for Save Grain Bags. Wasted grain reduces the ability of plants to produce themselves. Additionally, there will be tremendous pressure on the overall production of agricultural crops as a result of the world's growing population. Grain Bags are practical because they may be used to store grains safely, helping to meet the growing need for agricultural products.
Increased crop protection and an extension of the crops' shelf life are the main purposes of Grain Bags. The monitoring tools available from Grain Bags can be used to track the quality of any commodity and modify the temperature. The demand for grain bags is projected to rise as a result of these attributes in the near future.
Another feature of Grain Bags that is anticipated to increase demand for Grain Bags over the projected period is UV protection. Additionally, they are more affordable than permanent steel bins, which positively impacts the market need for grain bags. Additionally, when permanent storage is not an option, grain bags provide the convenience of flexible storage at the proper location.
Because Steel Tins keep grains safer than regular Grain Bags, it is anticipated that Steel Tins would impede the growth of Grain Bags. Furthermore, the modest unitary capacity of grain bags may have a detrimental effect on demand. Any product that a manufacturer offers has a vital role to play in drawing customers. Packaging is additionally used for safeguarding and shipping bulk materials. Grain bags are an example of this kind of packing. Grain bags are long bags that measure 2.4 to 3.6 metres.
The amount of material to be stored and the packing machine utilised to determine how long these bags should be. The demand for grain bags is gradually rising as the number of arable land declines. Additionally, grains are shielded from harm from the outside using grain bags.
However, some of its drawbacks are the restricted unitary capacity of Grain Bags and the requirement for a sizable land area for storage. As a result, grain bags may be stored in the best possible conditions, and this benefit is assisting producers in the Grain Bags Market to boost unit sales.
The Market for Grain Bags is undergoing a big upheaval because of blockchain-based traceability solutions. These platforms aid in effective transportation and lower Global food losses. Additionally, farmers can use web tools to access data about food grains from distant areas. Producers are using blockchain-based traceability solutions to record data that is essential for post-harvest storage procedures. As a result, blockchain technology ensures the consistency of grain quality.
The Global Grain Bags market is projected to grow at a CAGR of 6.1% from 2021 to 2031. The market is expected to be worth US$387 Million by the end of 2021 and reach US$700 Million by the end of the forecast period.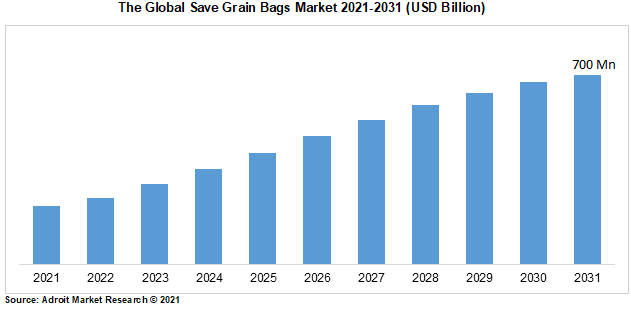 Swiss Pac, Knack Polymers, Ahmedabad, Gujarat, SPPLA, Shako Flexipack, Bankey Bihari Packaging Pvt Ltd. are the top players in the global grain storage market.
Segment Analysis
More Exciting Polypropylene (PP) Bags
Polypropylene (PP) bags have better heat and chemical resistance than Polyethene (PB) bags and are more transparent in appearance and tear-resistant. Polypropylene packaging can be fitted with sturdy protective edges, making it an ideal packaging solution to protect products and contents from damage. In addition, it offers unrivalled protection against moisture, gas and dirt.
A Commercial Segment to Expand More
Demands for food are rising quickly along with the population. Following the COVID-19 outbreak, people are more concerned about their health and only want to buy real food goods that are packaged properly. As a result, the producer's duty of adequately packing the items for bigger bulk purchases became problematic. Therefore, the manufacturers of goods and packaging are more likely to utilise superior packing materials with a variety of advantages that shouldn't harm the grains. Since the business sector produces the most, saving grain bags will be more of an impact.
Grain Storage to Witness Exponential Growth
The grain storage is made of vented, silver, corrugated steel-structured containers that are supplied in a range of s and have a bigger diameter than other storage. Dry maize and soyabeans are typically stored in these sorts of grain bins to meet domestic and international demands for feed, food, and fuel. They have been designed to aerate grains at colder temperatures for safer and longer storage times.
Asia Pacific to Dominate the Market
The Asia Pacific region is anticipated to hold a dominant position in the global save grain bags market during the forecast period due to the importance of agriculture as a source of food in the nation, the rising demand for practical packaging options, and the rising number of people with disposable income.
Impact of COVID-19 and Market Status
Companies in the agriculture sector are stepping up efforts to fortify their supply networks as the COVID-19 (coronavirus) outbreak sweeps the globe. They ensure the security of their clients and employees while providing necessary tools, goods, and services. Similarly, to this, businesses in the saving Grain Bags sector are using strict sanitization procedures to prevent the virus from entering packaging units. Symaga, a producer of Industrial Grain Bags, complies with directives from the government to run factories and conduct business out of offices.
Latest innovations and Developments in the Global Save Grain Bags Market: A Snapshot
• The USDA contributes to the NC A&T State University's new HBCU Agribusiness Innovation Centre.
• Stalin begins the Kalaignarin Integrated Agriculture Development Program for All Villages.

Save Grain Bags Market Scope
| | |
| --- | --- |
| Metrics | Details |
| Base Year | 2021 |
| Historic Data | 2020- 2021 |
| Forecast Period | 2022-2031 |
| Study Period | 2021 – 2031 |
| Forecast Unit | Value (USD) |
| Revenue forecast in 2031 | US$700 Million |
| Growth Rate | CAGR of 6.1 % during 2021-2031 |
| Segment Covered | Type, Application, by End-Use, Regions |
| Regions Covered | North America, Europe, Asia Pacific, Middle East and Africa, South America |
| Key Players Profiled | Swiss Pac, Knack Polymers, Ahmedabad, Gujarat, SPPLA, Shako Flexipack, Bankey Bihari Packaging Pvt Ltd |
Key Segments of the Save Grain Bags Market
By Type Overview, 2021-2031 (USD Billion)
By Application Overview, 2021-2031 (USD Billion)
By End User Overview, 2021-2031 (USD Billion)
By Regional Overview, 2021-2031 (USD Billion)
North America
Europe
Germany

France

UK

Rest of Europe
Asia Pacific
China

India

Japan

Rest of Asia Pacific
South America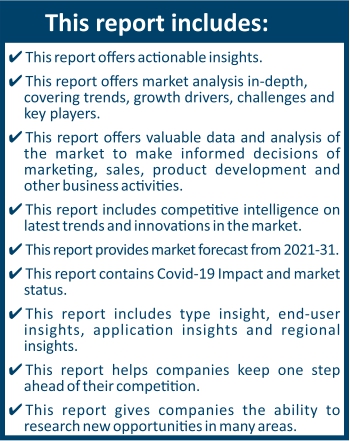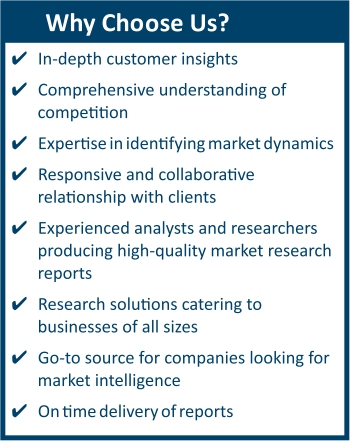 Frequently Asked Questions (FAQ) :
Save Grain Bags Market is projected to reach US$700 Million by 2031, growing at a CAGR of 6.1%