Global polypropylene accounted for a market volume of 77.8 million tons in the year 2019 and is projected to reach more than 90 million tons over the forecast period, growing at a CAGR of more than 4.5%. Polypropylene has similar properties to polyethylene, but it is a bit more rigid and thermal resistant. Polypropylene (PP) is a thermoplastic polymer made of the propylene monomer combination. It is used in a range of uses such as packaging, automotive, medical, and building, etc.
It is currently one of the world's most frequently produced plastics. The polymers may present an orderly and disorderly configuration depending on the type of polymerization and the catalyst used. Polymers can easily be packed together into crystals if they have a regular arrangement of their atoms, as isotactic polypropylene. Polypropylene is a foldable plastic hence, can easily be formed and molded. We call it thermoplastic, as it is easier to shape and to form when dry. However, depending on the macromolecular composition, different types of poly propylene are used.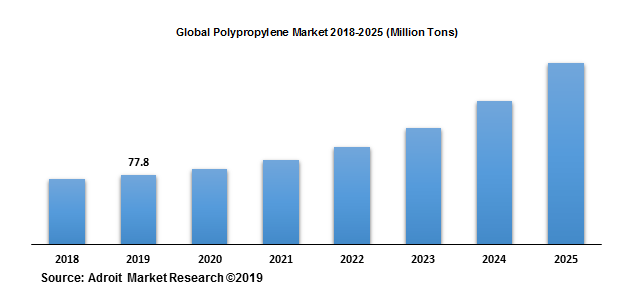 Key segments across polypropylene market
Type Overview, 2018-2025, (USD Million) (Million Tons)

Homopolymer
Copolymer
Others

End-users Overview, 2018-2025, (USD Million) (Million Tons)

Packaging
Automotive
Building & Construction
Medical
Electrical & Electronics
Others

Regional Overview, 2018-2025, (USD Million) (Million Tons)

North America
Europe

Germany
UK
France
Rest of Europe

Asia Pacific

China
India
Japan
Rest of Asia-Pacific

Central & South America
Middle East & Africa
Reasons for the study
The purpose of the study is to give an exhaustive outlook of the global polypropylene. Benchmark yourself against the rest of the market.
Be prepared for how glass industry investments and polypropylene will be impacted by socio-political and economic factors over the next few years
Ensure you remain competitive as new innovations by existing key players boost the market.
What does the report include?
The study on the global polypropylene includes qualitative factors such as drivers, restraints, and opportunities.
The study covers the competitive landscape of existing/prospective players in the industry and their strategic initiatives for the product development
The study covers a qualitative and quantitative analysis of the market segmented on the basis of type and end-user. Moreover, the study provides similar information for the key geographies.
Actual market sizes and forecasts have been provided for all the above-mentioned segments.
Who should buy this report?
This study is suitable for industry participants and stakeholders in the global polypropylene. The report will benefit:
Every stakeholder involved in manufacturing and distributing components or solutions.
Managers within financial institutions looking to publish recent and forecasted statistics pertaining to the global polypropylene.
Government organizations, regulatory authorities, policymakers and financial organizations looking for T&D investment trends in global polypropylene.
Analysts, researchers, educators, strategy managers, and academic institutions looking for insights into the market to determine future strategies.
Global PP growth is largely driven by the rapid economic development of many emerging economies. The use of plastics in general will increase as emerging economies move towards more consumer economies. In addition, government incentives to invest in export-oriented capacity development of plastics in many of them would help fuel growth of demand for PP. Demand growth will also rise from continued substitution of metal pipes with plastic pipes. Similarly, glass and metal containers with plastic containers. Increasing usage of plastics in packaging due to superior quality and cost-effectiveness will further contribute in the growth of PP industry.
This is a commodity-dependent market and has a wide range of regional and global producers. Competition in this industry among other polymeric materials industries is considered to be among the highest levels. Key players invest aggressively in modernizing manufacturing assets and R&D in order to be successful in the global polypropylene industry.
Type Segment
On the basis of Type segment, the market is categorized into Homopolymer, Copolymer, and Others. Copolymer, dominates the global Polypropylene market with a share of over 50% in 2019 and is anticipated to dominate the industry for the forecast period 2020-2025.
Typical applications of Homopolymer PP include thermoforming containers, rigid packaging, flexible packaging, lids, furniture, housewares, consumer product, closures, etc. Typical application of impact copolymer includes automotive components, air dams, exterior trim, industrial moulding, consumer products, housewares, etc.
End-User Segment
On the End-users, the market is bifurcated into Packaging, Automotive, Building & Construction, Medical, Electrical & Electronics, Others. Packaging dominated the global polypropylene end-user market and is anticipated to show similar trend over the forecast period.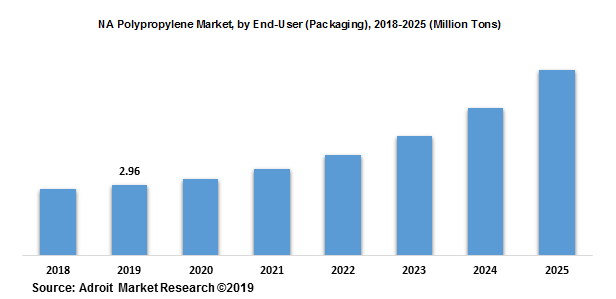 In terms of region the global polypropylene market is segmented into North America, Europe, Asia Pacific, Central & South America, and Middle East & Africa.
Increased feedstock supplies of propylene have prompted businesses to consider new production plants as a result of the US shale revolution and lack of new PP capacity. China is still the world's largest importer of propylene and other propylene polymers. The prices which were declining in 2015 and 2016, once again rose across the globe maintaining a healthy position for three years straight. However, prices declined between 2018 and 2019 and is anticipated to show further decrease over the coming months.
Global leaders in this market include BASF, Borealis, Braskem, Chevron Phillips Chemical Company, DuPont, Reliance Industries Limited, ExxonMobil, Sinopec, SABIC, INEOS, Total SA, etc. Keeping the number of factors in mind, this key players are likely to maintain their position in the coming 5 to 6 years.