Predictive Maintenance Market helps the authorities of the government to automatically recognize the trends of equipment failure and estimates the cost of maintenance in future, which allows them to increase value of asset and uptime, negotiate better service level agreements, and prepare for future budget expenditures.
Covid-19 Impact & Market Status
It has been observes that COVID 19 had a huge impact on every industry and it affected the customer behaviour on a global basis. Similarly, COVID-19 had an influence on the Predictive Maintenance business. The operations in regards to manufacturing stifled due to lack of resources, and restriction on trade. Some studies have shown that the demand for Predictive Maintenance will increase drastically during the post pandemic period which will bring the market again on its position at the global level. Due to COVID, the Predictive Maintenance Market was affected for almost a period of 2 years but the value for this market is now rising in the post pandemic period.
Predictive Maintenance Market by Component
Based on component, the hardware segment reported for the largest share in the market in 2018 whereas it is observed that the service sector is expected to register the highest CAGR out of hardware, solution and service. The segment of service is further separated into consulting, provision and upkeep, and system integration.
Predictive Maintenance Market on the basis of Testing Type
Based on Testing type, it was spotted that the vibration monitoring segment discovered the largest portion in the market in 2018, whereas the oil analysis is predicted to record the highest CAGR out of vibration monitoring, electrical insulation, infrared thermography, temperature monitoring, ultrasonic leak detector and oil analysis.
Predictive Maintenance Market based on its Deployment
It has been analysed that on- premise segment showed for the largest share in the market in 2018 whereas it has been expected that the cloud segment will register the highest CAGR.
Predictive Maintenance Market based on its Technique
It has noted that the predictive maintenance market is categorized into traditional and advanced techniques. The advanced techniques are further branched into two techniques which are IoT or Big Data technique and machine learning based technique. In 2018, traditional techniques portion accounted for the largest share in the market. Whereas it is being expected that the advanced techniques segment will register the highest CAGR.
Predictive Maintenance Market based on its Vertical
It has been seen that the predictive maintenance market has been separated into manufacturing, healthcare, energy and utility, automotive, aerospace and defence, transportation, and more. In 2018, largest share has been reported by manufacturing segment and it is predicted that energy and utility segment will register the highest CAGR.
Predictive Maintenance Market based on Region
It has been evaluated that North America reported for huge share in the Predictive Maintenance Market. Due to the region's high concentration of developed end-use sectors and businesses' high knowledge of the advantages of integrating new, more cutting-edge technologies that enhance productivity and save costs, North America held the highest share of the global market in 2021. The U.S. Air Force is increasingly using predictive analytics to keep up with the upkeep needs of its vast fleet of bombers, tankers, fighters, transports, and helicopters.
The market's expansion is in need as it allows for safety compliance, preemptive corrective actions, and increased life of an asset. Pre- emptive examinations, maintenance program adjustments, and repairs can be carried out before the asset stops by looking beyond, and knowing what disaster is likely to happen and when.
The Predictive Maintenance Market has few amazing benefits due to which its use is increasing at a fast rate among both large enterprises and SMEs. These benefits include reduced downtime, extended life of the equipment, improved plant safety, optimized maintenance schedule, reduced costs of maintenance, and improved yield rate.
There is an increasing demand of Predictive Maintenance Market due to its low cost and downtime connected with predictive maintenance.
In 2021, the market extent of Predictive Maintenance is USD 5.66 Billion whereas it is expected that market size of predictive maintenance market will be USD 44.25 Billion by 2030 and expected CAGR is 27.4% in the forecast period.
The main aim of Predictive Maintenance Market is the employment of data analysis instruments and procedures in order to spot abnormalities in operation and potential issues in processes and equipment so that they could be secured before the process shows any errors.
There are some major concerns for the Predictive Maintenance Market like data could be misinterpreted which would further lead to false maintenance requests. It consists a enormous amount of money to initiate a complete IoT system with sensors, transmission costs and analysis. This would lead to collapse in proactive physical inspection and equipment upkeep. It might not grab contextual information into consideration like equipment age or weather.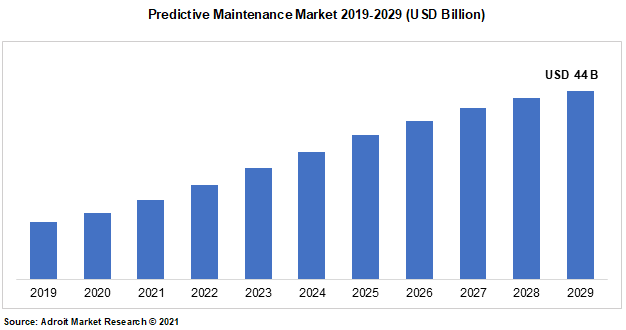 In context with this, this report gives a detailed analysis of various leading Predictive Maintenance Market vendors, which involve Axiomtek Co. Ltd, Oracle Corporation, Microsoft Corporation, XMPro, IBM Corporation, RapidMiner, Hitachi Ltd, SAP SE, Comtrade, C3 ioT, Software AG. Furthermore, the industrial Predictive Maintenance market research study contains particulars on upcoming trends, opportunities, scope, and extortions that will affect market growth. This study is equipped to assist firms capitalize and strategize on any upcoming growth opportunities.
Latest Innovations in the Predictive Maintenance Market: a Snapshot
In July 2021, there was a development of industry's first dual safety by Schneider Electric who launched EcoStruxureTM TriconexTM Safety View. It is a cybersecurity certifies sidestep and alarm management software application which permits operators to look both the sidestep status which effects the level of reduction of risk in place, as well as critical alarms which are essential to operate the plant safely when the level of risks are high.
In May 2021, SAS Viya podium was hurled by SAS Institute in order to sustain the basis for data and analytic triumph by embracing new data organization answers into its powerful, cloud native SASViya platform.
The market research analysis's purpose is to give reliable study on the universal Predictive Maintenance market. The study interprets intricate data and illustrates the industry's existing and historical state, as well as predictable market drifts and size. The research observes all features of the sector, including market leaders, investors, customers, and new entrants.
Predictive Maintenance Market Scope
| | |
| --- | --- |
| Metrics | Details |
| Base Year | 2022 |
| Historic Data | 2020-2021 |
| Forecast Period | 2022-2030 |
| Study Period | 2020-2030 |
| Forecast Unit | Value (USD) |
| Revenue forecast in 2030 | USD 111.34 Billion |
| Growth Rate | CAGR of 26.2 % during 2022-2030 |
| Segment Covered | By Component, By Deployment Model, By Organization Size, By Industry Vertical, Region. |
| Regions Covered | North America, Europe, Asia Pacific, South America, Middle East and Africa |
| Key Players Profiled | Altair, AWS, General Electric, Google, Hitachi, HPE, IBM, Microsoft, Oracle, SAP, SAS Institute, Schneider Electric, Software AG, Splunk, and Tibco Software |
Key Segment Of The Predictive Maintenance Market
Component, 2022-2030 (USD Million)
• Solutions
• Services
Deployment Model, 2022-2030 (USD Million)
• Cloud
• On-premise
By Organization Size, 2022-2030 (USD Million)
• Large Enterprises
• Small and Medium-sized Enterprises
By Industry Vertical, 2022-2030 (USD Million)
• Government & Defense
• Manufacturing
• Energy & Utilities
• Transportation & Logistics
• Healthcare & Life Sciences
Regional Overview, 2022-2030 (USD Million)
North America
• US
• Canada
Europe
• Germany
• France
• UK
• Rest of Europe
Asia Pacific
• China
• India
• Japan
• Rest of Asia Pacific
South America
• Mexico
• Brazil
• Rest of South America
Middle East and South Africa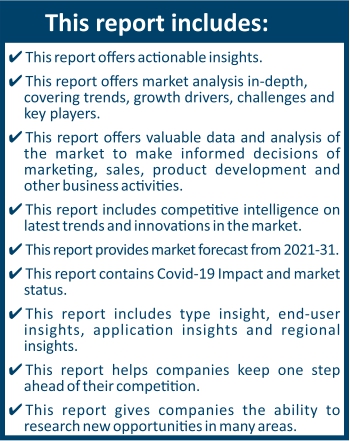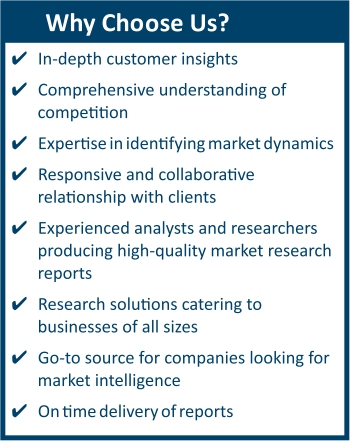 Frequently Asked Questions (FAQ) :
The market value of predictive maintenance market in 2030 was USD 44.25 billion.
The predictive maintenance market is growing at a CAGR of 27.4% over the forecast period.
The top companies that hold the market share in predictive maintenance market are Axiomtek Co. Ltd, Oracle Corporation, Microsoft Corporation, XMPro, IBM Corporation, RapidMiner, Hitachi Ltd, SAP SE, Comtrade, C3 ioT, Software AG & among others.