The global piezoelectric devices market has expanded fast in recent years, and it is estimated to increase by 36 USD billion at a CAGR of 5% over the forecast period. Significant expansion in the automotive and electronics industries is one of the primary drivers driving the market's favorable outlook. Furthermore, the widespread availability of piezoceramics is propelling market expansion.
Piezoceramics have a quicker reaction rate, greater output, frequency, and sensitivity, and they may be employed in both low- and high-voltage drive circuits. They are also widely utilized in sonar equipment, pressure sensors, diesel fuel injectors, optical instruments, solenoids, and ultrasonic cleaners, which is further fueling market expansion.
Furthermore, technical breakthroughs like the development of smaller nanogenerators are expected to propel the industry even further. Piezoelectric nanogenerators are utilized in portable consumer electronics like smartphones, smartwatches, laptops, and tablets to gather vibration energy and meet the device's energy needs. Similarly, piezoelectric actuators are employed in the healthcare industry for accuracy and stability in microscopes for diagnostic purposes.
Piezoelectric devices are pieces of equipment that use the piezoelectric effect to monitor acceleration, pressure, temperature, and force by transforming the mechanical energy in the environment into an electrical pulse. Generators, sensors, actuators, and transducers are some of the most typical piezoelectric devices.
When mechanical stress or vibrations are applied to them, piezoceramics such as quartz are used to convert physical force into alternating current (AC). These gadgets, unlike their conventional equivalents, are not affected by electromagnetic fields and radiations and may be utilized in harsh environments.
As a result, piezoelectric devices are widely used in a variety of industries, including automotive, healthcare, information technology (IT) and telecommunications, consumer products, aerospace and military, and manufacturing.
Commercial airplanes, space vehicles, and satellites are frequently manufactured, sold, and serviced by aerospace industry participants. Advanced and enhanced solutions are needed in the industry to boost the efficiency, durability, and performance of airplanes, planes, helicopters, submarines, and so on.
Because of their great mechanical strength, low weight, ease of production, thermal and chemical stability, and exceptional wear resistance, piezoelectric polymers are employed in the aerospace sector. As a result, polymer materials may be used as supporting media in optical sensors to create an integrated vehicle health system that provides updates on the state of vehicular subsystems, components, and structures.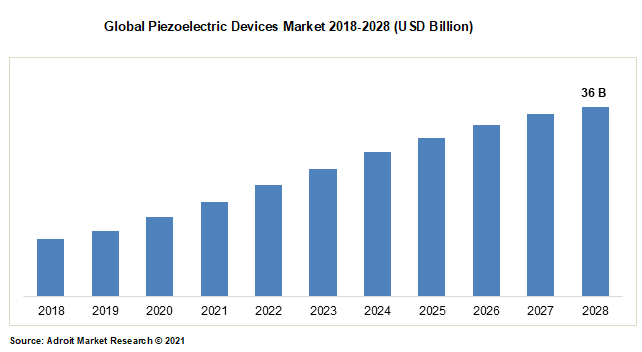 The prominent market players of the piezoelectric devices industry are Aerotech Inc., CeramTec GmbH (BC Partners), APC International Ltd, CTS Corporation, (Kistler Holding AG), L3harris Technologies Inc., Kistler Instruments India Pvt. Ltd. Piezomechanik Piezosystem Jena GmbH, Physik Instrumente (PI) GmbH & Co. Mad City Labs Inc., and Dr. Lutz Pickelmann GmbH. This research looks at the market revenue, business strategies, market shares, current trends, and growth rates of the leading piezoelectric devices companies.
When establishing these firms' player position in the piezoelectric devices market, recent events such as geographical expansions, research activities, new solution/product releases, acquisitions, and technical breakthroughs are taken into account.
Piezoelectric Devices Market Scope
| | |
| --- | --- |
| Metrics | Details |
| Base Year | 2020 |
| Historic Data | 2018-2019 |
| Forecast Period | 2021-2028 |
| Study Period | 2018-2028 |
| Forecast Unit | Value (USD) |
| Revenue forecast in 2028 | 36 USD billion |
| Growth Rate | CAGR of 5% during 2021-2028 |
| Segment Covered | Product Type, Application, Element, Operation Mode, Regions |
| Regions Covered | North America, Europe, Asia Pacific, Middle East and Africa, South America |
| Key Players Profiled | Aerotech Inc., CeramTec GmbH (BC Partners), APC International Ltd, CTS Corporation, (Kistler Holding AG), L3harris Technologies Inc., Kistler Instruments India Pvt. Ltd. Piezomechanik Piezosystem Jena GmbH, Physik Instrumente (PI) GmbH & Co. Mad City Labs Inc., and Dr. Lutz Pickelmann GmbH. |
Key Segments of the Global Piezoelectric Devices Market
Product Type Overview, 2018-2028 (USD Billion)
Piezoelectric Sensors
Strip Actuators
Piezoelectric Actuators
Shear Actuators
Tube Actuators
Piezoelectric Generators
Piezoelectric Motors
Stack Actuators
Piezoelectric Transducers
Application Overview, 2018-2028 (USD Billion)
Automotive
Aerospace and Defense
Diagnostic Equipment
Imaging Devices
Manufacturing
Surgical Tools
Consumer Electronics
Healthcare
Information and Communication
Element Overview, 2018-2028 (USD Billion)
Piezoelectric Discs
Piezoelectric Plates
Piezoelectric Rings
Operation Mode Overview, 2018-2028 (USD Billion)
Converse Piezoelectric Effect
Direct Piezoelectric Effect
Regional Overview, 2018-2028 (USD Billion)
North America
• U.S.
• Canada
Europe
• France
• UK
• Germany
• Rest of Europe
Asia Pacific
• China
• Japan
• India
• Rest of Asia Pacific
South America
• Brazil
• Mexico
• Rest of South America
The Middle East and Africa
Reasons for the study
• To understand the market in terms of present trends, drivers, and future industry strategies.
• To appreciate various strategies devised by major corporations functioning on the global market.
What does the report include?
• This study provides an analytical representation of the piezoelectric devices market size, as well as future forecasts to aid in the identification of potential investment possibilities.
• The extensive piezoelectric devices market study tries to find profitable trends in order to get a competitive advantage.
• The report includes the leading manufacturers' piezoelectric devices market shares as well as industry trends.
Who should buy this report?
• Executives in the piezoelectric devices sector who want to learn more about the target market.
• Industry executives, analysts, government agencies, and researchers seek market data to aid in future operations planning.
A piezoelectric motor creates motion when an electric field causes a piezoelectric material to change form. Furthermore, piezoelectric motors are vacuum-compatible and lightweight, and they produce more force and torque than electromagnetic motors. These motors are utilized in a variety of applications, including digital cameras for focusing, zooming, and optical image stabilization, as well as micro and nano-positioning and medical catheter insertion.
Furthermore, piezoelectric sensors such as pressure sensors, high-temperature sensors, flow sensors, and ultrasonic sensors help to reduce carbon emissions, reduce fuel consumption, enhance fuel economy, and lower maintenance costs and system failure rates. As a result, the aerospace industry needs next-generation sensing technologies to increase the safety and dependability of aircraft structures while also lowering operational costs. Membrane pumps for microfluidic LOC (lab-on-a-chip) devices can also employ actuators. The demand for piezoelectric devices is projected to rise owing to the huge technological expansions across the aerospace industry.
Product Type Segment
The piezoelectric actuators segment accounted for the maximum revenue in the year 2020. Likewise, it is anticipated to grow with the same expansion rate throughout the forecast period. This market is growing due to the increasing use of piezoelectric actuators in a huge range of sectors.
Application Segment
The piezoelectric devices market's healthcare category is expected to develop at the fastest CAGR over the forecast period. Ultrasonic medical instruments such as dental scalers, ultrasound scanners, and ultrasonic surgical tools are built on piezoelectric technology. Because of its consistent, accurate, and dependable fluid dispensing control, miniature piezoelectric pumps and actuators are widely utilized in medical pumping and dosing, and lab equipment.
In 2020, Asia Pacific had the largest market share for piezoelectric devices. The region is anticipated to lead the market throughout the forecast period. Significant makers of piezoelectric ceramics, crystals, and other piezoelectric goods may be found throughout the region. Japan and China are major contributors in this industry, accounting for the highest share of the piezoelectric devices market in APAC.