The global phytosterols market size was valued at USD 588.0 million in 2017. The health benefits associated with consumption of phytosterols coupled with the high prevalence rate of cholesterol and associated disease have accelerated the global phytosterols market demand. Furthermore, the benefits of combining phytosterols with other dietary means such as soy protein, dietary fiber, and nuts are becoming more widely recognized leading to higher market demand.
Phytosterols belong to a family of fat-like substances such as beta-sitosterol, campesterol, and stigmasterol among others, which are absorbed partially via the human digestive tract and that of other mammals. Phytosterols possess a chemical structure which is similar to that of cholesterol but phytosterols have an additional alkyl group on their side chain. This chemical structure acts as a natural cholesterol blocker and plant sterols stun the absorption of dietary cholesterol. It also prevents the endogenous cholesterol resorption (created in the liver) from the digestive tract. Less cholesterol absorption results in lower total and low-density lipoprotein (LDL) containing blood levels, thereby reducing the threat of coronary heart diseases (CHD).
The global Phytosterols market is anticipated to increase at a 10.2% CAGR to reach value $ 1390.7 million in 2030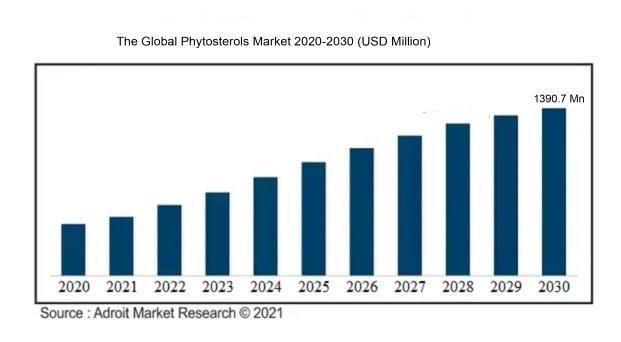 Commercially, phytosterols are extracted from vegetable oils which include soybean oil, sunflower oil or corn oil, rapeseed (canola) oil, or from "tall oil", which is a by-product from manufacturing wood pulp. In order to obtain phytostanols, phytosterols are hydrogenated which are high melting powders.
The most common phytosterols include β sitosterol, campesterol, and stigmasterol among others. β sitosterol alone occupied approximately 67% of the global phytosterol market share, by volume, in 2017. The dominance of this segment in the global phytosterols market size is due to its extensive applications in the treatment of heart diseases and high cholesterol. β sitosterol is also helpful in boosting immunity which helps to prevent the occurrence of the common cold, gallstones, colon cancer, rheumatoid arthritis, HIV/AIDS, tuberculosis, flu, allergies, psoriasis, and cervical cancer among others. The expanding applications in the pharmaceutical sector are expected to drive the demand for β sitosterol during the forecast period.
The global phytosterols market trends are characterized by the increasing use of phytosterols in food products which is facilitated by the escalated government intervention. For instance, the US FDA expanded the scope of phytosterol-containing foods and beverages through its "no objection" to a GRAS (Generally Recognized as Safe) notification letter. The decision to consider plant sterols and sterol esters GRAS in a larger spectrum of commodities resulted in additional heart-healthy food applications made available to the consumers. This is expected to further drive the global phytosterols market size.
The global phytosterols market analysis revealed that the highest demand came from Europe. This region generated revenues worth USD 248.2 million in 2017. Strong competition present in the European food market for generic food commodities has often resulted in low-profit margins. Therefore, the companies have resorted to seeking niche markets offering improved profit margins. Functional foods, which include foods with dietary components that providing health benefits beyond basic nutrition, present such niche markets. Phytosterol-enriched foods, therefore, present an opportunity to offer an additional advantage to consumers and as a result can be priced accordingly. This has resulted in the accelerated demand in the European countries for phytosterols enhanced food ingredients.
Health ingredient manufacturing companies around the world are collaborating with partners in order to find new opportunities and develop new products. The increasing trend of using food supplements has increased tremendously, especially in Europe. In order to address this trend, Newtrition, the health band of BASF, has introduced Vegapure phytosterol, which helps in reducing the cholesterol levels. This trend is expected to propel the global phytosterol market growth during the forecast period.
Phytosterols Market Scope
| | |
| --- | --- |
| Metrics | Details |
| Base Year | 2022 |
| Historic Data | 2020-2021 |
| Forecast Period | 2022-2030 |
| Study Period | 2020-2030 |
| Forecast Unit | Value (USD) |
| Revenue forecast in 2030 | $ 1390.7 million |
| Growth Rate | CAGR of 10.2% during 2020-2030 |
| Segment Covered | by Type, Application, Region. |
| Regions Covered | North America, Europe, Asia Pacific, South America, Middle East and Africa |
| Key Players Profiled | BASF SE; Arboris, LLC; Archer-Daniels-Midland Company; Cargill Inc.; The Lubrizol Corporation; Advanced Organic Materials; Ashland Global Holdings, Inc.; and Gustav Parmentier GmbH. |
Key segments of the global phytosterols market
Application Overview
Food Ingredients
Pharmaceuticals
Cosmetics
Product Overview
β-sitosterol
Campesterol
Stigmasterol
Others
Regional Overview
North America
Europe

Germany
Italy
France
UK
Rest of Europe

Asia Pacific

China
India
Japan
South Korea
Rest of Asia Pacific

South America

Brazil
Rest of South America

Middle East & Africa

GCC
South Africa
Rest of Middle East & Africa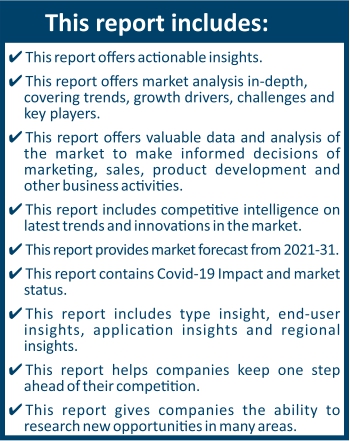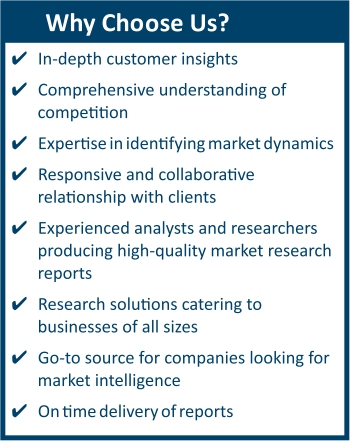 Frequently Asked Questions (FAQ) :
The market value of phytosterols market in 2025 was USD 1.20 billion.
The phytosterols market is growing at a CAGR of 9.4% over the forecast period.
The top companies that hold the market share in phytosterols market are ADM, Cargill, Raisio, Unilever, Arboris, BASF, and DuPont & among others.