The global clinical nutrition market was valued at USD 62,622.3 million in 2020 and is expected to grow at a CAGR of 6.4% over the forecast period. Proper nutrition is necessary for the development and growth in the first year of life. During development infants are given variety of nutritive foods one of which is infant formulas. These balanced diet plans offer complete nutrition to children. With increasing population globally and increased spending on infant health & nutrition is likely to boost the segment growth in coming years. Additionally, increasing product availability and shopping of middle-income groups at hypermarkets where majority of brands are available, has changed the shopping perspective of consumers. Inclination towards highly nutritive products is likely to increase demand for infant nutritive foods in coming years.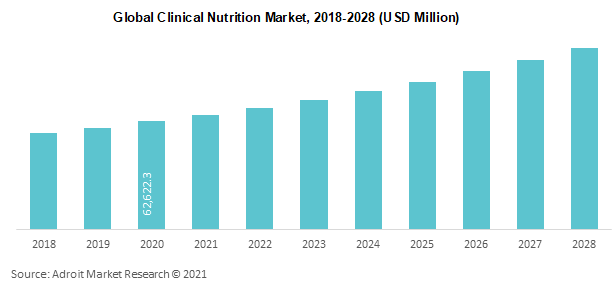 The global clinical nutrition market is categorized based on type and application. Region wise, North America was the largest market in 2020; however, Asia Pacific is expected to be the fastest growing region by 2028, with a CAGR of over 7%.
Key players serving the global clinical nutrition market include Abbott Nutrition, Groupe Danone, Pfizer Inc., Meiji Holdings Co., Ltd., GlaxoSmithKline, B. Braun Melsungen, Real Food Blends, Functional Formularies, Mead Johnson Nutrition Company, Perrigo Baxter International, Nestlé Health Science, Ajinomoto, VICTUS, Armor Proteines, NewBridge Pharmaceuticals, and American HomePatient, among other prominent players.
Key segments of the global clinical nutrition market
Type Overview, 2018-2028 (USD Million)
Parenteral Nutrition
Enteral Nutrition
Application Overview, 2018-2028 (USD Million)
Postoperative Patients
Postpartum Women
Infants
Regional Overview, 2018-2028 (USD Million)
North America
Europe

Germany
United Kingdom
France
Spain
Rest of Europe

Asia Pacific

China
Japan
India
Rest of Asia Pacific

Central and South America

Brazil
Mexico
Rest of Central and South America

Middle East & Africa

GCC
South Africa
Rest of Middle East and Africa
Reasons for the study
The purpose of the study is to give an exhaustive outlook of the global Clinical Nutrition industry
The overall segmentation of clinical nutrition market, especially key segments are thoroughly studied.
Presence of major players and their wide product portfolio across developed countries is anticipated to further boost the growth of clinical nutrition market
What does the report include?
The study on the global clinical nutrition market includes analysis of qualitative market indicators such as drivers, restraints, challenges, and opportunities
Additionally, the market competition has been evaluated using the Porter's five forces analysis
The study covers qualitative and quantitative analysis of the market segmented on the basis of type and applications. Moreover, the study provides similar information for the key geographies.
Actual market sizes and forecasts have been provided for all the considered segments
The study includes the profiles of key players in the market with a significant global and/or regional presence
Who should buy this report?
The report on the global clinical nutrition market is suitable for all the players across the value chain including raw material suppliers, Clinical Nutrition providers, distributors, suppliers, and retailers
Venture capitalists and investors looking for more information on the future outlook of the global clinical nutrition market
Consultants, analysts, researchers, and academicians looking for insights shaping the global clinical nutrition market
Frequently Asked Questions (FAQ) :
The global clinical nutrition market to register a growth of CAGR of 6.4% from 2021 to 2028.
The growth of the global clinical nutrition market is majorly driven by rise in prevalence of metabolic disorders, high spending on healthcare, and the rise of the middle class in emerging economies.
The sample for clinical nutrition market report can be obtained on demand from the website. Also, the 24*7 chat support and direct call services are provided to procure the sample report.
The overall clinical nutrition market is heading towards disease specific feeding formulas. A large number of interventions have been reported showing positive effect of specialized feeding formulas in cancer patients. With increasing prevalence of cancer across males and females coupled with long time required for diagnosis making the disease more critical is likely to open new opportunities for formula manufacturers. In countries such as Australia, New Zealand, Ireland, Hungary etc., where diagnosis rate of cancer is highest and penetration of key players is also noticeable, the market in these countries is likely to have good future prospects for new entrants. Countries such as the U.S., Germany, France, UK are marked with presence of mature market and large number of vendors already present in the market.
Also on the other hand, geriatric population is likely to be the most contributing age group in adults when it comes to clinical nutrition. When speaking about geriatric population Japan is the country with highest ratio of geriatric population. With increase in geriatric population, factors such as disease susceptibility, healthcare costs, and demand for medications go up in proportion.
The global clinical nutrition market has been segmented based on type and application. In 2020 the parenteral nutrition segment was valued at USD 17,596.9 million and is likely to grow at a CAGR of 5.5% over the forecast period. Parenteral nutrition is given to patient of all age groups including infants. With increasing natality rate and proportion of malnourished children, the demand for IV nutrition is likely to increase in coming years for infants. According to the American Society for Parenteral and Enteral Nutrition, readmission rates of patients have increased as the rate of malnutrition has increased to 30% - 50%. Such factors are likely to spur the demand for parenteral nutrition in coming years.
In 2020 the enteral nutrition segment contributed 71.9% of market share in terms of revenue and is likely to grow at a CAGR of 6.3% over the forecast period. With rising interventions of coronary heart diseases, where patients are unable to consume foods orally post-surgery, feeding tubes are used to administer proper nutrition to these patients. As the global population is passing 7 billion, the number of individuals getting admitted in hospitals for treatment of heart diseases is also on a rise.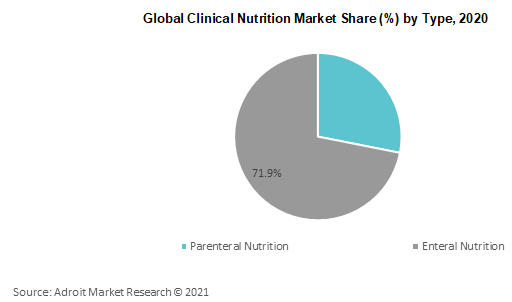 Based on geography, the global clinical nutrition market is split into North America, Europe, Asia Pacific, Central and South America and Middle East & Africa. North America dominated the worldwide clinical nutrition market driven by the bad eating habits and increased intake of junk food resulting to malnourishment. Significant fast-food consumption leads to chronic health concerns as this food contains high concentrations of trans fats, saturated fats, and sodium. These components are known to raise the risk of hypertension, type 2 diabetes, and cardiovascular illnesses.
The COVID-19 pandemic has developed as an unprecedented health hazard that has rendered substantial impact on the clinical nutrition sector. The coronavirus outbreak has infected over millions of people across the globe producing major mortalities. In order to stop the future transmission of SARS-CoV-2 virus, statewide lockdowns were established, and emergencies had been proclaimed in majority of the countries. The shutdown of important sections of the economy affected the supply chain and hindered the movement of raw materials that may limit the industrial revenue to a certain level.