The global paper straw market was valued at >USD 550 million in 2019. Paper straws are stalks used to suck liquid foods. They can be made as straight tubes or have bellow segments which can be adjusted in angle. These are made from paper material and are therefore used as environmentally friendly alternatives for plastic straws. Paper straws are biodegradable and can be recycled 100 percent. Unlike plastic straws, which can take hundreds of years to fully decompose, paper straws can degrade completely within 2-6 weeks.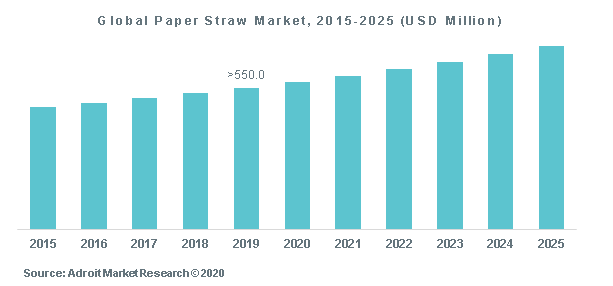 The growing consumer awareness about the menace of plastic items, including plastic straws and plastic cutlery on the surrounding environment, has attracted a significant number of users towards paper straws in recent years. Government reforms and an increasing number of campaigns and movements to ban plastic goods are gaining momentum, and consumers are more than willing to opt for more eco-friendly consumer goods such as paper straws and food packing materials. The biodegradability of paper straws and its ability to hold up during the course of the meal is a significant draw for many restaurant owners and consumers. Paper straws are now made available by manufacturers in different patterns and colors to attract consumers. The expansion of the HORECA industry, proliferation of restaurants and hotels, and the emerging food delivery services are likely to drive the paper straw market in the forecast period. However, the low cost of durable plastic straws and its wide prevalent use in the restaurant businesses is likely to act as a restraining factor to the growth of the global paper straw market.
Key segments of the global paper straw market
End-Use Overview, 2015-2025 (USD Million)
Food Service
Institutional
Household
Hotels
Material Overview, 2015-2025 (USD Million)
Virgin Paper
Recycled Paper
Product Overview, 2015-2025 (USD Million)
Regional Overview, 2015-2025 (USD Million)
North America
Europe

Germany
UK
France
Rest of Europe

Asia Pacific

China
Japan
India
Rest of Asia Pacific

Central & South America

Brazil
Rest of Central & South America

Middle East & Africa

GCC
Rest of Middle East & Africa
Reasons for the study
Rising food & beverage global industry
Increasing urbanization and infrastructure development in developing economies
Initiatives taken to minimize the environmental impact of plastic waste
What does the report include?
The study on the global paper straw market includes analysis of qualitative market indicators such as drivers, restraints, challenges and opportunities
Additionally, the market competition has been evaluated using the Porter's five forces analysis
The study covers qualitative and quantitative analysis of the market segmented on the basis of end-use and type. Moreover, the study provides similar information for the key geographies.
Actual market sizes and forecasts have been provided for all the considered segments
The study includes the profiles of key players in the market with a significant global and/or regional presence
Who should buy this report?
The report on the global paper straw market is suitable for all the players across the value chain including paper straw manufacturers, distributors, suppliers and retailers
Venture capitalists and investors looking for more information on the future outlook of the global paper straw market
Consultants, analysts, researchers, and academicians looking for insights shaping the global paper straw market
New alternatives to plastic straws are being considered due to consumer demands for sustainability and recent changes in government policies and regulations, such as bans on single-use plastic products. There are concerns regarding paper straw quality and stability over time when in contact with beverages. This study evaluated the performance and properties of commercially available paper straws and their counterpart plastic straws in various intended applications.
The physical, mechanical, and compositional characteristics, as well as the liquid interaction properties of the straws, were determined. The paper straws were composed mainly of hardwood fibers that were hard sized with a hydrophobic sizing agent to achieve a contact angle of 102 to 125. The results indicated that all the evaluated paper straws lost 70% to 90% of their compressive strength after being in contact with the liquid for less than 30 min.
Furthermore, the paper straws absorbed liquid at approximately 30% of the straw weight after liquid exposure for 30 min. Increased liquid temperatures caused lower compressive strengths and higher liquid uptake in the paper straws. This report provides directions and methods for testing paper straws and defines current property limitations of paper straws relative to plastic straws.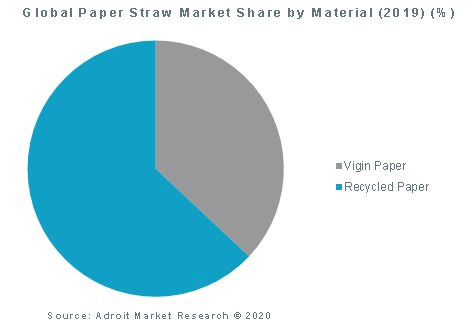 The global paper straw market was segmented by end-use, product, and material. From 2019 to 2025 the paper straw market is expected to dominate the virgin paper segment in terms of both value and volume. Straws made from virgin paper are sturdy, durable, have higher rates of absorption and at the same time are reliable and effective, which reduces waste, as consumers do not need to use many straws for single use. This has culminated in the segment becoming highly dominant in the industry.
In terms of both value and volume, the printed segment is expected to rise at a higher rate over the forecast period. Non-printed paper straws are manufactured to avoid colored ink or digestion and are made using sustainably supplied paper or food-grade material. Rising consumer preferences and expectations are expected to boost demand for unprinted paper straw in terms of value.
Based on the end-use segment, the paper straw market in the foodservice segment is projected to grow to the highest CAGR over the forecast period by the adoption of environmentally friendly alternatives for disposable single-use goods to reduce or prohibit the use of plastic straws and other disposable items. The paper straw market is expected to see a major rise in demand in the near future due to increased environmental awareness and an increase in the number of bans on single-use plastic items in the foodservice industry.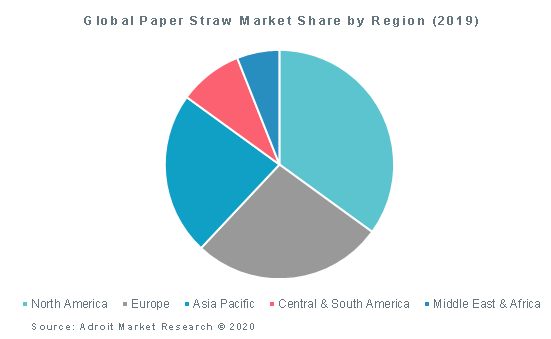 The global paper straw market is cumulative to Asia Pacific, Latin America, North America, Europe, and Middle East & Africa. Europe and North America dominated the global paper straw market in 2019. From 2019 to 2025, the European paper straw market is expected to grow at the fastest CAGR. Development on the European market stems from increased demand for paper straws in countries like Germany and the United Kingdom, as they are increasingly being used in the European food service industry. Additionally, the strong impact of plastics ban reforms in European countries through environmental and government legislation is projected to drive the growth of the paper straw industry in the region.
The main players in the operations are Hoffmaster Company, Inc. (US), Transcend Packaging Ltd. (UK), Huhtamaki Oyj (Finland), Footprint (US), Fuling Global Inc. (China), and Canada Brown Eco Goods Ltd. (China). The Hoffmaster Group is a portfolio company of Wellspring Capital Management LLC. The Hoffmaster Group was purchased by Wellspring Capital in 2016 to improve its customer value ratio and business growth.