Biodegradable polymers are degradable in nature and break down into smaller molecules with the motion of agents like microorganisms and nature. Based on feedstock, they're labelled into herbal bio-degradable polymers shaped in nature and artificial biodegradable polymers based on petroleum.
COVID-19 Impact:
Growing environmental concerns and increasing stringency of regulations regarding the use of plastic are driving the demand for natural, sustainable, and green alternatives with functional benefits. Besides, consumers are increasing their preference for sustainable options over plastics. This is compelling major plastics manufacturers and packaging vendors to opt for biodegradable polymers. The use of biodegradable polymers will reduce the burden caused by single-use products such as bags, bottles, caps, cups, lids, and straws on the ecosystem. These factors are expected to drive the growth of the global biodegradable polymers during the forecast period.
The global Biodegradable Polymers market worth US$ 7.1 Bn by 2031 by 2031, growing at a CAGR of 6.5 %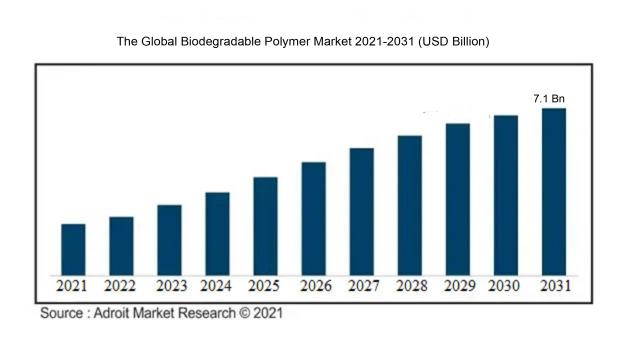 Based on the product type,
The biodegradable polymers market can be categorized into polybutylene adipate terephthalate, polybutylene succinate, polybutylene succinate adipate, polycaprolactone, polyglycolic acid, polyhydroxyalkanoates, polylactic acid and starch-based polymer. Among these, the polylactic acid polymers are leading the market on account of their wide uses in packaging, medical, textile, and agriculture industries. Furthermore, the rapid adoption of these polymers in medical industry is expected to drive their demand in the market. Besides polylactic acid, starch-based polymers are in high demand in the biodegradable polymers market in these days, owing to the price of these polymers has come down considerably over the past years as the production volume has increased. The major application areas of starch-based polymers include packaging solutions, hygiene products, compost bags, agricultural films, and fast-food tableware.
Based on application,
The biodegradable polymers market can be classified into medical, packaging, and agriculture. In medical application, these polymers are used in drug delivery systems, surgical sutures, and adhesive prevention. In the coming years, the market for packing application is also anticipated to register the good growth owing to and changing consumer preferences towards packaged meals along with convenient packaging style, resulting in increasing demand of these polymers in packaging industry in order to suffice the market demand. Additionally, these polymers are used in agriculture mulches, starch-based packaging, and cellulose-based packaging.
Additionally, a number of Japanese companies have developed biodegradable plastics for a range of consumer electronic applications, which in turn, would also diversify the application of these polymers to the new industries. This is expected to boost the biodegradable polymers market growth during the forecast period.
Based on Region,
The biodegradable polymers market has been categorized into North America, Europe, Asia-Pacific, and Rest of the World. Among these, Asia-Pacific market is expected to witness significant growth during the forecast period. The major factors driving the regional market growth are improving healthcare facilities, increasing demand for eco-friendly packaging solutions, and growing focus on biomedical applications. China and Japan are the major countries driving the demand for these polymers in the region. The consumption of these polymers in China is expected to inflate significantly, during the forecast period, owing to the strict government regulations and low production costs.
Biodegradable polymers are positive over non-biodegradable polymers as they're much less toxic, have lesser side effects, assist to enhance affected person compliance, and preserve stabilization of the drug. Biodegradable plastics are increasingly finding uses in the niche applications along within the shale fueloline industry, hygiene products, and fishing gears, amongst different packages, these are projected to act as an opportunity for the marketplace in the future.
Biodegradable plastic has the functionality to decompose naturally in the surroundings, that's achievable whilst microorganisms in the surroundings help in metabolizing and breaking down the structure of the biodegradable plastic. The cease product after decomposition is the only which is much less harmful to the surroundings than conventional plastics. All-herbal plant substances are used to make biodegradable plastics, which consist of corn oil, starch, orange peels, and plants. Traditional plastic is made by the use of chemical fillers that can be harmful to the surroundings most instances whilst released during the meltdown of the plastic.
In 2017, the global biodegradable polymer market size was valued at USD 1.21 billion and is projected to reach more than 800 kilo tons by 2025.
The escalating price of crude oil, which is the primary raw material for the manufacturing of petroleum-based polymers, and the growing awareness among the public concerning unwell outcomes of plastic waste are a few of the key developments identified worldwide biodegradable polymers market. Furthermore, the growing environmental concern is compelling the governments of diverse nations to assist the manufacturing of eco-friendly biodegradable polymers, which has shifted the focus from petroleum-based polymers to biodegradable and eco-friendly polymers. Besides this, the usage of those polymers in clinical programs which include surgical sutures, wound dressings, tissue regeneration, and enzyme immobilization are also encouraging their demand. Also, continuous development in phrases of product development and cost reduction is needed for those polymers to successfully compete with conventional plastics for mainstream programs. Polymers are compounds with a protracted chain of monomers shaped by chemical reactions and composed of a wide variety of repeating units and excessive molar mass. These polymers are bio-based or artificial polymers, which decompose to carbon dioxide, nitrogen, water, biomass, and inorganic salts beneath the movement of microorganisms in business or municipal compost facilities. These polymers break down after their supposed cause to result in herbal by products which include gases (CO2, N2), water, biomass, and inorganic salts. These polymers arise certainly and synthetically and encompass ester, amide, and ether useful groups.
An effective contribution to the conservation of the world's herbal resources and the safety of the environment is the principal factor driving the growth of the biodegradable polymers market. Besides this, developing industrialization and standardization of the packaging strategies and excessive implementation of those polymers are driving the market. The inclination towards eco-friendly substances in the packaging enterprise as well as textiles might additionally offer a useful resource to the market. In addition to these, the excessive demand for biodegradable products in the agriculture sector for films, plant pots, containers, and storage bags for fertilizers and chemical compounds is likewise a vital element for growing the demand for those polymers.
The high production fee of those polymers is the principal issue restraining the growth of the biodegradable polymers market. With modern technology levels, the manufacturing value of polymers of a biodegradable type is as much as 50% better in evaluation to the petroleum-based polymers. On the opposite hand, a number of those polymers produce methane while decomposing in landfills, which in turn, could now no longer serve as the primary challenge to reduce the greenhouse fueloline emission and will act as a restraint to the market.
Some of the major companies operating in the global biodegradable polymers market are BASF SE, BIOTEC GmbH & Co. KG, CJ CheilJedang Corp., DowDuPont Inc., FKuR Kunststoff GmbH, Futamura Chemical Co. Ltd., Japan Corn Starch Co. Ltd., Plantic Technologies Limited, Rodenburg Biopolymers, and Kingfa Sci. & Tech. Co. Ltd.
Biodegradable Polymers Market Scope
| | |
| --- | --- |
| Metrics | Details |
| Base Year | 2022 |
| Historic Data | 2021-2022 |
| Forecast Period | 2022-2031 |
| Study Period | 2021-2031 |
| Forecast Unit | Value (USD) |
| Revenue forecast in 2031 | US$ 7.1 Bn |
| Growth Rate | CAGR of 6.5 % during 2021-2031 |
| Segment Covered | Type, Application, Regions by Application, Regions |
| Regions Covered | North America, Europe, Asia Pacific, South America, Middle East and Africa |
| Key Players Profiled | BASF SE,Total Corbion,Mitsubishi Chemical Corporation,Biome Bioplastics Ltd.,Plantic Technologies,Toray Industries Inc.,Novamont S.p.A.,Bioplastics International |
Key Segments of the Global Biodegradable Polymer Market
Packaging

Rigid Packaging
Flexible Packaging

Consumer Goods

Electrical Appliances
Domestic Appliances
Others

Textiles

Medical & Healthcare Textile
Personal care, clothes & other textiles

Agriculture & Horticulture

Tapes & Mulch Films
Others
Regional Overview, (USD Billion)
North America
Europe
Germany
France
UK
Rest of Europe
Asia Pacific
China
India
Japan
Rest of Asia Pacific
South America
Mexico
Brazil
Rest of South America
Middle East and South Africa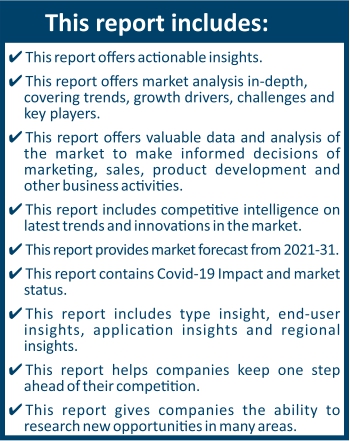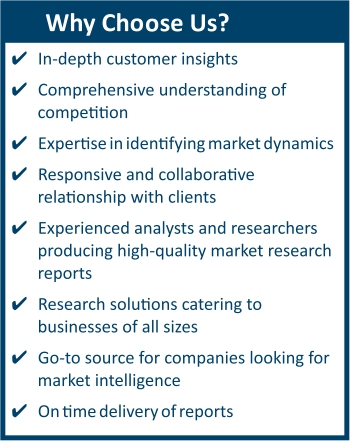 Frequently Asked Questions (FAQ) :
The biodegradable polymers market growth will increase by 800 kilo tons by 2025.
Asia Pacific is growing at the highest CAGR over 2021- 2026.
Biodegradable polymers find their applications are medical, packaging, agriculture & among others.
BASF SE, BIOTEC GmbH & Co. KG, CJ CheilJedang Corp., DowDuPont Inc., FKuR Kunststoff GmbH, Futamura Chemical Co. Ltd., Japan Corn Starch Co. Ltd., Plantic Technologies Limited, Rodenburg Biopolymers, and Kingfa Sci. & Tech. Co. Ltd. are a few of the key vendors in the biodegradable polymers market.