An optoelectronic device that creates visuals in settings approaching pure darkness is a night-vision device, often known as a night optical/observation device or night-vision goggles.
Covid-19 Impact & Market Status
COVID-19 began in Wuhan, China, in December 2019 and has rapidly expanded around the world since then. The United States, India, Brazil, Russia, France, the United Kingdom, Turkey, Italy, and Spain are among the worst-affected countries in terms of confirmed cases and reported deaths.]
The global market for the Night Vision Scope is anticipated to develop at a compound annual growth rate (CAGR) of 8% throughout the course of the forecast, to reach USD 15.46 billion by 2029.
The COVID-19 has had a detrimental influence on economies and enterprises in a number of countries due to lockdowns, travel bans, and commercial shutdowns. The shutdown of a number of plants and factories has wreaked havoc on global supply chains, causing manufacturing, delivery schedules, and product sales to be disrupted on a global scale.
A few companies have already said that goods deliveries may be delayed and future sales may suffer as a result. Furthermore, global travel bans enacted by European, Asian, and North American countries are harmeding prospects for commercial cooperation and alliances.
Governments around the world are now obligated to use advanced NVDs as a result of COVID-19. The government has taken a number of steps to combat the spread of corona, including the installation of strict surveillance methods.
Various companies are also recognized to be reforming their continuity models by investing in better models. Drones equipped with night vision cameras, for example, have proven to be a valuable tool for police in detecting neighborhood gatherings. These gadgets can also detect people in public places who aren't wearing masks.
By way of example,
The key driver driving revenue growth in the military segment among the application segments is the fast adoption of night vision goggles for military applications due to rising modernization initiatives around the world.
By means of technology,
The thermal imaging segment of the worldwide night vision goggles market is expected to rise significantly, owing to increased awareness of the benefits of thermal imaging goggles, which include the ability to function in absolute darkness and through various weather barriers such as smoke, fog, and rain.
Analyze the Regions
The night vision goggles market in North America accounted for a large proportion of revenue and is likely to continue to dominate the target market during the forecast period. This is mostly due to increased cross-border smuggling activities in countries like Canada and the United States in the region, as well as a high demand for night vision goggles among the military and army.
Thermal imaging technology is used to collect infrared light in night vision goggles.
A night vision scope is a sort of night vision gadget that aids in the detection of objects in the dark. The human eye can only see a limited section of the electromagnetic spectrum.
Without the assistance of proper equipment, human eyes cannot see infrared or light rays. As a result, night vision devices are introduced into the scene, allowing people to see in the dark using picture augmentation and thermal imaging.
Optoelectronics are used extensively in these night vision gadgets. These devices and scopes are useful for seeing in the dark and also include features like as optical direction and multi-spectral imaging.
Growing demand for night vision goggles in developing and developed countries is expected to boost the global night vision goggles market ahead, owing to many features such as lightweight, comfort, small size, low cost, and others.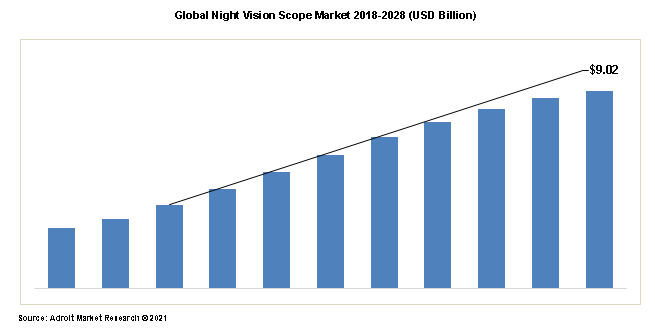 Flir System (US), Exelis Inc (US), L3 communication (US), American Technologies Network Corp. (US), Elbit systems (Israel), Rockwell Collins Inc. (US), and others are some of the key competitors in this sector. Mergers, partnerships, collaborations, and corporate expansion are some of the important advances adopted by market participants.
Latest Innovations in the Global Night Vision Scope Market: a Snapshot
The major functions of a video surveillance system are to acquire process, manage, store, and view the system's records and images. Night vision cameras, which are designed to work in low-light environments, have been developed as a result of technological breakthroughs in the video surveillance sector.
In March 2020, the South Diego Chula Vista Police Department announced an investment of over USD 11,000 in two drones fitted with night vision cameras to decrease the risk of police in these regions, in response to the ongoing community proliferation of COVID-19 over the world.
Night Vision Scope Market Scope
| | |
| --- | --- |
| Metrics | Details |
| Base Year | 2021 |
| Historic Data | 2019-2020 |
| Forecast Period | 2022-2029 |
| Study Period | 2019-2029 |
| Forecast Unit | Value (USD) |
| Revenue forecast in 2029 | USD 15.46 billion |
| Growth Rate | CAGR of 8 % during 2021-2029 |
| Segment Covered | Category, Component, Technology, Aplication, End User, Regions |
| Regions Covered | North America, Europe, Asia Pacific, South America, Middle East and Africa |
| Key Players Profiled | ATN Corp. (U.S.), Collins Aerospace (U.S.), Meopta - optika, s.r.o. (Czechia), Visa Outdoor Operations LLC (U.S.), L3 Technologies Inc. (U.S.), L3Harris Technologies, Inc. (U.S.), FLIR Systems, Inc. (U.S.), SATIR (Denmark), BAE Systems (U.K.), Bharat Electronics (India), Thales (France), Raytheon Technologies Corporation (U.S.), Bushnell (U.S.), Yukon Advanced Optics Worldwide (Lithuania), Adorama Camera, Inc (U.S.) and Elbit Systems Ltd. (Israel) |
Key Segments of the Global Night Vision Scope Market
By Type:
Single Tube Infrared Night-vision Scope
Double Tube Infrared Night-vision Scope
By Application:
Security
Outdoor Activities
Search and Rescue
Others
By Region:
North America
Europe
Germany
France
UK
Rest of Europe
Asia Pacific
China
India
Japan
Rest of Asia Pacific
South America
Mexico
Brazil
Rest of South America
Middle East and South Africa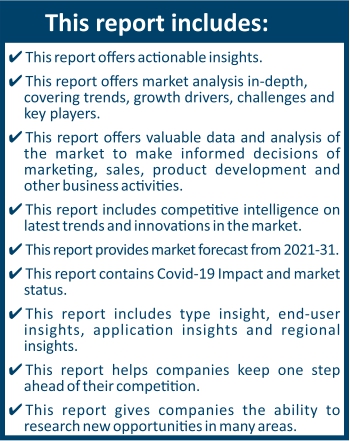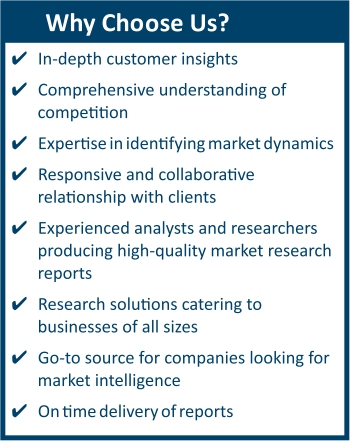 Frequently Asked Questions (FAQ) :
The market value of night vision scope market in 2028 was $9.02 billion.
The night vision scope market is growing at a CAGR of 8.8% over the forecast period.
The base year for the report is 2020 in night vision scope market.
The application of the night vision scope market are Security, Outdoor Activities, Search and Rescue & others.
The top companies that hold the market share in night vision scope market are Flir System (US), Exelis Inc (US), L3 communication (US), American Technologies Network Corp. (US), Elbit systems (Israel), Rockwell Collins Inc. (US).