The global Infrared Sensor market size is expected to reach close to USD 1,376.9 Million by 2029 with an annualized growth rate of 13.2% through the projected period.
The global infrared sensors market is anticipated to gain momentum, rapidly expanding with a projected revenue close to USD 1.5 billion by 2028 at a CAGR of nearly 13% over the forecast years from 2018 to 2028. The large-scale business expansion can be attributed to the increasing demand for autonomous vehicles equipped with infrared sensors that facilitate the application of night vision systems.
These features, coupled with the growing need for effective security devices providing thermal imaging that helps gauge unclear atmospheric conditions, are increasing the appeal of automotive vehicles installed with I.R. capabilities.
However, the stringency of regulations associated with the import and export of cameras restricting the I.R. manufacturers is a major restraining factor hampering the growth of the global infrared sensor market. The International Traffic in Arms Regulations (ITAR) deployed by the American Department of State have imposed mandatory jurisdiction approval on sales of the restricted infrared cameras in the U.S, which restricts I.R. manufacturers from exchanging products with another entity within or outside the country without an export permit.
Infrared sensors are electronic tools that help detect infrared light that is radiated from nearby objects. Infrared sensor is an umbrella term encompassing components across the instrument's functional pathway, inclusive I.R. light source, medium, optical components, and infrared detectors. The instrument adds advanced capabilities to a vehicle, such as detecting and measuring the heat radiated by any object in the vicinity and identifying motion that ultimately generates light that falls in the I.R. wavelength range.
Infrared sensors are devices that have crucial utilitarian significance across the consumer electronics sector with a widespread application in smartphones, gaming devices, smart cameras, and smartwatches. I.R. sensors are a convenient and easy-to-install tool gaining popularity among manufacturers due to their compact size and relatively lower energy consumption.
In electronic devices or gaming devices, these instruments allow monitoring and controlling volume functions or channels. Infrared sensors have also become an essential tool in the defense sector for security purposes in hazardous environmental conditions due to their characteristics attributing higher reliability, durability, rigidity, and highly efficient detection capabilities in low-light-level conditions.
Global infrared sensor market players are firmly rooted with the emerging market players entering the market with a far more aggressive and futuristic vision of replacing the traditional technologies and concepts in place with highly modernized and advanced systems. The increasing threat proposed by the young market entrants, along with the constant succession in technological up-gradation of the market, has resulted in market consolidation.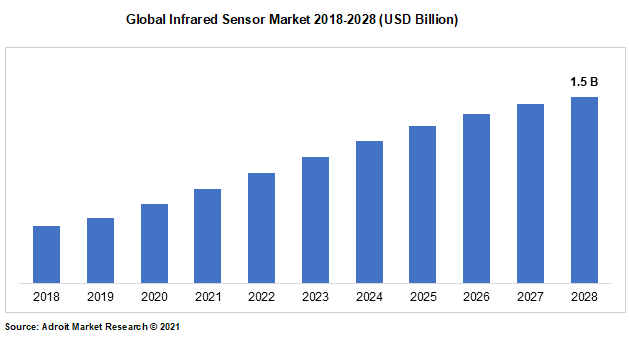 The major players of the global infrared sensors market are Omron Corp, General Dynamics, Murata Manufacturing, Infrared Integrated Systems, FLIR Systems, Nippon Avionics, Wuhan Guide Infrared, L3 technologies, Texas Instruments, Raytheon, Hamamatsu Photonics, Honeywell International, and Excelitas Technologies. The infrared sensors market houses firm establishments of local players as well as the global entities. Additionally, the previously recognized key players are proposing a new era for the industry with novel and advanced strategic solutions and innovative techniques in order to stay competitive in the global market.
Infrared Sensor Market Scope
| | |
| --- | --- |
| Metrics | Details |
| Base Year | 2020 |
| Historic Data | 2018-2019 |
| Forecast Period | 2021-2028 |
| Study Period | 2018-2028 |
| Forecast Unit | Value (USD) |
| Revenue forecast in 2028 | USD 1.5 billion |
| Growth Rate | CAGR of 13% during 2021-2028 |
| Segment Covered | Application, Technology, Wavelength, Industry Vertical, Type, Regions |
| Regions Covered | North America, Europe, Asia Pacific, Middle East and Africa, South America |
| Key Players Profiled | Omron Corp, General Dynamics, Murata Manufacturing, Infrared Integrated Systems, FLIR Systems, Nippon Avionics, Wuhan Guide Infrared, L3 technologies, Texas Instruments, Raytheon, Hamamatsu Photonics, Honeywell International, and Excelitas Technologies. |
Key Segments of the Global Infrared Sensors Market
Type Overview, 2018-2028 (USD Billion)
Pyroelectric
MCT/Mercury Cadmium Telluride
Microbolometer
Thermopile
INGaas/Indium Gallium Arsenide
Others
Technology Overview, 2018-2028 (USD Billion)
Application Overview, 2018-2028 (USD Billion)
Security and Surveillance
People and Motion Sensing
Scientific Applications
Spectroscopy and Biomedical Imaging
Temperature Measurement
Gas and Fire Detection
Wavelength Overview, 2018-2028 (USD Billion)
Industry Vertical Overview, 2018-2028 (USD Billion)
Industrial
Non-Industrial
Regional Overview, 2018-2028 (USD Billion)
North America
Europe
UK
France
Germany
Rest of Europe
Asia Pacific
Japan
India China
Rest of Asia Pacific
South America
Brazil
Mexico
Rest of South America
Middle East & Africa
Reasons for the study
Purpose of the study is to deliver all-inclusive exhaustive research inputs with conclusive takeaways for the clientele on the global infrared sensor market allowing them to attain an edge over the rest of the market.
Ensure you retain competitiveness amidst the rapidly evolving innovations driven by the key market players.
What does the report include?
The study on the global infrared sensor market provides historical evidences along with relevant industry analysis consisting of qualitative aspects such as the drivers, restrains and opportunities
The study incorporates thorough assessment of the competitive landscape prominently highlighting the key existing and prospective players of the global infrared sensors market with an overview of their strategic initiatives
The study covers structurally organized market segmentation based on type, technology, applications, wavelength, industry vertical, and regional survey for all of which qualitative and quantitative analysis has been provided
Actual market sizes and forecasts have been incorporated with each of the mentioned segments.
Who should buy this report?
The report on the global infrared sensor market provides data insights and analytical output suitable to the needs of market participants across the value chain including manufacturers, raw material suppliers, distributors and other intermediaries
Private equity investors, venture capitalists and entrepreneurs looking to acquire in-depth future outlook of the global infrared sensor market
Consultants, technology developers, engineers, electronic experts and analysts seeking insights shaping the global infrared sensor market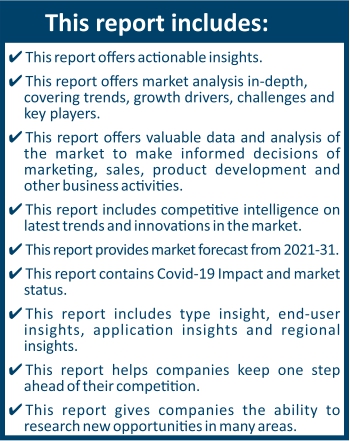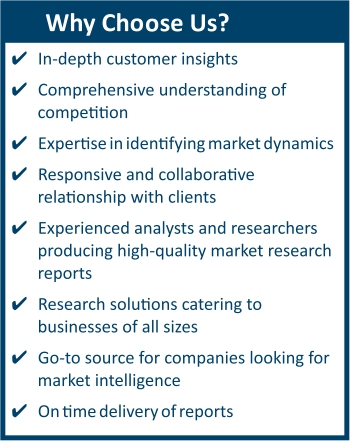 Frequently Asked Questions (FAQ) :
The application of the infrared sensor market security & surveillance, people & motion sensing, scientific applications, spectroscopy & biomedical imaging, temperature measurement, and gas & fire detection
The infrared sensor market is growing at a CAGR of 13% over the forecast period
Asia Pacific dominated the market for infrared sensor market and accounted for the largest revenue share.
Exponential rise in the rate of adoption of autonomous vehicles is driving the demand for Infrared sensors owing to the need for embedded technologies to guide through the night vision systems. The infrared sensors market is expected to witness a sustainable rise in growth owing to the advanced capabilities of I.R. sensors and its widespread applications as the instruments are used as moisture analysers, in art restoration, petroleum exploration and are also used as gas detectors.
With rapidly evolving automotive sector and surging industrialization has resulted in larger exposure for infrared sensors across various industries. Besides, with a flourishing landscape the chemical industry worldwide the demand for industrial sensors and their use in monitoring industrial safety and controlling unwanted emissions in the petrochemical industry coupled with the significance of I.R. sensors in detecting city gas are among the major contributors to the escalating growth in demand for Infrared sensors and the market development over the forecast years.
In addition, large-scale product development initiatives and technological advancements enhancing manufacturing capabilities focused upon by the industry players is further accelerating the growth of the global infrared sensors market. with potential development in the accuracy and functional efficiency of I.R. emitters by technology researchers and the introduction of next-generation technology systems are encouraging the growth of the global I.R. sensors market.
Type Segment
Pyroelectric I.R. sensors are widely used in detecting and monitoring gasses popularly used as flame monitors and gas detectors. Thermopile sensors are of significance in contactless temperature sensing across process industries and is expected to grow at an optimum rate with its two types of temperature detection including contactless and non-contactless sensing. MCT is predominantly used in fabricating I.R. detectors in the defense and military sector along with scientific applications. Microbolometers are popularly used I.R. sensor types in thermal cameras gaining significant momentum during the forecast period.
Technology Segment
The cooled technology segment is anticipated to register a sustainable growth with highest CAGR over the forecast years. Cooled technology-based infrared sensors are used in sensors made up of MCT and INGaas which rely on mechanical cooling to enhance their single-to-noise ratio. Uncooled technology segment is also expected to grow during the forecast with increasing use of the technology in INGaas-derived IR sensors.
Wavelength Segment
The NIR and SWIR segment is estimated to acquire highest CAGR growth during the forecast period. NIR/Near infrared light is relatively weaker in terms of intensity than the absorption of mid-infrared light which makes the measurement of weak absorption more critical with the convenience of undiluted samples. Short wave infrared or reflected infrared is one of the most commonly measured range of absorption with an easier reflection pathway of detection.
Application Segment
Growing research and development infrastructure is expected to contribute to the rising adoption of infrared sensors in scientific applications during the forecast. In addition, increasing consumer adoption of gas detectors and fire detectors across residential applications is also fuelling the growth of the gas and fire detection segment over the forecast. Temperature measurement is a common utility purpose of sensors used across industrial facilities.
Industry Vertical segment
Industrial applications of infrared sensors are expected to grow over the forecast years due to the rapidly escalating utility significance of I.R. sensors across automotive industry, aerospace and defense, military, and petrochemical among others. Increasing R&D activities are further driving the adoption of I.R. detectors. Also, the growing non-industrial utilization of infrared sensors is expected to propel the segment growth over the forecast.
North America and Asia Pacific are the two major regions proposing a robust marketspace with promising opportunities for the growth of the global infrared sensor market throughout the forecast. North America held a dominant position in 2020 with a significant market share and is likely to retain a stable growth over the forecast owing to the geographic footprint displaying large-scale I.R. sensor manufacturers alongside the large-scale consumers with a burgeoning demand for technologies.
Major players housed in the U.S. are extensively implementing strategies to expand business reach and the supply chain to a larger consumer base with rising number of investments in regions of Asia Pacific. Pertaining to the massive influx of investments and fundings, Asia Pacific is likely to account for largest market share over the forecast years parallelly experiencing a surge in the number of manufacturers across countries such as Japan.