The global Metadata Management Tools industry's dynamics are changing now more than ever before, with data being at the helm of every business, it becomes very important to store and manage it. The increasing usability of data makes it one of the highest growth industries with the trend anticipated to continue further for a long time.
At a compound annual growth rate of 24.36 f%, the size of the worldwide Metadata Management Tools market is projected to reach USD 22.74 Billion in 2027.
Covid-19 Impact:
The stringent government mobility restrictions severely affected industries and businesses owing to disrupted supply chains and trade limitations. Like most industries the global metadata management market has also been severely affected by the Covid-19 implications. Originating first in China Covid-19 spread like wildfire across Europe and the Americas alike. Transport infrastructure was brought to a standstill in an effort to contain the further spread of the disease. Factories shut down and the overall business needs altered substantially. These developments altered the growth curve of the global metadata management market aggressively.
Based on Components,
Component based diversification is also classified in the global metadata management market. Under this, it has a subcategory of two components: i.e., tools and services. Deployment of metadata management tools in the developed countries like North America and Europe, and their increasing adoption is due to their ability to serve a variety of purposes, such as the discovery of resources and penalties on the confidential data breach that can be either internal or external to the company. All the end-use verticals in the global metadata management market include IT & Telecom, retail, BFSI, and manufacturing.
Based on the Type,
On the basis of metadata type, the metadata management tools market can also be categorized and studied and it includes 3 types of metadata majorly that are, business metadata, technical metadata, and operational metadata. These different metadata types assist companies to have the ownership details of the data, centralized business glossary aligned with the company's policies, and also help to provide structural information, such as foreign key attributes, primary information, and indices. The technical metadata type segment to claim the largest revenue share. It is among the most commonly used metadata type as it gives information about the data, including the source table along with extensive information on the data type.
Risk & Compliance Management to Emerge as the Most Lucrative
Risk and compliance management application to hold the largest revenues through the forecast era. Other applications comprise product management, risk management, product management. The corporate sector is fast adopting risk and compliance management to improve risk intelligence across organizations with unhindered productivity. Metadata management tools are increasingly being applied in a variety of uses across different and industries with increased data adoption among businesses is expected to be the growth for the market.
BFSI Vertical to Emerge as the Fastest and the Largest Adopter of metadata Tools
Cost efficiency and operational excellence are the major growth determinants that have improved the adoption rates of metadata management tools in recent years. There are several industries that are seamlessly adopting metadata management tools such as manufacturing, BFSI, healthcare, transportation, logistics, manufacturing, and consumer goods among others. BFSI has been the driving force for the market as it is anticipated to capture the largest market share gains during the forecast period. The centralized data requirement and data management as per rules of the regulators are expected to cater to the market growth across the BFSI vertical in the coming years.
North American Metadata Tools Market to Sustain the Highest Revenues
The geographical expanse of the global metadata management market is classified into broad regional belts mainly comprising Europe, North and South America, APAC, and MEA. Amongst all, the North American region is seasoned to sustain the biggest revenue chunk in the forecast era, 2021-2028. North America region supports data management and data governance solutions due to the high efficiency it provides and the majority of the organizations and verticals have been very keen to adopt these solutions henceforth. On the other hand, in the European region, the incorporation of advanced metadata management solutions within its enterprises is gaining traction. Considering the population and business potential, of the APAC region, a tremendous rise in the usage of metadata management tools is on the cards, and given the increasing digitalization and rising demand for centrally managed systems, we expect a huge demand coming from the APAC region for the metadata management tools.
Metadata management tools are solutions that supplement the data stored by the enterprise's environment with useful information. Metadata aids information identification and location easily for all, including people with non-IT backgrounds. These tools oversee data management across data's entire lifecycle. Good metadata management helps to standardize which creates better business efficiency in the organization.
Metadata offers various elements such as information based on business and relationships. Effective accessibility of metadata results in more beneficial and meaningful data. Metadata management tools are based on a structured path offering management, creation, and metadata publication upon data creation.
The increasing importance of centralized data management is a result of the need for quality and trustworthy data analytics. Metadata management is growing in importance as they are ideal for data security.
When any change occurs in the total surplus of the organization, Centralized data management plays a vital role by enabling it to react with the opportunity or limit any loss, if about to occur. A major chunk of consumers still is unaware that how crucial metadata management is for data management. Data mobility is affected by inaccurate data spotting. Hence, an enterprise's focus on data quality or its governance along with trust in its data is the root cause for using these tools and focusing on accurate data-driven business decisions in today's data-driven business environment.
With increased usability of the internet and digitalization around the globe, businesses generate huge amounts of data on a daily basis that includes customer information, transactional data, sensitive financial data, and the likes. Metadata management is created to offer a neat management framework and collaborate with multiple sources comprising data analytics and big data management to extract usable information. Metadata management offers various tools that offer information assets for operational efficiency and productivity.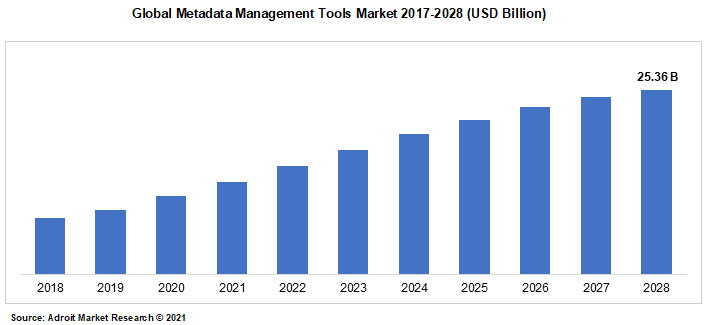 Major companies, such as IBM , Microsoft, Oracle, SAP, ASG Technologies, Cambridge Semantics, Collibra, Data Advantage Group, Informatica , Global DS , and many others have been bagging on the opportunity to capture this rapidly growing huge market.
Latest Innovations: a Snapshot
Ex Libris has announced that its solutions for research information management based on Ex Libris Esploro tool will now support advanced research information management solutions using AI-based metadata harvesting. The development is likely to support seamless growth in the global metadata harvesting market.
BigID has launched its BigID Metadata Exchange App to improve data catalog capabilities through automation.
Metadata Management Tools Market Scope
| | |
| --- | --- |
| Metrics | Details |
| Base Year | 2020 |
| Historic Data | 2018-2019 |
| Forecast Period | 2021-2028 |
| Study Period | 2018-2028 |
| Forecast Unit | Value (USD) |
| Revenue forecast in 2028 | USD 4.6 billion |
| Growth Rate | CAGR of 7.41% during 2021-2028 |
| Segment Covered | By Components, By Type, By Application, By Vertical, Regions |
| Regions Covered | North America, Europe, Asia Pacific, South America, Middle East & Africa |
| Key Players Profiled | IBM , Microsoft, Oracle, SAP, ASG Technologies, Cambridge Semantics, Collibra, Data Advantage Group, Informatica , Global DS. |
Key Segments of the Global Food and Beverages Market
Global Metadata Management Tools, By Components
Global Metadata Management Tools, By Type
Business metadata
Technical metadata
Operational metadata
Global Metadata Management Tools, By Application
Data Governance,
Risk & Compliance Management
Global Metadata Management Tools, By Vertical
HR
Finance
Marketing and Sales
Legal
Operations
Global Metadata Management Tools, By Region
North America
Europe
Germany
U.K.
Switzerland
France
Russia
Asia Pacific
South America
Middle East & Africa
South Africa
Saudi Arabia
UAE
Kuwait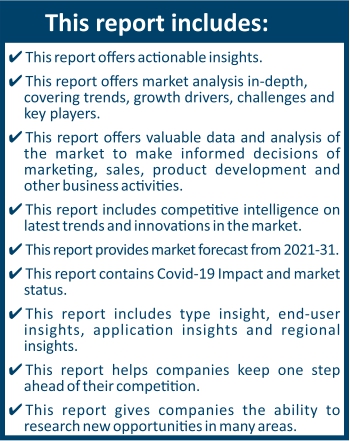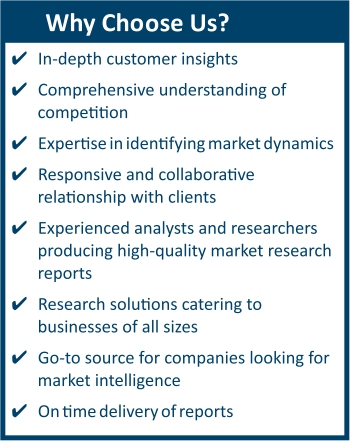 Frequently Asked Questions (FAQ) :
The market value of metadata management tools market in 2028 was USD 4.6 billion.
The metadata management tools market is growing at a CAGR of 7.41% over the forecast period.
The application of the metadata management tools market data governance, risk, compliance and Other.
North America dominated the market for metadata management tools market and accounted for the largest revenue share.
The top companies that hold the market share in metadata management tools market are IBM , Microsoft, Oracle, SAP, ASG Technologies, Cambridge Semantics, Collibra, Data Advantage Group, Informatica , Global DS.