The growing demand to provide a better customer experience, rising internet penetration, and an increase in IoT investment are all key drivers of Augmented Reality in the Retail Market.
Covid-19 Impact & Market Status
Flipkart has been focusing on enhancing customer experiences through multiple investments since the COVID-19 epidemic caused a shift in consumer behavior and a surge in internet usage. Flipkart Group has purchased Scapic, an augmented reality (AR) company, to improve its e-commerce shopping experience. As a result, the increasing investment by retail behemoths throughout the area in technological implementation has aided market growth in the region during the pandemic.
At a compound annual growth rate of 40.9 %, the size of the worldwide AR in Retail market is projected to reach USD 597.54 billion in 2030.
The Apparel Fitting Segment is accounted for the Maximum Revenue in the Predicted Period.
In terms of type, the apparel fitting segment is likely to grow at a substantial rate in the coming years due to the e-commerce sector's growing popularity, online fashion retailers' growing concerns about delivering products that fit properly, and the need to cater to customers' customized demands to survive in an increasingly competitive market are all expected to offer several growth opportunities in the predicted timeframe.
The Handheld Devices Segment is Likely to Hold Maximum Revenue in the Predicted Timeframe.
These devices can aid in the creation of a seamless experience, reducing friction in the conversion process and increasing client retention. In today's retail environment, gadgets provide extra benefits. To begin, they may reduce client touch by allowing a single person to handle all of the customer's demands, from accessing inventory to searching up order details to executing transactions.
The North American Market is Expected to Grow at the Fastest Rate in the Forecasted Timeframe
North America is likely to provide profitable opportunities for growth in the Augmented Reality in Retail Market revenue, but APAC is likely to grow the quickest rate in the forecast period due to rising consumer preferences and growing commercial markets, as well as increased investments by countries in this region. Growth will be aided by a greater focus on eCommerce.
The growing usage of smart AR mirrors in the clothes and jewellery industries would considerably boost the growth of Augmented Reality in Retail Market over the predicted timeframe.
The global augmented reality in the retail market is growing due to the increased demand for quick and easy shopping, online shopping, and the e-commerce sector's development. Reduced inventory demand, lower storage costs, and a more engaging user experience are all other factors that contribute to market growth. However, the market expansion is constrained by issues such as high initial investment costs and rising privacy concerns.
The combination of both the actual environment and technology to create an engaging experience for a person is known as augmented reality. Some parts of the real environment are used to create a computer-designed reality in augmented reality. Consumers can be presented with information in a variety of ways, including visual, aural, olfactory, and more. The retail industry has just begun to utilize this technology in order to provide a better consumer experience. The deployment of this technology has resulted in various benefits, including an increase in customer interest in an augmented reality experience in retail.
Furthermore, the widespread use of AR software solutions and their interoperability with current hardware devices would hasten the adoption of AR in Retail sector. Growing utilization in the advertisement, marketing, and furniture decoration sectors, on the other hand, will generate profitable market development prospects in the next years. Purchases that are satisfied and return prices that are lowering will lead to widespread adoption, which will fuel market expansion.
The market for augmented reality in retail is being driven by various aspects, including the involvement of a younger audience, improved customer experience by boosting the simplicity with which consumers can buy, and the time efficiency that this service delivers to customers. The expense of the service, as well as the lack of user understanding when it comes to managing and navigating an augmented reality service, are limiting the market growth for augmented reality.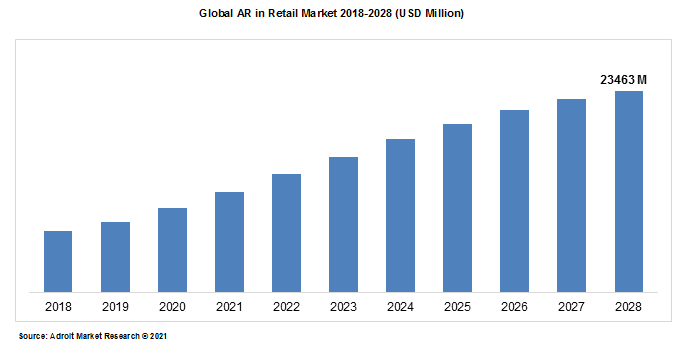 The global market for augmented reality in retail is fragmented, with a number of prominent firms competing for market share. Despite the fact that the majority of firms on the market are technologically advanced, they nevertheless want assistance in order to improve their services and expand their operations. Google, Wikitude, Blippar, PTC, Apple, Zugara, Augment, Microsoft, Viewar, and Marxent Labs are some of the prominent participants in this area. Manufacturers in the Digital Mortgage Softwares market target product developments that include new technology.
Latest Innovations in the Global AR in Retail Market: a Snapshot
In November 2020, Flipkart purchases Scapic, an augmented reality business, for an undisclosed price.
In December 2021, Reality Interactive, an award-winning retail technology firm, has announced the release of new augmented reality (AR) solutions that will enable businesses to go beyond online and allow customers to genuinely explore items anywhere. Reality's AR solutions focus on reducing the buying path and improving conversion by making the experience real enough to feel.
In January 2022, at the 2016 Consumer Electronics Show, Perfect Corp., the leading AR (Augmented Reality) and AI (Artificial Intelligence) beauty and fashion tech solutions provider, showcased its latest technical advancements through an immersive beauty and fashion metaverse.
The primary goal of this market study is to have a deeper knowledge of the global AR in Retail Market. Throughout the forecasted time period, the research examines the market's growth potential, demography, and capacity. During the evaluation phase, this component aids in assessing market size and projecting market growth. The study's findings, data, and material are all double-checked and revalidated using trustworthy sources. To perform an in-depth study of the global AR in Retail Market, the report's authors used unique and industry-leading research and analytical technique.
AR in Retail Market Scope
| | |
| --- | --- |
| Metrics | Details |
| Base Year | 2022 |
| Historic Data | 2020-2021 |
| Forecast Period | 2022-2030 |
| Study Period | 2020-2030 |
| Forecast Unit | Value (USD) |
| Revenue forecast in 2030 | USD 597.54 billion |
| Growth Rate | CAGR of 40.9% during 2021-2030 |
| Segment Covered | Component, Display, Regions |
| Regions Covered | North America, Europe, Asia Pacific, South America, Middle East and Africa |
| Key Players Profiled | Microsoft,,Google LLC,,Apple, Inc.,,Sony Corporation,,Blippar Limited,,Infinity Augmented Reality Limited,,Niantic, Inc.,,Zappar Limited.,,Magic Leap, Incorporated,,Wikitude GmbH |
Key Segments of the Global AR in Retail Market
Type Overview, 2018-2028 (USD Million)
Lighting & Furniture
Beauty
Jewellery
Apparel Fitting
Footwear
Others
Offering Overview, 2018-2028 (USD Million)
Hardware
Software
Services
Device Overview, 2018-2028 (USD Million)
Handheld Devices
Smart AR Mirrors
Head-Mounted Displays
Application Overview, 2018-2028 (USD Million)
Advertising & Marketing
Try-On Solutions
Information Systems
Planning & Designing
Regional Overview, 2018-2028 (USD Million)
North America
Europe
Germany
France
UK
Rest of Europe
Asia Pacific
China
India
Japan
Rest of Asia Pacific
South America
Mexico
Brazil
Rest of South America
The Middle East and South Africa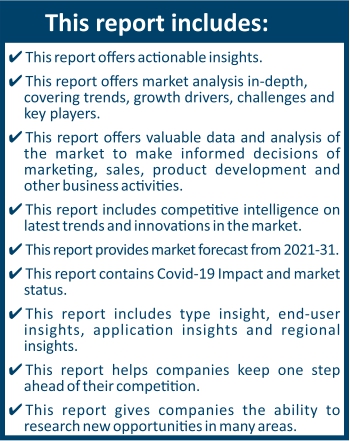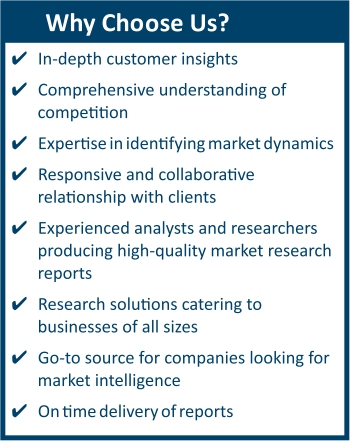 Frequently Asked Questions (FAQ) :
AR in Retail Market is projected to reach USD 23463 USD Million by 2028, growing at a CAGR of 44% from 2021 to 2028.
Increasing online shopping encourages retailers to adopt AR, rising smartphone penetration, and growing adoption of connected devices are the major factors driving the growth of the augmented reality in retail market.
The major players are Google, Wikitude, Blippar, PTC, Apple, Zugara, Augment, Microsoft, Viewar, and Marxent Labs
Global AR in Retail Market is segmented on the basis of Type, Application, Device And Geography.
The sample report for the AR in Retail Market can be obtained on demand from the website. Also, 24*7 chat support & direct call services are provided to procure the sample report.