Advances in Magnetic Particle Inspection to test the efficacy of alloys to propel growth in the global magnetic particle market
Covid-19 Impact & Market Status
COVID-19 sickness began to spread over the world in the early years of 2021, infecting millions of people globally, prompting major countries around the world to impose foot prohibitions and work stoppage orders. Most businesses, with the exception of medical supplies and life support items, have been severely disrupted, and Magnetic Particle industries have also been severely impacted.
The global market for the Magnetic Particle is anticipated to develop at a compound annual growth rate (CAGR) of 15.5% throughout the course of the forecast, to reach US$ 6.7 Bn by 2032.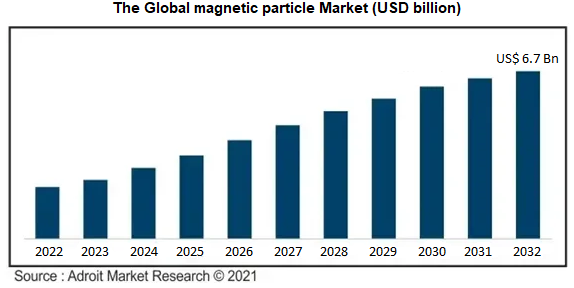 The Magnetic Particle market grew by 0.0304901304675 in the previous few years, with the global market size of Magnetic Particle reaching 1590.0 million $ in 2020. The sudden emergence of the COVID-19 epidemic caused Magnetic Particle import and export to be disrupted.
Magnetic Particle Market is fueled by the automotive and electronics industries.In terms of volume and income, the automotive and electronics industries are among the largest in the world. These two industries are the primary drivers of the Magnetic Particle Market.Over the analysis period, the global magnetic particle market will reach USD 1874.2 million, growing at a CAGR of 3.1 percent.
Asia Pacific is the largest market for the bulk of consumer products, and it has been developing rapidly in recent years. Massive industrialisation and a large population have resulted in a significant use of magnetic particles.
Advances in end-use industries such as oil &gas, aerospace, and automotive industries to pave growth prospects
When exposed to external magnetic fields, magnetic particles are an important family of micro/nanomaterials that exhibit magnetic characteristics. Because of this intriguing property, they are widely used in research and clinical diagnostics. Microreactors have been used to successfully manufacture a variety of magnetic particle compositions, including iron oxide, nickel, and cobalt.
Iron oxide particles have been the most extensively studied and used of these many magnetic particle compositions. Two of the most frequent ways of producing iron oxide particles are co-precipitation and thermal degradation. Microfluidic synthesis of nickel particles can also be achieved by reducing nickel salt solutions in water with sodium hydroxide as a catalyst and hydrazine as a reducing agent.
By altering the flow rates of microreactors, the size, shape, and crystal structure of nickel particles may be precisely controlled. Cobalt particles are different type of magnetic particles. Epsilon, hexagonally close-packed, and face-centered cubic cobalt particles are known to occur in three polymorphs. These three distinct crystal forms may be easily generated in a microreactor by adjusting the flow rates.
Since the 1950s, ferrites, sometimes known as ceramics, have been manufactured. They're principally formed of iron oxide (FeO) with the addition of Sr and Ba via a calcination process. They are the cheapest and most widely used of all magnet materials. C1, C5, through C8 are the primary grades. They're mostly found in sensors and motors.
Magnetic ferrite powder can be used to make various grades of hard ferrite magnets using either a wet pressing or a dry pressing procedure. We can supply magnetic ferrite powders in various granularities to meet the needs of our customers. Magnetic ferrite powder can be classified as isotropic magnetic ferrite powder or anisotropic magnetic ferrite powder.
Also known as Neo," Neodymium(NdFeB) magnets are the strongest and most divisive. Because of the Nd, B, Dy, and Ga elements in their makeup, they belong to the rare earth family. They are a problematic set of commercial magnets since they are the only magnets whose composition and processing have been patented. The importance of patents and licencing will be covered later in this guide.
The automotive sector, office automation, and automobiles can all benefit from neodymium magnet powder." Brushless DC motors Applications for multi-pole stepper and spindle motors Magnetic paints, magnetic printed substrates, magnetic films, medical diagnostics and treatments, video tape, copy toners, fingerprinting, sensors, fuel injectors, permanent magnets, nano-level fluid sealing, electric toys, and magnetic curing products, among other things.
Demographics and the state of the economy drive demand in the global magnetic particle market. Individual organisations' profitability is determined by their ability to accurately bid, get contracts, and keep costs under control. Large corporations benefit from financial economies of scale and the ability to provide a diverse variety of services in multiple places. Smaller businesses might compete successfully by concentrating in specific services or focusing on a specific geographic area.
The computer industry also includes producing computer software, manufacturing computer components, and providing IT services. In the computer industry, magnetic particles are required for the proper operation of hardware, infrastructures, and other components. The creation of electrical toys also necessitates the use of magnetic particles. Electronic toy companies created a variety of toys for children's entertainment as well as for various purposes. There are numerous electroacoustic items on the market that require the use of a magnet particle during production. The application of military technology is frequently used in the use of warfare. Without proper military training, military applications can be risky to utilise.
The major market players of Magnetic Particle Market are MQI, Aichi Steel, Zhao Ri Ke, Galaxy Magnets, Yuhong, Huiling, Western Magnet, San Huan, Hoosier Magnetics,, Todakogyo, HIMAG, DMEGC Magnetics, Zhejiang Ante, Maanshan CY, BGRIMM Magnetic,, Shunde Baling, MGC, Comc Technology.
Major Developments in Magnetic particle Market:
The automotive and electronics industries are driving the Magnetic Particle Market.The automobile and electronics sectors are among the world's largest in terms of volume and revenue. The Magnetic Particle Market is primarily driven by these two industries.
Massive industrialization and a large population have resulted in a significant use of magnetic particles. Asia Pacific is the largest market for the bulk of consumer products, and it has been developing rapidly in recent years as Aisa Pacific is home for 59% of the popullation.
Magnetic Particle Market Scope :
| | |
| --- | --- |
| Metrics | Details |
| Base Year | 2022 |
| Historic Data | 2021-2022 |
| Forecast Period | 2022-2032 |
| Study Period | 2022-2032 |
| Forecast Unit | Value (USD) |
| Revenue forecast in 2032 | USD 6.7 Billion |
| Growth Rate | CAGR of 15.5 % during 2022-2032 |
| Segment Covered | By Keys, By Types, By Application, Regions |
| Regions Covered | North America, Europe, Asia Pacific, South America, Middle East and Africa |
| Key Players Profiled | Ashtead Technology; Eddyfi; Fischer Technologies Inc.; General Electric; Nikon Corporation; Mistras Group; Olympus Corporation; Sonatest; Yxlon International; Zetec, Inc; MME Group; TWI Ltd. |
Key Segments of the Magnetic Particle Market
By Type
Ferrites
Neodymium(NdFeB)
By Application
Auto Industry
Home Appliances Industry
Computer Industry
Electronics
Military Application
Electroacoustic
By Region
North America
Europe

UK
Germany
France
Rest of Europe
Asia Pacific

China
Japan
India
Rest of Asia Pacific

South America

Brazil
Mexico
Rest of South America

Middle East & Africa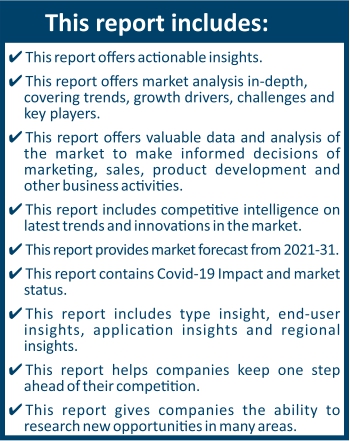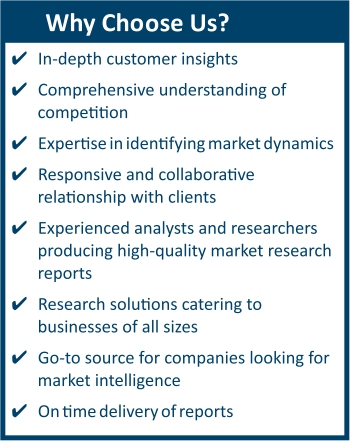 Frequently Asked Questions (FAQ) :
The global magnetic particle market size is expected to reach USD 1874.2 million by 2028.
The magnetic particle market is growing at a CAGR of 3.1% over the forecast period.
Asia-Pacific dominated the market for magnetic particle market and accounted for the largest revenue share.
The application of the magnetic particle market are auto industry, household appliances industry, computer industry, military application, electronics and electroacoustic & others.
The top companies that hold the market share in magnetic particle market are MQI, Aichi Steel, Zhao Ri Ke, Galaxy Magnets, Yuhong, Huiling, Western Magnet, San Huan, Hoosier Magnetics,, Todakogyo, HIMAG, DMEGC Magnetics, Zhejiang Ante, Maanshan CY, BGRIMM Magnetic,, Shunde Baling, MGC