The global lancets market was valued at USD 849.7 million in 2018. Demand in the lancets market is led mainly by the increasing prevalence of diabetes and the rising prevalence of infectious diseases globally. Lancets are used for diabetes / glucose checks, pediatric health checks, heel-stick diagnostic assessments, as well as with those with scarred accidents or serious burns. The factors driving market growth include growing occurrence levels of infectious and non-contagious diseases, rising diabetes prevalence and growing propensity to home treatment and home diagnosis.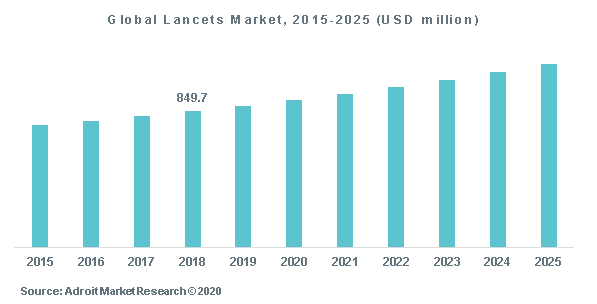 Improving regulations on medical devices are likely to encourage the development of the lancet market in coming years. Regulatory bodies in established as well as emerging countries are enforcing such laws for medical devices to ensure that medical devices of superior quality are produced and put on the market. Therefore, a favorable regulatory situation has a beneficial impact on the development of the lancet industry. Low information of lancets in emerging and underdeveloped countries; however, will also hinder the development of the industry.
Key segments of the global lancets market
Type Overview, 2015-2025 (USD Million)
Safety Lancets

Push-Button Lancets
Side-Button Lancets
Pressure-Activated Lancets

Personal Lancets
Application Overview, 2015-2025 (USD Million)
Glucose Testing
Coagulation Testing
Haemoglobin Testing
Others
Regional Overview, 2015-2025 (USD Million)
North America
Europe

Germany
United Kingdom
France
Rest of Europe

Asia Pacific

China
Japan
India
Rest of Asia Pacific

Latin America

Brazil
Mexico
Rest of Latin America

Middle East & Africa
Reasons for the study
Rising number of diabetes prevalence as well as increasing need for blood testing
Increasing awareness regarding lancets in emerging economies
What does the report include?
The study on the global Lancets market includes analysis of qualitative market indicators such as drivers, restraints, challenges and opportunities
Additionally, the market competition has been evaluated using the Porter's five forces analysis
The study covers qualitative and quantitative analysis of the market segmented on the basis of type and application. Moreover, the study provides similar information for the key geographies.
Actual market sizes and forecasts have been provided for all the considered segments
The study includes the profiles of key players in the market with a significant global and/or regional presence
Who should buy this report?
The report on the global Lancets market is suitable for all the players across the value chain including raw application suppliers, lancets providers, pharmaceutical and medical device manufacturers, distributors, suppliers and retailers
Venture capitalists and investors looking for more information on the future outlook of the global Lancets market
Consultants, analysts, researchers, and academicians looking for insights shaping the global lancets market
On 26 August 2010, the FDA and the Centers for Disease Control and Prevention (CDC) published a notice that the usage of blood lancets to collect blood from more than one individual presents a danger of bloodborne pathogens spreading. The Centers for Medicare and Medicaid Programs (CMS) released a Point of Care and Infection Prevention Assessment and Evaluation Memorandum in nursing homes describing the usage of lancet tools for more than one individual as failure requirements for infection control.
Therefore, single-use lancets, which reduce the likelihood of spreading bloodborne pathogens arising from repeated usage by patients, will include language in the packaging that defines the system as "one use only" and instructs for proper disposal. Blood lancet systems intended for repeated usage will also have user-validated guidelines for the cleaning and disinfection of the reusable lancet product base after and patient uses it. Manufacturers of blood lancets with a reusable tool base and single-use lancet blades will have guidelines for the proper disposal of single-use lancet blades in the packaging, including directions for usage and published, illustrated and graphic content accompanying the blood lancet unit.
In 2018, push button safety lancet segment dominated in terms of revenues and is likely to maintain its dominance by the end of 2025. High acceptance rate of push buttons due to effective sample retraction with the press of a single button is likely to fuel their market. These are also quick, convenient, pain-free and allow for proper collection of blood samples. In addition, diabetic patients preferring these lancets, sue to ease of use is anticipated to drive the segment growth in coming years. Hence, a significant portion of diabetic population relies on protection lancet push-button tools for monitoring blood glucose, stimulating business development.
During the forecast period, the glucose test-monitoring segment will see lucrative development. Growing the incidence of diabetes worldwide and rising availability of painless, easy-to-handle, and reliable lancet tools for gathering blood samples would allow patients to assess changes in diabetes treatment, fueling segment development over the expected time span.
The lancets market in Europe is expected to see significant growth over the forecast years. The rising incidence of diabetes would drive the development of the lancet industry within the region in future. According to the WHO, in the European region about 60 million people suffer from diabetes. Furthermore, a favorable regulatory scenario and expanded usage of self-handling diabetes medical devices would fuel demand for lancet products, fueling development in the regional industry.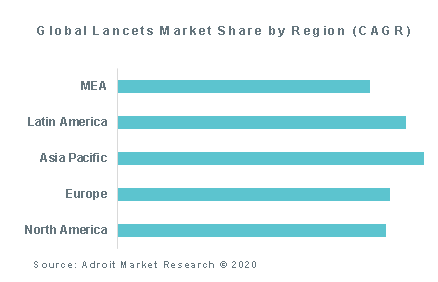 Nevertheless, Asia Pacific is projected to emerge with highest CAGR over the forecast period as lancets adoption rates in countries including China, Japan, and South Korea are rapidly rising. In fact, the regulatory framework for medical devices in these countries is relatively less strict, which has encouraged the quick entry of new drugs and medical equipment into this sector.