The global home healthcare (equipment and services) market is estimated to reach USD 500.5 billion by 2026. Substantial growth in aging population is leading to estimation this this population will soon outgrow the youth. Along with age and the sedentary lifestyle, there is an increased incidence of associated diseases such as Alzheimer's, Parkinson's and other disorders such as cardiovascular diseases, diabetes, cancer and so on. As the global burden of such non-communicable diseases is consistently growing, so is the need for prompt and continued healthcare. However, the growing healthcare expenditure and its corresponding toll on the healthcare system, there is an emerging need and preference for home healthcare between both patients and care givers.
Some of the fundamental factors driving the global home healthcare market are increasing healthcare expenditure, growing adoption of elder-care at home, increasing initiatives by public and private intermediaries, improvement in infrastructure in emerging economies, and growing prevalence of age and lifestyle associated chronic diseases.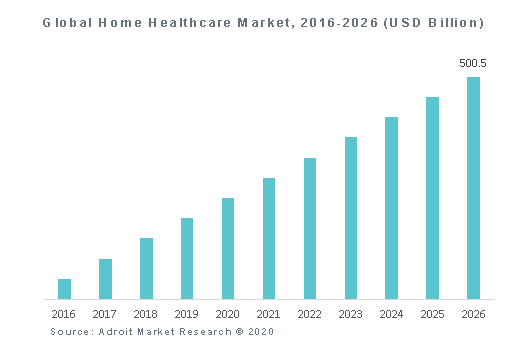 According to the estimations by the U.S. Census Bureau, by the year 2035, people over the age of 65 will cross those under 18. It is also estimated that by 2030, 20% of the U.S. population shall belong to the retirement age. North America is a rapidly graying region, and this population provides the healthcare system with new opportunities as a new and expanding market. In the U.S. alone, around 70% of the patients seeking home healthcare belong to the age group of over 65.
Advances in the field of home technology also has tremendous potential in facilitating the growth of home healthcare market. Advancement in this field is also anticipated to foster the scope for community-based independence for individual patients. Over the previous years, there has been a shortage in inventions and technological advancements in the field of home healthcare that shall assist geriatric patients in avoiding emergency contingencies or expensive stays at nursing homes. Advent of remote patient monitoring has however proven to open avenues for growth in the home healthcare market. Yet, there is more to this market and field than remote patient monitoring technology and needs to be explored further.
The global healthcare system is witnessing prominent transition in the nature of payment for healthcare. There is a significant shift in paying in fee-for-service (FFS) format to a more value-based care. In such shift, the service providers bear greater financial risk than the earlier FFS model. This transition has generated significant motivation to the healthcare providers to experiment with new cost control models. Therefore, many healthcare providers are turning to home healthcare for saving costs.
Some most prominent players profiled in this report are Nihon Kohden Corporation, Omron Corporation, Koninklijke Philips N.V., Shenzhen Mindray Bio-Medical Electronics Co., Ltd., OSI Systems, Inc., Welch Allyn, F. Hoffmann-La Roche Ltd., Smiths Medical, Hollister Inc., Abbott, Boston Scientific Corporation, American TeleCare, Dräger Medical, Honeywell Life Care Solutions, GE Healthcare, Johnson & Johnson Services, Inc., Masimo, Medtronic Plc, ConvaTec Group PLC, Genesis Healthcare Corp., Extendicare, Inc., Brookdale Senior Living, Inc., Sunrise Carlisle, LP, Genesis Healthcare Corp., Extendicare, Inc., Senior Care Centers of America and Care UK Limited.
Key Segments of the Global Home Healthcare Market
Product Overview, 2016-2026 (USD Million)
Equipment

Diagnostics Devices

BP Monitors
Glucose Monitors
Multiparameter Monitors
Apnea and Sleep Monitors
Heart Rate Monitors
Others

Therapeutic Devices

Respiratory Assistance
IV Pumps
Insulin Devices
Dialysis Equipment
Mobility Assist Devices
Others

Services

Nursing Care
Physical and Occupational Therapy
Nutrition and Diet
Primary Care
Supportive Care
Others
Regional Overview, 2016-2026 (USD Million)
North America
Europe

Germany
United Kingdom
France
Rest of Europe

Asia Pacific

China
Japan
India
Rest of Asia Pacific

Latin America

Brazil
Mexico
Rest of Latin America

Middle East & Africa
Reasons for the study
The impending pandemic crisis urging chronically ill patients to replace institutional care with home care
Growing awareness and increasing patient pool leading to competitive and affordable prices of both equipment and services
Increasing popularity of remote patient monitoring diverting patients towards home care
What does the report include?
The study on the global home healthcare market includes qualitative insights such as drivers, restraints, challenges and opportunities
Additionally, the market has been evaluated using the Porter's five forces analysis
The study covers qualitative and quantitative analysis of the market segmented on the basis of equipment and services. Moreover, the study on home healthcare market provides similar information for the key geographies.
Actual market sizes and forecasts have been provided for all the above-mentioned segments
The study includes the profiles of key players operating in the market with a significant global and/or regional presence
Who should buy this report?
The report on the global home healthcare market is suitable for all the players across the value chain including component and raw material providers, medical device manufacturers, service providers, distributors, and other intermediaries
Venture capitalists and investors looking for more information on the future outlook of the global home healthcare market
Consultants, analysts, researchers, and academicians looking for insights shaping the global home healthcare market
In line with the cost-conscious consumers, many healthcare providers are also shifting their focus towards home healthcare solutions seeking expenditure savings. This shift is significantly visible in the developed markets and is being gradually reflected in the emerging economies in the form of hospital-in-home programs. Therefore, substitution of hospital care with home care wherever possible can save extensive costs for Medicare and private payers.
As the patients are increasingly becoming the new payers, consumerism of patients shall remain a mainstay in any healthcare system. This however has also resulted in greater financial responsibility to the patients especially in the area of decision making concerned with their own health. This empower patient in the form of healthcare consumer is a more engaged entity and also demands more value-based care. It is also noted that as the overall home healthcare market continues to progress, there shall be a corresponding need for identifying and hiring qualified personnel tops the list of challenges.
The global home healthcare market based on the provisions can be classified into equipment and services. Between these, the services segment dominated the global market with over 3/4th of the market share. Significantly growing aging population is a key catalyst for the growth in adoption for home healthcare services for activities such as supportive care, primary care and even primary care. Among the different equipment deployed in home healthcare, therapeutic devices dominate the global home healthcare equipment market. Growth in the prevalence of renal and respiratory illnesses demand specialty therapeutic devices in home care. Reduction in cost of using such sophisticated device in home care is boosting the status of this segment. Additionally, the diagnostic devices segment shall be witnessing rapid growth during the forecast period. High prevalence of diabetes and cardiovascular diseases in home healthcare patient groups contribute to this trend. Technological advancements in the area of rapid diagnostics and miniaturization also facilitates the growth of diagnostic devices segment.
North America, especially the U.S. dominates the global home healthcare market. Rapid adoption of novel services and technologies in healthcare and high awareness is attributed to the dominance of the region. Furthermore, the baby boomer population of this region is anticipated to be the largest consumer group for home healthcare, therefore augmenting the purchasing power of the overall patients. Presence of well-defined and streamlined regulatory structure for home healthcare additionally facilitates the market position of North America. Europe closely follows the prominent of North America and is the second largest regional market for home healthcare. Increasing expenditure for home healthcare and high demand for skilled healthcare personnel are the chief attributes of Europe market.
Asia Pacific is expected to be the fastest growing regional market for home healthcare. Majority of the economies in the region are rapidly evolving and adopting the trends of western healthcare system. Availability of skilled nursing staff is also plenty in the region, therefore bypassing a major market challenge. As the disposable incomes of the general public in the region continues to increase, the overall home healthcare market in Asia Pacific is anticipated to further flourish.