The global inulin industry size was valued at USD 981.7 million in 2018. The market is estimated to grow at a steady rate over the foreseeable future due to positive characteristics associated with inulin such as weight management. Insufficiencies in nourishment can lead to sickness and on the contrary proper intake of appropriate food is expected to mitigate the risk of bad health. This is expected to result in an increased intake of dietary supplements, which in turn is considered to boost inulin demand in the future.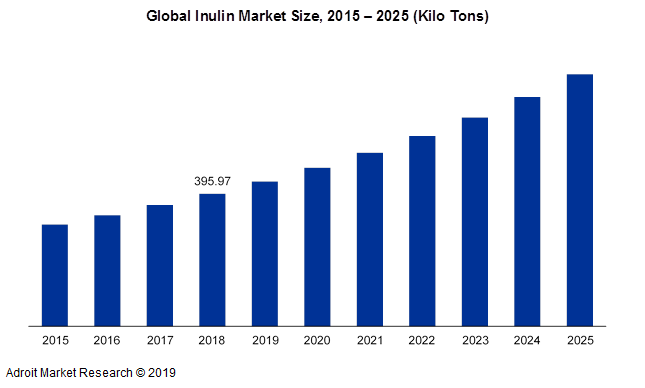 Inulin is made up of fructose and is a type of prebiotic. Glucopyranosyl-[β-D-fructofuranosyl] (n-1)-D-fructofuranosides is the biological name of inulin. Inulin has advantageous microorganisms that helps maintaining the overall health of an individual. Various studies have also found that inulin helps to maintain blood sugar levels and fight diabetes.
As of June 2018, the United States Food and Drug Administration (FDA) has approved eight dietary fibers, which include arabinoxylan, polydextrose, mixed plant cell wall fibers, alginate, high amylose starch, fructans, galactooligosaccharide, and resistant maltodextrin. This approval is projected to provide growth opportunities in the market by 2025, owing to the significant inulin consumption in these dietary fibers.
Furthermore, as per FDA's new regulation, chicory root has been included as a dietary fiber. Since chicory root is the major source of inulin content, it is estimated to create a positive impact on the market growth by 2025. Manufacturers that are engaged in the production of inulin via chicory roots can now continue to sell their products as a derivation of dietary fiber. Inulin is present in many foods that are consumed by humans regularly such as garlic, onion, and banana. Inulin is a prebiotic product. Content of prebiotics are directly proportional to the fiber content. This feature is expected to boost inulin consumption by 2025, as a consequence of increased fiber intake among consumers.
Inulin Market Scope
| | |
| --- | --- |
| Metrics | Details |
| Base Year | 2019 |
| Historic Data | 2017-2018 |
| Forecast Period | 2020-2025 |
| Study Period | 2015-2025 |
| Forecast Unit | Value (USD) |
| Revenue forecast in 2025 | USD 2.03 billion |
| Growth Rate | CAGR of 10.9% during 2021-2028 |
| Segment Covered | Application, Regions |
| Regions Covered | North America, Europe, Asia Pacific, Middle East & Africa, South America |
| Key Players Profiled | consist of Cargill, Beneo-Orafati, Sensus, Tierra, Ciranda, Cosucra Groupe, Fenchem, Jarrow Formulas, Shandong Baolingbao Biotechnology, and Wuxi Cima Science. |
Key segments of the global Inulin market
Application Overview, 2015-2025 (USD Million) (Kilo Tons)
Food & beverage
Dietary Supplements
Pharmaceuticals
Others
Regional Overview, 2015-2025 (USD Million) (Kilo Tons)
North America
Europe
Asia Pacific
Central and South America
Middle East and Africa
Reasons for the study
Dietary supplements is the major source of inulin consumption in regions like Europe, North America, and Asia Pacific
Dietary surveys conducted across Europe revealed that there is less than optimal intake of several micronutrients
Key application of inulin in the food & beverage segment is the processed food.
What does the report include?
Drivers, restraints and opportunities for the market have been covered in the study
Market data is provided on application at country, regional, and global level
The study also encompasses revenue analysis, product benchmarking, recent news, offerings, presence of key players
Who should you buy this report?
The global inulin market report meets the wants for numerous parties such as government and non-government associations, analysts, consultants, academicians, and researchers
The study also suits players that are already established in the inulin market. Furthermore, this study also suits players trying to integrate in this market.
Moreover, this project can similarly support various new entrants to take informed decision to venture in this market
Inulin does not have any specific restraints since it is regarded as safe by US FDA. However, if inulin is consumed without following proper guidelines it can cause cramping in stomach, gas problems, and change in excreted waste color. Applications of inulin is growing in dietary supplements as various research studies have stated that, consumption of supplements with mixture of inulin and fructooligosaccharides aid in keeping the individual healthy as compared to the person who does not follow a proper nutritional diet.
The trend for having probiotics is increasing day by day as the standard of living in Asian countries such as India, China, and Japan has significantly improved. Rising healthy lifestyle concerns has eventually led to the increasing number of protein supplement users. This is considered to increase the use of probiotics such as inulin, thus, expand the market size in the future.
Inulin used in dietary supplements is known to reduce the threat of cardiovascular diseases. Major potential of inulin is the reduction of high triacylglycerol concentrations and lipogenesis of blood. However, research on th effect of inulin on human lipid metabolism has been unknown over the recent years. Furthermore, another major impact of dietary inulin is rise in magnesium and calcium absorption along with the mineralization of bones during adolescence.
On the basis of inulin applications, the food & beverage section accounted for the foremost market revenue share of more than 70% in the year 2018 and is estimated to display a similar trend throughout the forecast period. Key application of inulin in the food & beverage segment is the processed food. Inulin is used as a replacement for fat during the processing of food products. Inulin is extensively used as a key ingredient in various processed foods such as cheese, candy bars, and ice-creams. Beverage segment is projected to be the major end-user of inulin by 2025.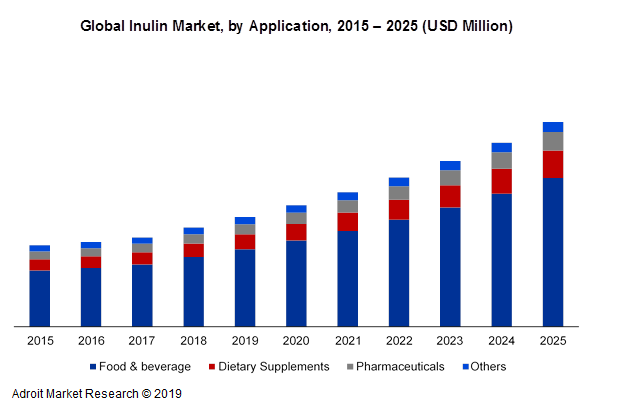 Inulin helps in overcoming abdominal cramps, gas, bloating, and slight changes in the color of waste. These symptoms are more likely to be caused due to varying meal intake as well as improper timings on a daily basis. Inulin is extensively used to improve the crisp texture in cereals, to enhance the fiber properties and calorie content of bakery foods, to enhance sweetness, and sugar synergy in dairy products, to replace sugar and fat in chocolate products, and to stabilize and replace fat products in meat. Inulin concentration in the finished food products can be in the range of more than 2% to less than 30%.
In the pharmaceutical industry, the use of inulin as an excipient (an inactive substance that serves as the medium for a drug transfusion) is another key feature that is expected to promote the inulin market growth in the coming years. Another factor that is anticipated to boost the market demand for inulin is its role in weight loss. Inulin is relatively low in calories. Therefore, when it is consumed by an obese person, it drops the hunger level of a person which helps in maintaining their appetite levels, eventually promoting weight loss.
On the basis of geographical segments, Europe and Asia Pacific were the key regions of the production as well as consumption of inulin in the year 2018. Asia Pacific accounted for a market revenue and volume share of more than 30% in the year 2018. Europe accounted for a major market revenue share and is projected to grow at a CAGR of more than 8% over the forecast period.
Asia Pacific is expected to witness a huge demand for inulin in the coming years. Increasing population coupled with growing health awareness in this region is anticipated to boost the product use in various food items. For instance, inulin is used in Chinese-styled sausages, cooked meat batter, dry-fermented chicken sausage, breakfast sausage, minced meat, meat burger, meat emulsion, etc.
Dietary supplements is the major consumer of inulin in regions such as Europe, North America, and Asia Pacific. Use of supplements is common in these regions, especially in Germany and Denmark but the consumption varies. For instance, more than 50% of the adult population in Denmark uses dietary supplements at present, whereas the consumption is around 40% in Germany. Furthermore, adult population consuming dietary supplements account for nearly more than 20% and 8% in Ireland and Spain, respectively.
Due to the modern lifestyle and mismanagement of healthy diet, dietary supplements are getting more popular. Dietary surveys conducted across Europe revealed that there is less than optimal intake of several micronutrients. However, balanced diet is the key concern associated across many countries as not all the supplements can be useful for the body. This, in turn, is expected to boost the scope of inulin market in the Europe dietary supplements sector, over the coming years.