In the era of digital transformation, biological sensors are becoming increasingly popular. With their ability to detect a wide range of vital signs, these devices are revolutionizing the healthcare industry. In this article, you'll get to explore the market for biological sensors and their various types and applications. Find out how these devices are changing the way doctors diagnose and treat their patients!
The drivers of the Biological Sensor Market are an increased awareness about personal health and well-being, increasing incidence of chronic diseases, rising demand for home healthcare, technological advancements in sensors, growing demand from the food & beverage industry, and increasing government support.
1. Increased Awareness About Personal Health and Well-Being: The rise in popularity of fitness trackers, digital healthcare solutions, and healthy lifestyle trends has created a greater awareness among people about their health and wellness. This has led to a surge in demand for biological sensors that can monitor vital signs such as heart rate, pulse oximeters, facial recognition systems, glucose monitors, and more.
2. Increasing Incidence of Chronic Diseases: The prevalence of chronic diseases such as diabetes is increasing at an alarming rate across the world. This has resulted in the need for continuous monitoring of vital signs to detect health issues early on and provide preventive care. As a result, there is increased adoption of biological sensors that can be used to monitor these vital signs.
3. Rising Demand for Home Healthcare: With advances in medical technology and growing awareness about health & wellness among people there is increasing demand for home healthcare solutions which has led to rising demand for medical-grade biological sensors that can be used at homes.
Some of the advantages of the Biological Sensor Market are as follows:
1. Increased accuracy and precision: Biological sensors are highly accurate and precise, as they rely on specific biological reactions for their readings. This makes them more reliable than other types of sensors.
2. Improved safety: Biological sensors can detect hazardous materials and alert personnel to potential danger. This helps reduce the risks associated with working in hazardous environments.
3. Reduced costs: Biological sensors are cheaper than traditional chemical-based sensors, making them a cost-effective option for monitoring industrial processes or detecting environmental contaminants.
4. Improved convenience: Biological sensors are often wireless or connected to the internet, allowing remote monitoring and control of systems from anywhere in the world. They can also be used in portable devices, such as cell phones or laptops, making them ideal for use in remote settings or for medical purposes.
Market value and CAGR of the Biological Sensor Market
The market value and CAGR are expected to reach $39.5 billion and 14% respectively, by 2032.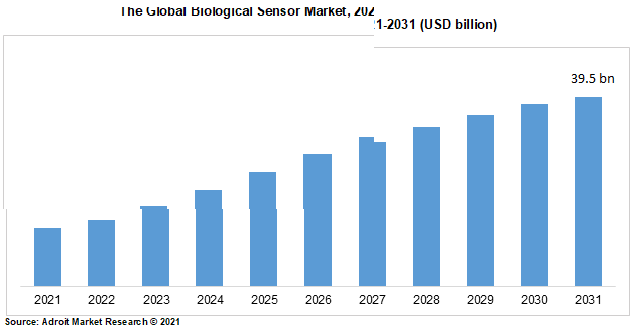 The rapid growth of the market is attributed to the increasing demand for continuous monitoring of vital signs in medical and healthcare applications and the growing demand for wearable biosensors in consumer electronics applications. Additionally, technological advancements in biometric sensors, such as miniaturization and integration of multiple functions on a single chip are expected to drive the growth of this market
Key Players
The key players operating in the biological sensor market include Texas Instruments Inc (US), STMicroelectronics N.V. (Switzerland), Analog Devices Inc (US), Bosch Sensor Tec GmbH (Germany), Infineon Technologies AG (Germany), NXP Semiconductors N.V. (Netherlands), Honeywell International Inc (US), TE Connectivity Ltd (Switzerland), Omron Corporation (Japan) and Measurement Specialties, Inc. (US).
Market Analysis into type, application, end user and region of Biological Sensor Market
The most demanded product of the Biological Sensor Market is expected to be the Amperometry type. Amperometry Biological sensors are used in medical diagnostics and biotechnological research and development.
The most demanded application of the biological sensor market is expected to be biosensors for drug discovery. In drug discovery, biosensors are used to facilitate the rapid screening of new compounds with improved efficacy and safety profiles.
The end-user of the biological sensor market is expected to be hospitals & Diagnostic Centres, Pharmaceutical & Biotechnology Companies, and Research & Academic Institutions as the demand is will the largest in this end user market.
Geographically, North America is expected to dominate the global Biological Sensor Market owing to the presence of well-established players in this region such as Medtronic plc (Ireland), Abbott Laboratories (U.S.), Siemens Healthcare Private Limited (Germany), etc.
Impact of Covid on the Biological Sensor Market
Covid-19 has had a profound impact on the biological sensor market. The outbreak of the pandemic has resulted in a significant increase in the demand for POC testing and home diagnostics. Research laboratories have also been affected by the pandemic, with many having to close down or reduce their operations
Further, the economic downturn caused by the pandemic has reduced the funding and investments available for research and development. This has adversely impacted the growth of the biological sensor market, as new products need to be developed to stay relevant in a rapidly changing environment.
Finally, there is an increased focus on digital health solutions such as telemedicine and remote monitoring. This has resulted in an increased demand for wireless sensors that can be used remotely. This shift towards digital health solutions is expected to continue in the long run and could lead to further growth opportunities for biological sensor technology.
The key development in the Biological Sensor Market
In January 2021, scientists from the University of Utah developed a new type of biological sensor for monitoring oxygen levels in hard-to-reach tissue. This development is expected to greatly benefit medical practitioners, as it provides improved access to oxygen levels in areas such as the brain and heart that are difficult to monitor. Additionally, researchers at the University of Rochester have recently developed a new type of nanosensor that can detect bacteria and viruses in water with greater accuracy than traditional methods. This technology has potential applications in water quality testing and monitoring.
Finally, researchers at Rensselaer Polytechnic Institute have developed a low-cost wearable biosensor that can measure heart rate, respiratory rate and other vital signs with a high degree of accuracy
Biological Sensor Market Scope
| | |
| --- | --- |
| Metrics | Details |
| Base Year | 2021 |
| Historic Data | 2020-2021 |
| Forecast Period | 2022-2031 |
| Study Period | 2021-2031 |
| Forecast Unit | Value (USD) |
| Revenue forecast in 2031 | $39.5 billion |
| Growth Rate | CAGR of 14 % during 2021-2031 |
| Segment Covered | By Type, By Application, End Users, Regions |
| Regions Covered | North America, Europe, Asia Pacific, Middle East and Africa, South America |
| Key Players Profiled | Texas Instruments Inc (US), STMicroelectronics N.V. (Switzerland), Analog Devices Inc (US), Bosch Sensor Tec GmbH (Germany), Infineon Technologies AG (Germany), NXP Semiconductors N.V. (Netherlands), Honeywell International Inc (US), TE Connectivity Ltd (Switzerland), Omron Corporation (Japan) and Measurement Specialties, Inc. (US). |
Key Segment of Biological Sensor Market
By Type Overview 2021-2031, ($ Billion)
• Wearable
• Non-wearable
By Application Overview 2021-2031, ($ Billion)
• POC Testing
• Home Diagnostics
• Research Laboratories
• Others
By End-User Overview 2021-2031, ($ Billion)
• Manufacturing companies
By Region Overview 2021-2031, ($ Billion)
North America
• USA
• Canada
Asia Pacific
• China
• India
• Japan
• Rest of Asia Pacific
South America
• Mexico
• Brazil
• Rest of North America
Europe
• Germany
• France
• UK
• Rest of Europe
Middle East and Africa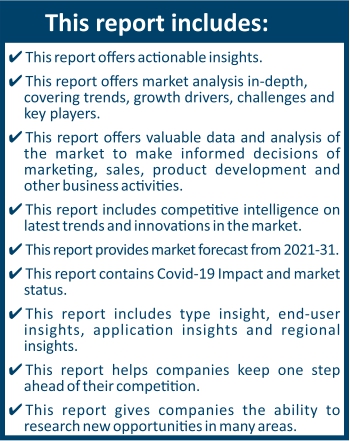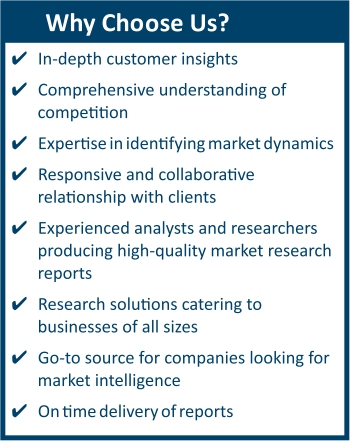 Frequently Asked Questions (FAQ) :
Biological Sensor Market is projected to reach $39.5 billion by 2031, growing at a CAGR of 14