The global pulse oximeters market was valued at USD 2,065.1 million in 2019 and is expected to grow at a CAGR of 6.5% over the forecast period. Increased focus on patient safety in anaesthesia and demand for reliable reporting of vital statistics could drive market development. Increased understanding of patient monitoring and an increase in the prevalence of target diseases could fuel market growth in the forecast period. In the coming years, government policies and new product availability are expected to further boost demand growth.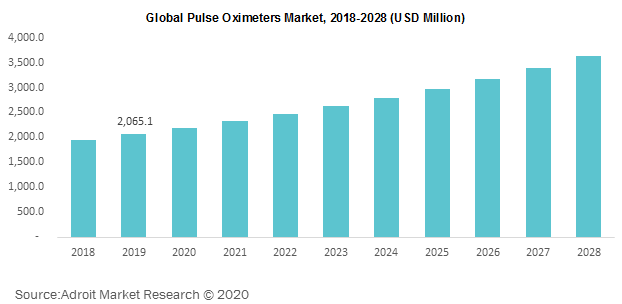 The global pulse oximeters market is categorized based on type, end-use. Region wise, North America was the largest market in 2018; however, Asia Pacific is expected to be the fastest growing region by 2028, with a CAGR of over 7%.
Key players serving the global pulse oximeters market include Medtronic (Covidien), CareFusion Corp., GE Healthcare, Philips Healthcare, Masimo, CAS Medical Systems, Inc., Nonin Medical, Inc., Smiths Medical, Welch Allyn, Spacelabs Healthcare among other prominent players.
Key segments of the global pulse oximeters market
Type Overview, 2018-2028 (USD Million)
Fingertip
Handheld
Others
End-Use Overview, 2018-2028 (USD Million)
Hospitals
Clinics
Homecare
Others
Regional Overview, 2018-2028 (USD Million)
North America
Europe

Germany
United Kingdom
France
Spain
Rest of Europe

Asia Pacific

China
Japan
India
Rest of Asia Pacific

South America

Brazil
Mexico
Rest of South America

Middle East & Africa

GCC
South Africa
Rest of Middle East and Africa
Reasons for the study
The purpose of the study is to give an exhaustive outlook of the global Pulse Oximeters industry
The overall segmentation of pulse oximeters market, especially key segments are thoroughly studied.
Presence of major players and their wide product portfolio across developed countries is anticipated to further boost the growth of pulse oximeters market
What does the report include?
The study on the global pulse oximeters market includes analysis of qualitative market indicators such as drivers, restraints, challenges and opportunities
Additionally, the market competition has been evaluated using the Porter's five forces analysis
The study covers qualitative and quantitative analysis of the market segmented on the basis of applications, product, technology and end user. Moreover, the study provides similar information for the key geographies.
Actual market sizes and forecasts have been provided for all the considered segments
The study includes the profiles of key players in the market with a significant global and/or regional presence
Who should buy this report?
The report on the global pulse oximeters market is suitable for all the players across the value chain including raw material suppliers, Pulse Oximeters providers, pharmaceutical and medical device manufacturers, distributors, suppliers and retailers
Venture capitalists and investors looking for more information on the future outlook of the global pulse oximeters market
Consultants, analysts, researchers, and academicians looking for insights shaping the global pulse oximeters market
The initial detection of neonatal hypoxemic conditions using pulse oximeters will significantly lessen the amount of neonatal deaths. Increased pulse oximeters penetration is expected to help the situation, especially in developed economies. In patients infected with coronavirus, constant observing of respiratory parameters is crucial. Therefore, medical specialists rely heavily on medical instruments for diagnosis, treatment and control of COVID-19 symptoms, such as pulse oximeters and multimeter monitors. In addition, the WHO recommendations for clinical disease treatment have pointed to oxygen therapy as a significant intervention in serious disease patients. Government organizations & health associations across the globe have therefore recommended that health facilities be fitted with pulse oximeters & medical oxygen systems.
During the forecast period, the home care sector is expected to see lucrative growth. An growing understanding of the value of tracking the oxygen level is one of the main drivers for the demand for pulse oximeters. However, patients with chronic diseases tend to seek treatment in the home, where the demand of homecare pulse oximeters is developed. Fingertip pulse oximeters are considered inexpensive and effective in home treatment because they can help control and store readings of patients' oxygen level, thus helping to minimise the risk of hospital readmission.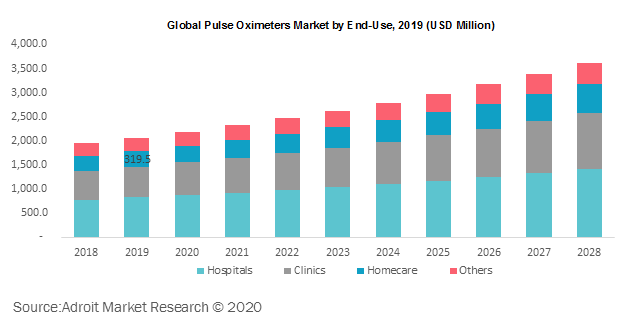 Based on regions, the global pulse oximeters market is segmented into North America, Europe, Asia Pacific, Latin America and Middle East & Africa. In the year 2019, North America held the majority of the market share owing to the presence of large patient pool suffering from numerous respiratory conditions. On the other hand, Asia Pacific region is anticipated to witness highest growth rate owing to rising demand for pulse oximeters from emerging economies such as Japan, China, and India. Asia Pacific pulse oximeters market is dominated by China, and followed by China, and India. India pulse oximters market is projected to witness fastest growth rate owing to rising healthcare awareness coupled with growing government focus to develop healthcare and medical device industry for the growing population.