Technology advamcement, digitalization and increasing online data sharing is driving the global IOT operating system market.
Covid-19 Impact & Market Status
The report offers an exhaustive overview of the business dynamics and new investment strategies that are being adopted by business leaders across countries and regions to overcome the acute challenges and financial instabilities that have emerged in the post pandemic times.
The global market for the IOT Operating System is anticipated to develop at a compound annual growth rate (CAGR) of 40.4% throughout the course of the forecast, to reach USD 8,479.38 million by 2029.
At the moment, the current COVID-19 event continues to bring numerous obstacles to participants from a variety of industrial sectors. As the Internet of Things (IoT) space evolves, stakeholders in the current IoT operating systems industry are increasingly focused on capitalising on opportunities in the healthcare sector. Overburdened global healthcare systems are constantly looking for new methods to streamline processes. A boom in IoT healthcare applications such as telemedicine consultations, remote patient monitoring, robot help, and digital diagnostics in the face of the COVID-19 pandemic is likely to create significant business for industry players in the IoT operating systems market landscape. While the healthcare industry is expected to see significant growth as a result of the COVID-19 health crisis, other industrial sectors are also expected to adopt IOT Operating system in the coming years.
Cloud-based service is anticipated to grow at a significant rate in the forecast period
Cloud computing provides a vast storage volume, applications, and data, which increases the processing capacity of the server. As a result, it lowers enterprise operational costs and infrastructure complexity without requiring large investments in support services and pricey hardware. Rising adoption of cloud computing technologies and increasing BYOD (buy your own device) trend is boosting the global IOT Operating System Market. Cloud computing technologies encourage mobility, making mobile devices a critical corporate platform. Cloud computing provides consumers with a platform for simply developing programmes and storing data, and it has also increased the use of mobile devices.
Because of the introduction of powerful mobile devices, advancements in network technology, many heterogeneous platforms, and the expanding trend of mobile apps, multi-platform mobility has grown rapidly. In recent years, multiplatform mobility has been identified as a prominent and developing trend. The benefits of multi-platform mobility include better strategy formulation, real-time employee interactions, quick solutions to technological challenges, and cost-effective operational costs. The desire for multi-platform mobility guarantees that employees' goals are aligned with heterogeneous devices. As a result of the increased traction for the advent of technologies such as cloud computing and mobility, the market for IoT operating systems is growing.
Large Enterprises has made sigbnificant contribution to global IOT Operating System Market growth
The market for IoT operating systems has been divided into large, small, and medium enterprises. Between 2018 and 2023, the market for large organisations is predicted to generate the most income. IoT operating systems are used by large organisations to make more informed decisions about the size, speed, and cost of IoT devices. Because they have a diverse portfolio of suppliers and service providers in the market, major organisations are early adopters of IoT operating systems. Due to the volume of material generated by apps every second in companies, large enterprises across multiple industry verticals are at the forefront of implementing an application performance management solution in order to gain a competitive advantage.
APAC to Sweep the Largest Revenue Streams Followed by North America
During the projected period, the APAC IoT operating systems market is expected to develop at the fastest CAGR. APAC is distinguished by a large presence of manufacturing economies and one of the world's largest production networks, and adoption of IoT operating systems is expected to increase for a variety of reasons, including the need to align business initiatives of stakeholders and streamline business processes. APAC countries are working to achieve the Industry 4.0 initiative. The North America market is expected to grow significantly for internet of things (IoT) operating systems because of its industrialised and well-established countries.
Th growing demand for online products, rising disposable income, creative goods, raw material affluence, and changing consumption technologies are accelerating the market of IOT Operating Systems.
IOT oprerating system is a software that manages both hardware and software resources of a computer system and provides shared services to the computer programmes. An operating system is defined by IoT as an edge gateway that offers communication to devices via numerous protocols while also providing multiple computing capabilities. It combines several capabilities of linked devices and servers in order to improve network communications. IOT operating systems allows the integration of heterogenous hardware and includes developer friendly application programme interface (API).
IoT (Internet of Things) refers to the ability to exchange information effectively with minimal resource utilisation and also with low power utilisation amongst different appliances through a specific network. Regular operating systems are unable to connect with IoT applications because they require large resources.
Increasing popularity and developments is cloud computing technologies, increasing online data sharing are some key factors driving the global IOT operating system market and is expected to propel the market in the forecast years. BYOD, increasing acceptance of IoT operatoing systems in small and medium scale businesses is expected to drve further expansion of global IOT operating system market. The acceptance of the IoT operating system by SMEs is popularising growth of the IoT operating system, which is expected to drive future expansion of the internet of things (IoT) operating systems market. Internet advancements have provided effective connectivity across numerous platforms.
The market value of global IOT operating system market is priojected to reachj close to $20 billion by 2028 with an annualized growth rate of 38% through the forecast span. This rapid expansion is anticipated owing to the factors like increasing of internet of things, colud computing technologies.
Interestringly, significant advancemnets in Internet of Things since the past few years has played crucial role in two-fold growth of global IOT operating system market. Because of improvements in IoT-supporting technology over the last decade, IoT operating systems have made significant strides at a quick rate.
Several businesses are investing in the development of advanced IoT operating systems. Amazon Web Services, for example, created its own form of the FreeRTOS, the Amazon FreeRTOS, which is specifically built for quick usage across a variety of connected devices.
Rising demand for IoT products, rising disposable income, technology trends have potentially influenced the global IOT Operating System Market. Windows and iOS are operating systems highly popular in the world and greaty adopted by businesses, individuals, and organizations in their systems due to multiple benefits. However, because IoT operations require real-time reactions, standard operating systems are becoming inadequate, forcing the development of efficient IoT operating systems. The IoT operating systems market is now positioned to increase at a gigantic rate over the projected period, as global IoT usage continues to develop at an exponential rate.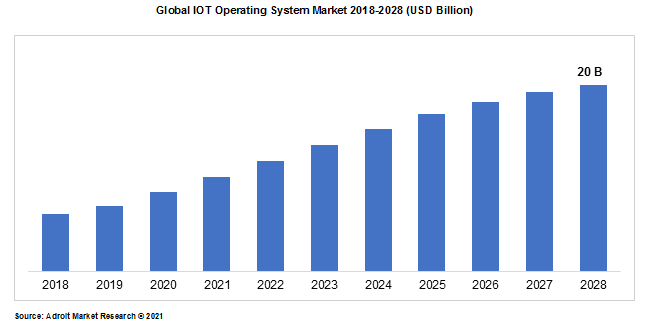 The major players in the IoT operating systems market Google, eSol, Canonical Group, Blackberry, ARM, Kaspersky, Apple, River,Siemens,Microsoft,Alibaba,Wittenstein,SYSGO,GmbH,Esol,Blackberry,Green Hills Software,Canonical, ,Enea,and ARMGreen Hills Software LLC among others. Important business tatctics like mergers and collborations, acquisitions, product launches, joint ventures, contracts, ect are being used by these prominent firms to maintain dominance and increasing competitiveness in the global IOT Operating System Market.
Latest Innovation in the Global IOT Operating system: A snapshot
Green Hills Software teamed with the Curtiss-Wright Corporation, a US-based product manufacturer and service provider, in December 2016. Based on the Green Hills INTEGRITY RTOS development tool suite, this collaboration enables Curtiss-Wright Corporation to provide complete embedded software and hardware solutions for developers. In the defence and aerospace areas, it provided high-performance modular computing and integrated subsystem applications.
eMCOS, the first commercial RTOS that supports single to multicore CPUs, was introduced by eSOL in March 2017. AI and sensor fusion may now be integrated into systems used for autonomous driving, robots, medical cameras, and IoT devices thanks to eMCOS.
IOT Operating System Market Scope
| | |
| --- | --- |
| Metrics | Details |
| Base Year | 2021 |
| Historic Data | 2019-2020 |
| Forecast Period | 2022-2029 |
| Study Period | 2019-2029 |
| Forecast Unit | Value (USD) |
| Revenue forecast in 2029 | USD 8,479.38 million |
| Growth Rate | CAGR of 40.4 % during 2021-2029 |
| Segment Covered | Component, by Type, Application Area, Verticals, Operating System, Regions |
| Regions Covered | North America, Europe, Asia Pacific, South America, Middle East and Africa |
| Key Players Profiled | Google LLC (U.S.), Apple Inc. (U.S.), eSOL (Japan), BlackBerry Limited (Canada), ARM Ltd. (U.K.), WITTENSTEIN SE (Germany), ENEA AB (Sweden), Siemens (Germany), Green Hills Software (U.S.), SYSGO GmbH (Germany), Microsoft (U.S.), Wind River Systems, Inc. (U.S.), Silicon Laboratories. (U.S.), AO Kaspersky Lab. (Russia), Canonical Ltd. (U.K.) |
Key Segments of the Global IOT Operating System Market
Component Overview, 2018-2028 (USD Billion)
Client Side
Server Side
Professional Services
Consulting services
Deployment and Integration Services
Maintenance and Support
Others
Market by End-User Overview, 2018-2028 (USD Billion)
Large
Medium
Small
Others
Application Overview 2018-2028 (USD Billion)
Smart Building and Home Automation
Capillry Networks Management
Smart Utilities
Vehicle Telematics
Industrial Manufacturing and Automation
Smart Healthcare
Others
Regional Overview, 2018-2028 (USD Billion)
North America
Europe
Germany
France
UK
Rest of Europe
Asia Pacific
China
India
Japan
Rest of Asia Pacific
South America
Mexico
Brazil
Rest of South America
Middle East and South Africa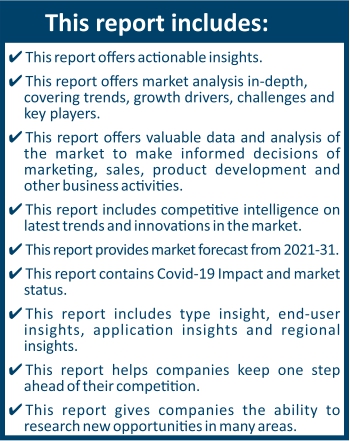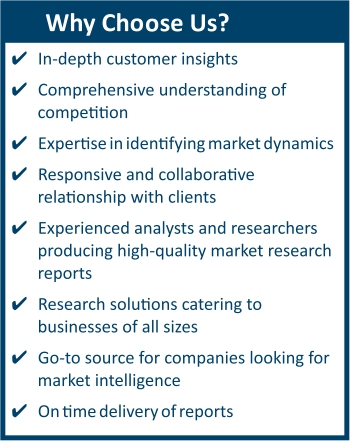 Frequently Asked Questions (FAQ) :
The market value of IOT oprerating system market in 2028 was $20 billion.
The IOT oprerating system market is growing at a CAGR of 38% over the forecast period.
APAC dominated the market for IOT oprerating system and accounted for the largest revenue share.
The application of the IOT oprerating system market are smart home, smart utilities, capillary networks management, vehicle telematics, industrial automation, smart healthcare & others.
The top companies that hold the market share in IOT oprerating system market are Google, eSol, Canonical Group, Blackberry, ARM, Kaspersky, Apple, River,Siemens,Microsoft,Alibaba,Wittenstein,SYSGO,GmbH,Esol,Blackberry,Green Hills Software,Canonical, ,Enea,and ARMGreen Hills Software LLC.