The main factor propelling the growth of the world market for hair straightening brushes is the increase in the number of consumers who are beauty concerned. In addition, producers are increasingly offering cutting-edge goods, and as a result, consumers are approaching the purchase of hair styling tools from a holistic perspective. The rise in male beard-straightening consumers and the premiumization trend, on the other hand, are predicted to offer lucrative chances for the electric hair brush market overall.

The market for Hair Brushes is expanding since it aids people in enhancing their attractiveness by enabling them to attain various hair designs and styling. Utilizing the product stimulates the scalps, produces natural shines, and removes undesirable elements from the hair. The development of a Smart Hairbrush with a sensor to identify different hair problems is presenting a business potential. For instance, L'Oréal has developed a smart hair brush that can determine whether the hair is wet or dry and has a microphone to listen to the sound of brushing hair to provide information on frizziness, manageability, breakage, dryness, and split ends.
In general, Hair Straighteners are used to straighten wavy or curly hair and provide a glossy finish for a longer period. The market for hair straighteners is also expected to expand due to rising concerns about maintaining hair quality and the need for appropriate hairstyles. Additionally, it is anticipated that a variety of hair styling products, such as shampoos, conditioners, and other items, will restrain the expansion of the market for Hair Straighteners.
However, the market expansion is constrained by the negative consequences of Hair Straightening, such as dryness, split ends, and the possibility of irreversible hair loss. Additionally, there are a lot of competing products made by local, unregistered manufacturers that are cheaper and available on the market, which restrains market expansion.
Usually used to straighten curly or wavy hair, Hair Straightening products can give hair a lustrous texture for a longer duration. Long, straight hair is regarded as the perfect hairstyle that people prefer to have. Customers with curly or untidy hairstyles also prioritise appearance and presence.
The market for Hair Straighteners is expected to grow from its current value of USD 271.3 Million in 2021 to USD 360.0 Million by 2031, at a CAGR of 6.80%.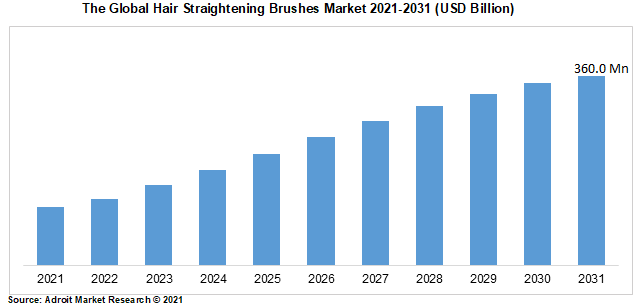 Major players in the Hair Straightening brush market include Panasonic, PRITECH, Drybar, Phillips, Revlon, Inc., LLC, Shenzhen Mesky Technology Ltd., L'Oréal S.A., Spectrum Brands, Inc., Conair Corporation, and Procter and Gamble. Others in the worldwide hair straightening market include APALUS Inc., Abox, Coolkesi Ltd., DAFNI, Corioliss, JINRI, GLAMFIELDS, Amika, Rozia, MiroPure, and VEGA.
Segment Analysis
200 degrees Celsius is Used More Often
While thick, coarse hair would require a temperature of roughly 200 degrees Celsius for styling, normal hair can be styled at 160 degrees. All heat styling tools must abide by this regulation. The limitations of how curling irons, curling rods, flat irons, blowout brushes, and straighteners all work are the same. Curly hair, however, requires a temperature of at least 240 degrees Celsius. According to statistics, 200 degrees Celsius is typically utilised primarily because it is discovered that the majority of male and female customers who choose to have their Hair Straightened have coarse and partially curled hair.
Dry Hair Used by Large Customers
The ideal method to utilise a Hair Straightener is dry hair. Dry hair is not damaged by using a flat iron like damp hair is. That does not, however, mean that dry hair is completely unharmed. Your hair might still become damaged if you use a flat iron frequently, especially if you use it incorrectly.
Women Dominate the Market
The majority of women have long hair, which necessitates regular combing and upkeep, thus it is believed that women dominate the market. As a result, there is now a greater demand for good. However, the male market is expected to grow modestly throughout the anticipated period due to a surge in male consumers adopting electric Hair Straightening brushes for beard straightening.
Europe to List the Top the Regions
The biggest market is in Europe. This is due to the highly developed retail systems and greater use of electric hair brushes brought on by the fashion industry's growing influence over garments, cosmetics, and make-up goods. Customers, particularly women, are very particular about their hairstyle that matches the trend. Additionally, the area has seen a rise in the number of salons, which gives electric hair brush producers a chance to market their products to the commercial market.
Impact of COVID-19 and Market Status
The COVID-19 epidemic has resulted in widespread lockdowns, line restrictions, and the dissolution of transportation organizations. Additionally, compared to previous flare-ups, the market for Hair Straightening brushes is far more financially vulnerable.
Labor availability is disrupting the inventory network of the Global Hair Straightening Brush Market, as lockdowns and disease outbreaks are reportedly forcing people to stay indoors. The presentation of the manufacturers of Hair Straightening brushes and the delivery of the goods are related. When assembly movements stop, so do transportation and the store network. Also, the stacking and dumping of products, such as labor-intensive deliverables and raw materials, as a result of the incident, the entire Hair Straightening brush inventory network, from the entrance of the manufacturing plant to the warehouse, or from the distribution center to the end customer, was severely affected.
Latest Innovations and Developments in Global Hair Straightening Brushes Market: A Snapshot
• B&C Cosmetic Ingredients is acquired by Sharon Labs.
• Natural hair care company Briogeo is acquired by Wella.
• The purchase of ColoRight by L'Oréal is announced.
Hair Straightening Brushes Market Scope
| | |
| --- | --- |
| Metrics | Details |
| Base Year | 2020 |
| Historic Data | 2020-2021 |
| Forecast Period | 2022-2031 |
| Study Period | 2021-2031 |
| Forecast Unit | Value (USD) |
| Revenue forecast in 2028 | USD 360.0 Million |
| Growth Rate | CAGR of 6.80 % during 2021-2028 |
| Segment Covered | Type, Application, by End-Users, Regions |
| Regions Covered | North America, Europe, Asia Pacific, Middle East and Africa, South America |
| Key Players Profiled | PRITECH, Drybar, Phillips, Revlon, Inc., LLC, Shenzhen Mesky Technology Ltd., L'Oréal S.A., Spectrum Brands, Inc., Conair Corporation, and Procter and Gamble. Others |
Key Segments of the Hair Straightening Brushes Market
By Type Overview, 2021-2031 (USD Billion)
240 Degrees C

200 Degrees C

160 Degrees C

more than 240 Degrees C

Others
By Application Overview, 2021-2031 (USD Billion)
By End User Overview, 2021-2031 (USD Billion)
By Regional Overview, 2021-2031 (USD Billion)
North America
Europe
Rest of Europe
Asia Pacific
China

India

Japan

Rest of Asia Pacific
South America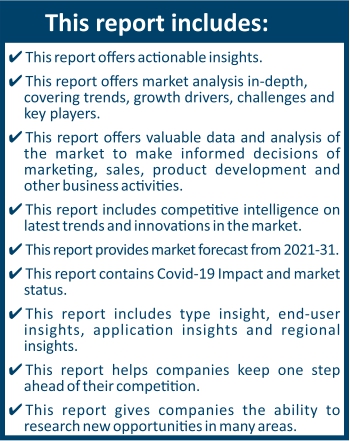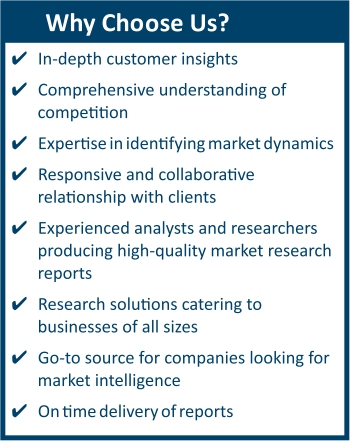 Frequently Asked Questions (FAQ) :
Hair Straightening Brushes Market is projected to reach USD 360.0 Million by 2031, growing at a CAGR of 6.80.