Primarily, there is an increase in worldwide demand for agricultural products. Farmers are using more effective vehicles, like grain trucks, to move grains from farmlands to storage facilities or markets in order to fulfil this rising demand. The market for grain trucks has seen a huge increase in demand as a result. Secondly, the automation of farm activities is accelerating as a result of agricultural technology developments and growing labour expenses. Automation of agricultural processes, such as irrigation systems, crop harvesting, and crop transportation, calls for specialised vehicles, such as grain trucks, that can move raw materials efficiently. Government programmes like grants and subsidies are also helping farmers buy these cutting-edge vehicles, which is driving the growth of the grain truck market worldwide.
The grain truck market is crucial because it gives farmers a reliable route to get their products from fields to markets or storage facilities. Additionally, grain trucks include cutting-edge technology in their design that lowers their fuel usage and pollutants. This guarantees that items are moved effectively, rapidly, and sustainably. Additionally, these trucks provide greater dependability and safety, both of which are crucial when moving heavy items like grains across long distances. Thus, there is a significant need for grain trucks on the global market due to the rising demand for farm commodities and new initiatives.
A grain truck is a specific kind of vehicle built to move huge quantities of grain products or harvests from farms to storage facilities or markets. Compared to conventional commercial trucks, these vehicles provide more dependability and safety, making them appropriate for hauling huge cargo over long distances. Single-auger and dual-auger grain trucks are the two types of grain trucks that are available. Dual-auger grain trucks can load and unload grains more quickly than single-auger grain trucks because they have two augers instead of just one. Additionally, they include automated features like mobile applications, GPS navigation, and air conditioning that facilitate effective mobility.
The Global Grain Truck Market is anticipated to reach predicted values of USD 32.5 billion in 2021 and USD 49.3 billion by 2031, growing at a CAGR of 5.2% over the forecast period of 2021–2031. The rise in agriculture automation and the rising demand for agricultural products are two major drivers boosting the grain truck market globally.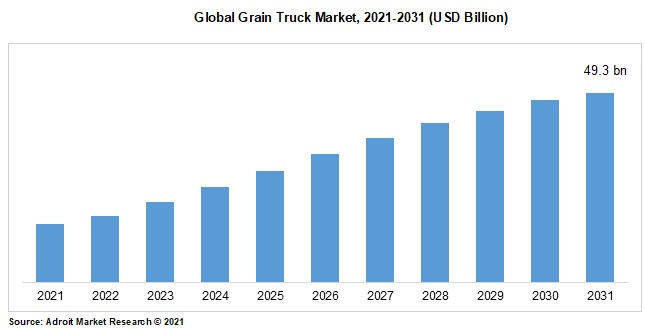 The implementation of strict emission restrictions in relation to greenhouse gases is the main difficulty facing the grain truck business. The implementation of strict standards for safety and sustainability by governments and environmental organisations is anticipated to impede the growth of the grain truck market. Additionally, the expensive cost of these vehicles and the inadequate infrastructure in emerging nations may reduce the market for grain trucks. Meanwhile, emerging technologies like virtual reality, data analytics, and artificial intelligence are anticipated to create new market prospects for grain trucks. The adoption of linked devices can also increase operational effectiveness and result in enhanced safety, supporting the expansion of this sector..
Segment Analysis
The Single Auger Grain Segment emerged as the Most Lucrative Type
The market for grain trucks has been divided into two types, Single Auger Grain Truck and Dual Auger Grain Trucks, based on type. Due to its affordability, the single auger grain truck is anticipated to account for the biggest revenue share. Additionally, a number of additional elements, including a high-throughput screening capacity and enhanced efficiency as a result of its rapid unloading, are predicted to further fuel the segment's expansion over the projection period.
The Most Prominent Application is the Corporate Use Segment
Based on use, the global grain truck market has been divided into Commercial Use and Residential Use. Due to rising corporate demand for effective agricultural product transportation, the corporate use segment is anticipated to contribute the biggest proportion of revenue. Growing public awareness of agriculture automation is another aspect boosting the corporate use segment's rise.
The North American Region to render Ample Financing Opportunities
The North American, South American, European, Asian Pacific, Middle Eastern, and African regions make up the segments of the global grain truck market. Due to the significant demand from corporate and individual customers, North America is anticipated to make up the largest portion of revenue. The existence of a sizable agricultural sector and cutting-edge agricultural technology like smart agriculture are some additional factors influencing market expansion in the North American area.
COVID-19 Impact and Market Status
Due to the COVID-19 pandemic's effects on the agriculture industry, the grain truck market has experienced substantial global growth. However, despite being impacted by the virus's spread and the following lockdown measures, the grain truck business is anticipated to expand steadily between 2021 and 2031. The rising consumption of food grains and other associated products in both urban and rural areas might be credited with this. Additionally, the growing demand for farm automation in order to raise productivity and increased investments in agricultural equipment have both contributed to the market expansion for grain trucks.
Fendt, GSI (Grain Systems), Claas Group, T H WHITE, Buhler Industries Inc., Kinze Manufacturing Inc., Sukup Manufacturing Co., Cases IH, JF STOLL Gmbh & Co. KG, AGCO Corporation, and numerous more companies are significant players in the grain truck business. Major industry players are concentrating on developing equipment with new features to satisfy customer needs. Additionally, businesses are focused on joint venture partnerships and other forms of strategic collaboration to increase their product portfolio and increase their market share
Recent Developments in the Grain Truck Market
• The Japanese company Penta Corporation introduced the TH-3200 grain truck in 2019. This grain truck is suited for medium-sized and big farms because it has a 3.2-ton capacity. Many businesses have invested in R&D projects as a result of the rising popularity of off-road driving in order to diversify their product lines and offer more cutting-edge goods.
• The Flourish single auger grain truck was introduced in 2020 by the American business Estes Trucking. This grain truck is available with a 10 tonnes capacity, making it appropriate for large-scale farms. Advanced safety measures on the vehicle, such as autonomous brake systems, help lower the likelihood of accidents and injuries on farms.
• Agri Pro Corporation, a German business, introduced the Gopher twin auger grain truck in 2021. With a 5-tonne capacity, this grain truck is designed for small and medium-sized farms. Additionally, it has cutting-edge technologies like GPS navigation systems that let farmers follow their cars in real-time.
Grain Truck Market Scope
| | |
| --- | --- |
| Metrics | Details |
| Base Year | 2020 |
| Historic Data | 2020-2021 |
| Forecast Period | 2022-2031 |
| Study Period | 2021-2031 |
| Forecast Unit | Value (USD) |
| Revenue forecast in 2031 | USD 49.3 billion |
| Growth Rate | CAGR of 5.2 % during 2022-2031 |
| Segment Covered | by Type, By Application, Regions |
| Regions Covered | North America, Europe, Asia Pacific, Middle East and Africa, South America |
| Key Players Profiled | Fendt, GSI (Grain Systems), Claas Group, T H WHITE, Buhler Industries Inc., Kinze Manufacturing Inc., Sukup Manufacturing Co., Cases IH, JF STOLL Gmbh & Co. KG, AGCO Corporation, and numerous more |
Key Segments of the Grain Truck Market
Type Overview, 2021-2031 (USD Billion)
Single Auger Grain Truck

Dual Auger Grain Truck
Application Overview, 2021-2031 (USD Billion)
Corporate Use

Personal Use
Regional Overview, 2021-2031 (USD Billion)
North America
Europe
Germany

France

UK

Rest of Europe
Asia Pacific
China

India

Japan

Rest of Asia Pacific
South America
Mexico

Brazil

Rest of South America
Middle East and South Africa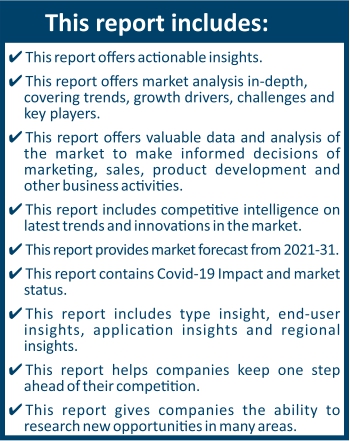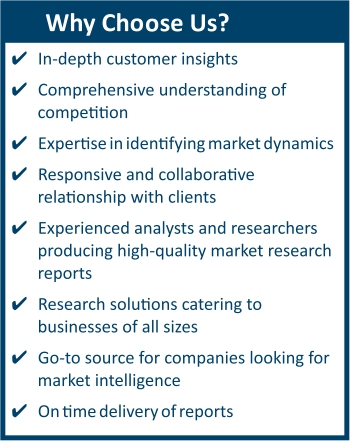 Frequently Asked Questions (FAQ) :
The global Grain Truck market size is expected to reach to USD 49.3 billion in 2031.
The Grain Truck market is estimated to grow at a CAGR of 5.2%
The top leaders analyzed in the Grain Truck market study are Fendt, GSI (Grain Systems), Claas Group, T H WHITE, Buhler Industries Inc., Kinze Manufacturing Inc., Sukup Manufacturing Co., Cases IH, JF STOLL Gmbh & Co. KG, AGCO Corporation, and numerous more