The global epigenetic market is projected to reach approximately USD 36.45 billion by 2028, exhibiting a favorable CAGR of 21.5% throughout the forecast tenure. There is a combination of factors that are supporting the industry growth such as increasing prevalence of various types of cancers coupled with high demand for advanced treatment methods including drugs, therapeutics which are boosting the global epigenetic market.
Added to this, increasing fatalities due to cancer, rising geriatric population, and increasing awareness of the benefits associated with epigenetic applications is also transforming growth outlook for the better. However, the significant investments, expensive instruments required for research, development, and maintenance, and lack of uniform awareness are some important factors that are likely to under weigh the global epigenetics market growth.
However, as new players are investing in introduction of new and advanced instruments for research and development at best prices, subsidies for the products by several institutions, government programs held for raising awareness are anticipated to be a growth opportunity for the global epigenetics market in the coming years.
Epigenetics is a type of scientific approach that is used to study the behaviour and environment of certain factors such as eating habit, stress, physical activity, working habits, smoking, or other factors related to environment and lifestyle that are involved in changing the physical structure of DNA. The study of changes that alter the physical structure of the DNA is referred to Epigenetics. For example, studying behavioural changes in pregnant women considering surrounding environment, eating habits, etc that may change the physical structure of DNA of the baby is an application of epigenetic study. The global epigenetics market is comprised of internal and external competitors each racing to stay at the top position in the market.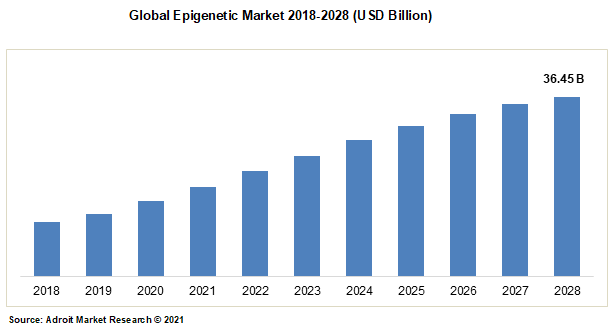 The key companies ranking top in the global epigenetics market are Abcam, Active Motiff, Illumina, Merck & Co, and Diagenode among all other established and emerging players. The market players are introducing advanced instruments, innovative methods to study the epigenetics process.
Moreover, established players are upgrading their approaches and undertaking strategic initiatives with efficient products and services and best solutions addressing the market demands. These factors are increasing competitiveness worldwide in the global epigenetic testing market.
Epigenetic Market Scope
| | |
| --- | --- |
| Metrics | Details |
| Base Year | 2020 |
| Historic Data | 2018-2019 |
| Forecast Period | 2021-2028 |
| Study Period | 2018-2028 |
| Forecast Unit | Value (USD) |
| Revenue forecast in 2028 | USD 36.45 billion |
| Growth Rate | CAGR of 21.5% during 2021-2028 |
| Segment Covered | Kit Type, Reagents Type, Enzymes Type, Instruments Type, Application, Regions |
| Regions Covered | North America, Europe, Asia Pacific, Middle East and Africa, South America |
| Key Players Profiled | Abcam, Active Motiff, Illumina, Merck & Co, and Diagenode among all other established and emerging players |
Key Segments of the Global Epigenetic Market
Kit Type Overview, 2018-2028 (USD Billion)
Chip Sequencing Kits
Bisulfite Conversion Kits
Whole Genome Amplification Kits
5-hmC & 5-mC Analysis Kits
RNA Sequencing Kits
Reagents Type Overview, 2018-2028 (USD Billion)
Antibodies
Magnetic Beads
Histones
Buffers
Primers
Enzymes Type Overview, 2018-2028 (USD Billion)
DNA Polymerases
Other DNA-Modifying Enzymes
DNA Ligases
Methyltransferases
Acetylases
Reverse Transcriptase
Other Protein-Modifying Enzymes
RNA Ligases
Instruments Type Overview, 2018-2028 (USD Billion)
Next generation Sequencers
qPCRs
Mass Spectrometers
Sonicators
Application Overview, 2018-2028 (USD Billion)
Solid Tumors
Liquid Tumors
Non-oncology
Metabolic diseases
Infectious diseases
Inflammatory diseases
Cardiovascular diseases
Regional Overview, 2018-2028 (USD Billion)
North America
Europe
Germany
UK
France
Rest of Europe
Asia Pacific
China
Japan
India
Rest of Asia Pacific
South America
Brazil
Mexico
Rest of South America
Middle East and Africa
Reasons for the study
To study the regions and segments that will generate maximum revenue in the forecasted projections.
To study companies that are dealing with the research and development, instrument manufacturing, and marketing of the products or services that are best positioned in the market.
To help understand who your competitors are, which brands are direct competitors and who are indirect rivals
To extensively analyse the epigenetic inheritance developments including study of the influencing factors in specific details.
What does the report include?
Information that is hard for decision makers to access along with delivering new approaches for understanding complex business models, overall market analysis with focus on opportunities.
Market dynamics including future forecasts of individual market segments, country, target market, and market size, GDP, CAGR, market share information.
Actionable market intelligence with evaluation of competitive environment, technology developments, acquisition strategies, product pricing patterns, and future capabilities of target markets.
Competitive advantages of investing certain product or service, future prospects, and opportunities.
Who should buy this report?
The report is intended for all the interested participants including medical professionals, research institutions, academicians, R&D experts, and others seeking in-depth market intelligence on developments in epigenetic testing in recent years and future prospects.
The global epigentic market is expected to bounce back from the effect of pandemic and gather maximum market sales in the forecasted years. The industry growth is supported by continued penetration of advanced technologies for conducting better study of epigenetics to mitigate the growing prevalence and fatalities caused by cancer and other diseases, rising investments, and better clinical and scientific understanding of behaviour or environment changing the physical structure of DNA, and significant investments in technology. These factors are directing the global epigenetic market prognosis.
Furthermore, faster approval for drugs, therapeutics based on epigenetics study, supportive regulatory changes, significant technology investment, several epigenetic based therapeutics, increased filing of investigational new drugs applications, manufacturing improvements present a promising future and long-term growth opportunity for the global epigenetics market.
Integration of technology for studying the environment and other factors altering the DNA structure is offering thrice returns on investment and optimised results than traditional methods. Thus, increasing number of small and large companies research, development and manufacturing biotech firms who are investing in epigenetic inheritance,, epigenetic testing, and overall epigenetic development fields through optimal use of technology for better clinical and financial outcomes.
Kits Type Segment
Based on different approaches the epigenetic market is classified into several segments namely chip sequencing kits, bisulfite conversion kits, whole genome amplification kits, 5-hmC & 5-mC analysis kits, RNA sequencing kits. The chip sequencing kits is set to expand substantially in the global epigenetic market as the kits are enabling better capture of DNA targets, allowing better study the gene regulatory networks, etc.
Instruments Type Segment
Based on different approaches the market of epigenetic market is classified into several instruments namely next generation sequencers, qPCRs, mass spectrometers, and sonicators. The next generation sequencers accounted for the highest market revenue and are projected to grow considerably in the forecasted year 2021-2028.
Reagents Type Segment
Based on different approaches the market of epigenetic market is classified into several reagent segments namely antibodies, magnetic beads, histones, buffers, and primers. The antibodies segment is the biggest shareholder in the global epigenetic market. The epigenetics has played a significant role in developing antibiotic resistance in bacteria further leading to the greatest achievement in modern medicine. It has significantly reduced morbidity and mortality caused due to bacterial infections.
Enzymes Type Segment
The DNA polymerases has recorded positive revenue growth in the market as it is used as a vital factor during cell's central dogma specifically, in replication. It makes new DNA strands from old DNA strands.
Application Segment
The solid tumors and liquid tumors held the maximum market share of global epigenetic market as it is offering significant clinical benefits, R&D boost, and introduction of potential gene therapies by biotech, pharma firms, and research institutions addressing and identifying the causes of tumors. This is leading to further development of drugs and therapeutics mitigating the cause of tumors and increasing life expectancy of patients.
Among all the key continents in the world, North American region held fairly large percentage of market share of the global epigenetic market due to presence of world-class research facilities, and innovation drugs and therapeutics for various diseases, etc.
Asia Pacific is the next largest shareholder in global epigenetic market due to rising R&D activities, government funding, and increasing awareness of the benefits epigenetics offers in studying the factors of DNA causing fatal diseases like cancer.