there are several benefit of Employee Feedback Software Market such as Improved Communications, Increased Employee Engagement, Enhanced Performance Reviews, Improved Workplace Culture, Simplified Data Collection
the need of the Employee Feedback Software Market is vital to ensure the continued growth and success of a business. By providing employees with the ability to provide feedback on their work and performance, employers can gain valuable insights into how to improve their processes and increase workplace productivity. With this information, employers can make more informed decisions about employee engagement, training and development, and other aspects of managing a successful workforce. Additionally, employee feedback software allows businesses to quickly identify potential problem areas in the workplace and address them accordingly. This helps maintain an environment of mutual respect between employees and management that encourages collaboration and innovation.
various advantages of Employee Feedback Software Market include software helps to foster better employee engagement, as it allows employees to provide feedback directly and anonymously. The employee feedback software enables managers and HR teams to collect data from employees in real-time and use it to optimize processes that can lead to improved efficiency and productivity. With employee feedback software, communication between management and staff is streamlined, making it easier for everyone to stay informed about changes or developments in the organization. By collecting feedback from employees on a regular basis, organizations can identify areas of improvement or areas where performance could be improved, allowing them to take corrective measures quickly and efficiently. Employee feedback software can help employers identify potential problems early on and intervene before they become bigger issues that could cause employees to leave the organization.
the global Employee Feedback Software Market size was valued at USD 4.1 billion in 2020 and is projected to reach USD 6.8 billion by 2026, growing at a CAGR of 8.0% from 2021 to 2026.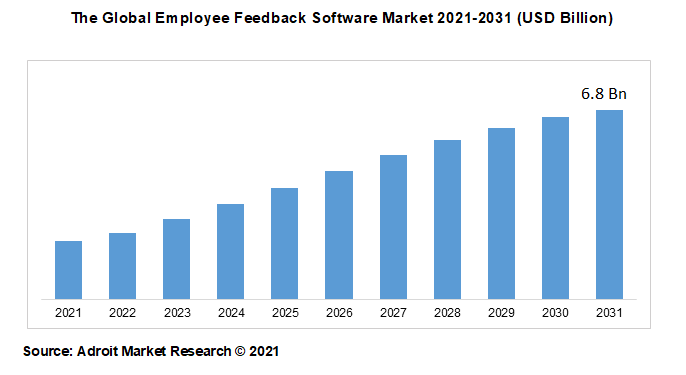 This growth can be attributed to the rising demand for workforce engagement software solutions from organizations across the globe. Additionally, the increasing trend of remote working among employees is driving the market for employee feedback software solutions as it enables employers to obtain feedback from their employees quickly and effectively. Companies are investing heavily in employee feedback technology to improve engagement levels, identify areas of improvement, make better decisions, and motivate their teams towards higher performance levels.
the Employee Feedback Software Market refers to software that enables organizations and businesses to collect, track, measure, analyze, and act on employee feedback. This type of software may include features such as survey templates, sentiment analysis, performance reviews and evaluations, digital forms for collecting feedback data and insights, reporting dashboards for viewing trends, and predictive analytics for making decisions about employee satisfaction. This helps employers to better understand the needs of their employees and make informed decisions about optimizing their workforce.
there are several factor driving the Employee Feedback Software Market. The demand for Employee Feedback Software has been increasing due to the need of improved employee engagement and feedback. This software helps organizations improve their interaction with employees by helping them understand their needs, opinions, and feedback better.
By using Employee Feedback Software, it can help increase productivity by providing insights into how employees are performing and what areas need improvement or additional support. This helps managers make decisions that can improve overall productivity outcomes. As an organization is able to better understand its workforce, they can look into ways to reduce costs such as reducing manpower or eliminating processes that no longer add value to the business. This helps to save money and also improves efficiency within the organization. With the help of Employee Feedback Software, organizations have access to timely data that can help them make better decisions about their workforce and overall operations. This aids in making informed decisions which in turn leads to increased profitability for the company.
the restrain and challenges faced by Employee Feedback Software Market. The metal products industry is facing a shortage of skilled labor, which has been exacerbated by the COVID-19 pandemic. This shortage affects production and delivery timelines and has caused price fluctuations in the market. The rising cost of materials and services due to inflation, tariffs, and other economic factors have put strain on the industry's profit margins. Additionally, the increasing cost of energy and transportation are making it difficult for some players to remain competitive in the market. With technological advancement, there is an increased competition among providers in terms of product quality, pricing and delivery times. The constantly changing technology landscape creates challenges for many players to keep up with innovation and maintain their competitive edge in terms of product offerings. Environmental regulations can make it difficult for companies to produce certain goods or use specific technologies within the industry due to their potential environmental impacts. These regulations also impact production costs as companies must comply with them in order to remain compliant with legal requirements.
Several Key players/ Manufactures/ Vendors of the market are profiled in the Report some of them are as follows Culture Amp, Workday, SurveyMonkey, Reflektive, 7Geese, TINYpulse, Glint, Officevibe , Quantum Workplace, Waggl
on the basis of type the Employee Feedback Software Market is segmented into Cloud-based, On-premises. among this cloud-based segment is expected to grow at the highest CAGR during the forecast period.Cloud-based solutions are cost-effective, reliable, and secure software solutions that are hosted on remote servers. This type of solution offers hardware agnosticism, scalability, and mobility to users. As these solutions do not require additional hardware or software investments, they can be accessed easily from any part of the world over the Internet. Additionally, cloud-based solutions offer real-time data access over multiple devices and platforms. Thus, businesses can monitor their operations in real time with minimal effort.
Furthermore, cloud-based solutions come with automated updates and maintenance services that help companies keep their systems up to date without any additional effort or cost. The growth in this segment is attributed to advantages offered by cloud deployment such as reduced total cost of ownership (TCO), scalability, instant accessibility of services & applications among others. Moreover, increasing number of organizations opting for cloud deployment model is also driving the growth of this segment.
on the basis of application Employee Feedback Software Market is segmented into Small and Medium Enterprises (SMEs), Large Enterprises. among this segment small and medium enterprises (SMEs) dominates the market due to its cost effective solution, user friendly interface. Small and Medium Enterprises (SMEs): Small and medium enterprises (SMEs) segment dominates the market due to its cost effective solution, user friendly interface. These software solutions provide customization in feedback collection process and offer an automated platform for collecting employee feedbacks.
This technology helps SMEs to identify the current job satisfaction level of employees and provides a better platform for employers to communicate with their employees in terms of performance related issues. Large Enterprises: Large enterprises segment is expected to grow at a faster rate during the forecast period as it helps large organizations to keep track of employee productivity and morale by providing a comprehensive platform for collecting employee feedback. It also facilitates decision making processes within large organizations in order to analyze employee opinions about various initiatives taken by management such as organizational restructuring, new policies etc.
on the basis of region analysis the Employee Feedback Software Market can be segmented into North America, Europe, Asia Pacific and rest of the world. North America leads the Employee Feedback Software Market due to technological advancement and huge demand for employee feedback software from various sector such as healthcare, banking and finance, automotive etc. In Europe, countries like Germany and France are expected to hold significant market share owing to increasing adoption of employee feedback software by organizations. The market in India is expected to have high growth with large number of SMEs adopting employee feedback software. The Rest of the World region is expected to show slow growth over the forecast period due to limited availability of these products in developing economies such as Africa, Latin America etc.
COVID-19 Impact and Market Status of the Employee Feedback Software Market
The COVID-19 pandemic has had a profound impact on the employee feedback software market. The outbreak of COVID-19 has resulted in a slowdown in the global economy, which has adversely affected the employee feedback software market. The pandemic has forced organizations to reduce their spending on employee feedback solutions and focus on other priorities. Moreover, many companies have deferred their plans to implement or upgrade employee feedback software due to economic uncertainty. However, some companies are using this opportunity to invest in employee feedback solutions that can help them gain a competitive edge and improve their workflows.
The employee feedback software market is segmented by type, application, and region. On the basis of type, the market is classified into cloud-based and on-premises solutions. Cloud-based solutions are expected to grow at a higher CAGR during the forecast period owing to their flexibility, scalability, and cost-effectiveness. On the basis of application, the market is bifurcated into small and medium enterprises (SMEs) and large enterprises. SMEs are expected to account for a major share of the employee feedback software market as these organizations are increasingly adopting cloud-based solutions due to their lower costs and ease of implementation.
Recent Development in the Employee Feedback Software Market 2019 to 2022
• in 2019, Employee Feedback Software Market has seen a significant growth in the market. The key trends observed in this market ar. Employee feedback software solutions have become increasingly automated, providing businesses with faster and more accurate insights into their workforce. Automated surveys and analytics tools are now available to collect and analyze employee feedback quickly and efficiently.
• AI is being used to better understand and analyze employee feedback, providing businesses with more meaningful insights than ever before. AI-driven platforms can also provide personalized recommendations to help managers make informed decisions about their workforce.
• Companies are realizing that employee engagement is essential for business success, leading to increased investment in initiatives designed to improve engagement such as regular check-ins, recognition programs, and team building activities.
Employee Feedback Software Market Scope
| | |
| --- | --- |
| Metrics | Details |
| Base Year | 2022 |
| Historic Data | 2021-2022 |
| Forecast Period | 2022-2031 |
| Study Period | 2021-2031 |
| Forecast Unit | Value (USD) |
| Revenue forecast in 2031 | USD 6.8 billion |
| Growth Rate | CAGR of 8.0 % during 2022-2031 |
| Segment Covered | by Type, By End User, By Application , Regions |
| Regions Covered | North America, Europe, Asia Pacific, South America, Middle East and Africa |
| Key Players Profiled | Culture Amp, Workday, SurveyMonkey, Reflektive, 7Geese, TINYpulse, Glint, Officevibe , Quantum Workplace, Waggl |
Key Segment of Global Employee Feedback Software Market
By Type Overview 2021-2031, (USD Billion)
• Cloud-based
• On-premise
By Application Overview 2021-2031, (USD Billion)
• Small and Medium Enterprises (SMEs)
• Large Enterprises
By Region Overview 2021-2031, (USD Billion)
North America
• USA
• Canada
Asia Pacific
• China
• India
• Japan
• Rest of Asia Pacific
South America
• Mexico
• Brazil
• Rest of North America
Europe
• Germany
• France
• UK
• Rest of Europe
Middle East and Africa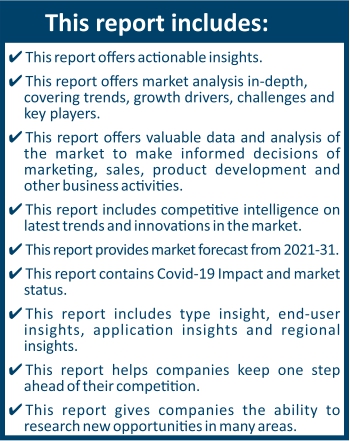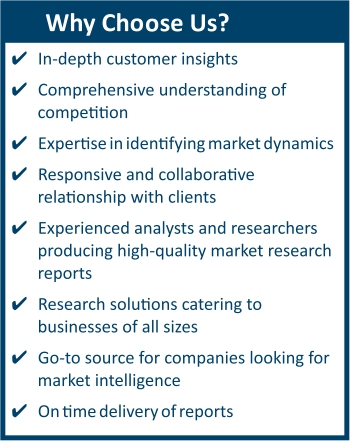 Frequently Asked Questions (FAQ) :
Employee Feedback Software Market is projected to reach USD 6.8 billion by 2026, growing at a CAGR of 8. 0