The massive market growth can be attributed to the increasing applications of dosimeter technology targeting different therapeutics and cancer related treatments.
Medical dosimetry prominence skyrocketing with increasing prevalence of fatal and complex disease with burgeoning demand for an accurate diagnosis and treatment are fuelling the scope for overall growth and development of the dosimetry technology industry. Dosimeters are also witnessing expansion in industrial applications such as manufacturing and agriculture thus offering lucrative scope for industry growth. Dosimetry technology has certain disadvantages such as tissue inequivalence and gaps in high voltage supply.
Dosimeters are radiation detection and measuring devices used to accurately determine the amount of ionizing radiation exposure of certain entities over a given period of time. Dosimeter is predominantly used tool in scientific research and experiments. the instrument allows exact determination of energy that is settled as a result of ionizing radiation.
It allows experts to study the effects and effective dosage for human body as a result of exposure to external ionizing radiation. Dosimeters are a form of wearable device used in medical studies wherein the phosphor crystals present in dosimeters effectively capture electrons that are released via different forms of toxic and hazardous radiation.
The presence of wrist bands and small badges on human body allows accurate results of measurement indicating the amount of harmful radiation exposure experienced by the wearer during a particular period of time. Certain type of dosimeters also are used to estimate and tract exposure to excessive noise. In medical research centers, hospitals and facilities, dosimeters are often work by maintenance staff, researchers and other officials that are exposed to radiation on a daily basis along with staff working in nuclear power plants that typically propose highly vulnerable environment.
Global dosimetry market players are placed on a robust foundation along with the soaring number of young market entrants coming forth with the objective of disrupting the conservative technology approach and replacing with highly innovative advancements to overcome the drawbacks of traditional applications. Surging threat of young players and the parallelly growing up gradation of the product features advancing the industry strength has resulted in market consolidation.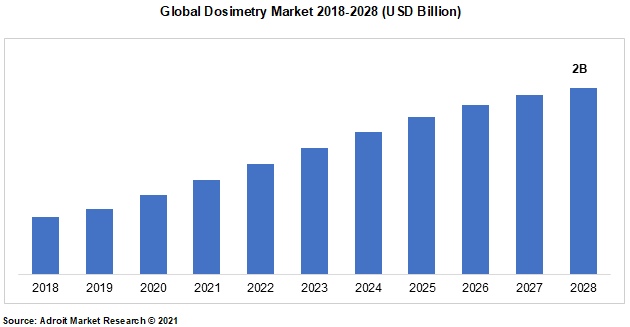 The major players of the global dosimetry market are Thermo Fisher Scientific, ATOMTEX Foulards, Landauer, Fuji Electric Co., Mirion Technologies, Honeywell International, Fortive, Hitachi, Panasonic, Ludlum Measurements and Fisher Scientific. The dosimetry market encompasses a solid marketspace comprising of well-established local players as well as globally acknowledged industry players. additionally, the previously recognized industry players are bringing in a suit of new, highly advanced technology systems and innovative strategies in order to gain a sustainable competitive lead in the global market.
Dosimetry Market Scope
| | |
| --- | --- |
| Metrics | Details |
| Base Year | 2021 |
| Historic Data | 2019-2020 |
| Forecast Period | 2022-2029 |
| Study Period | 2019-2029 |
| Forecast Unit | Value (USD) |
| Revenue forecast in 2029 | USD 4.3 Bn |
| Growth Rate | CAGR of 6.8 % during 2021-2029 |
| Segment Covered | by Product, by Modality, by Energy, by End User, Regions |
| Regions Covered | North America, Europe, Asia Pacific, South America, Middle East and Africa |
| Key Players Profiled | Honeywell, Fisher Scientific Inc., Landauer, Inc. (Fortive), Mirion Technologies Inc., Fuji Electric Corporation of America, Polimaster Inc., JP Laboratories Inc., X-Z Lab Inc., Ludlum Measurements Inc., Laurus Systems Inc., Far West Technology Inc., S.E. International Inc. |
Key Segments of the Global Dosimetry Market
Product Type Overview, 2018-2028 (USD Billion)
TLD (Thermo Luminescent Dosimeter
OSL (Optically Stimulated Luminescence Dosimeter
RPL
Film Badge Dosimeter
Electronic Personal Dosimeter
Application Overview, 2018-2028 (USD Billion)
Scientific Research
Medical
Industrial & Nuclear Plant
Regional Overview, 2018-2028 (USD Billion)
North America
Europe
UK
France
Germany
Rest of Europe
Asia Pacific
China
Japan
India
Rest of Asia Pacific
South America
Brazil
Mexico
Rest of South America
Middle East and Africa
Reasons for the study
Primary goal of the market study is to showcase the exhaustive research compiling crucial analysis of the global dosimetry market allowing you step-up against the rest of the market.
Ascertain your competitive position and identity amidst the innovations driven by the existing industry players to augment the future market scope.
What does the report include?
The research study on the global dosimetry market covers a holistic survey consisting of qualitative data outlining the market drivers, restrains, and opportunities.
The study comprehensively attains granular-assessment of the competitive landscape with existing and prospective players in the dosimetry industry followed by their strategic initiatives focused on product development
The study incorporates market segmentation qualitatively as well as quantitatively analysed displaying the product type and application segments. Also, the study provides similar evaluation of the key geographies.
Accurate market estimations, sizes and forecasts are also provided for each market segment mentioned above.
Who should buy this report?
The report on the global dosimetry market portrays a repertoire of industry relevant data suitable for market participants including dosimeter manufacturers, suppliers and distributors along with market participants including the consumers
Venture capitalists, biotech investors and entrepreneurs looking for accurate and reliable understanding of the future outlook of the global dosimetry market
Consultants, medical device companies, researchers, academic and research institutes seeking insights reshaping the global dosimetry market.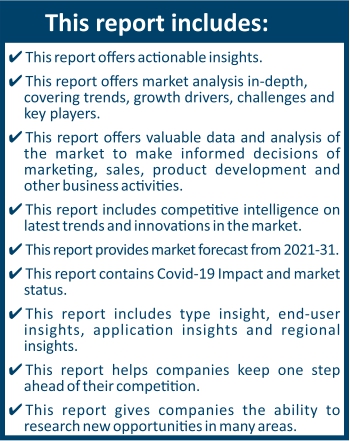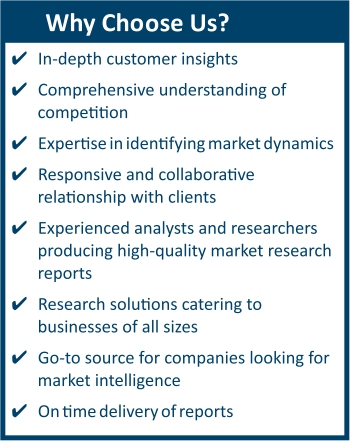 Frequently Asked Questions (FAQ) :
The market value of dosimetry market in 2028 was USD 2 billion
North America dominated the market for dosimetry market and accounted for the largest revenue share.
The application of the dosimetry market scientific research, medical, industrial & nuclear plant.
Rapidly expanding applications of the global dosimetry market across medical research fields along with industrial utility is expected to contribute significantly to the dosimeter technology demand over the forecast years. Increasing focus on safety of staff and workers employed at high risk industry facilities, manufacturing plants, nuclear power plants, medical research centers, and hospitals is exponentially accelerating the demand for dosimeters over the forecast span.
Burgeoning demand for dosimeters with surging adoption of dosimeters in cancer treatments considering the treatment involves exposure of patients to a specific range of radiation dosage with a view of invading cancerous cells is gaining momentum over the forecast period escalating the scope for overall market development.
Besides the crucial significance across medical applications, dosimeters are also gaining importance for usage in areas where maximum exposure to unwanted radiation through high volumes of hazardous and toxic waste presents critical danger to the health of workers as well as surrounding communities.
Rapidly soaring adoption and use of radioactive materials across a broad spectrum of industrial processes such as power and energy production, defense sector, medical research and imaging are contributing largely to the increasing traction acquired by the global dosimetry market.
Additionally, the need for radioactive protectants and devices capable of demonstrating efficient use in safeguarding against excessive radiation exposure has substantially amplified with the aggressive operating terrorist groups posing a threat with brutal nuclear weapons.
Product Type Segment
Based on the type of products, the market is fragmented into TLD (thermo luminescent dosimeter), OSL (optically stimulated luminescence dosimeter), electronic personal dosimeter, RPL, and film badge dosimeter.
TLD dosimetry segment has a predominant hold in the fields of medical research expected to amplify significantly over the forecast owing to the use of TLD as a passive radiation instrument primarily applied to monitor personal dosage.
With increasing use of OSL dosimetry across space research the segment is also likely to register sustainable growth during the forecast. Increasing focus on employee and staff safety is expected to spur the growth of the film badge dosimetry segment during the forecast as the personal dosimeter allows measurement of radiation exposure within a facility.
Application Segment
In terms of application, the market is bifurcated into industrial and nuclear plant, medical and scientific research. Increasing healthcare infrastructure, drastically rising influx of investments in medical sector and scientific research is anticipated to accelerated the growth of the medical and scientific research segment over the forecast years witnessing a surging adoption of highly advanced dosimeters.
Growing activities in the nuclear power plant sector and the burgeoning need for ensuring safety of workers exposed to highly hazardous nuclear elements is driving the demand for radiation dosimeters. The industrial segment is also expected to witness sustainable growth over the forecast years.
North America has largely dominated the market in the past and proposes lucrative growth over the forecast years anticipated to showcase acquisition of a significant chunk of global revenue share of the global dosimetry market due to the exceeding rate of demand by the consistently expanding landscape of end-user industries.
Developed countries such as the U.S. and Canada display a robust healthcare marketspace along with rapid industrialization catalysed by the skyrocketing technology advancements and government efforts to strengthen the defense sector altogether contributing to exponential growth of the global dosimetry market in the region during the forecast years.
Increasing initiatives in the U.S. adhering to the ambitious goals of drastically reducing the reliance for energy on thermal power is expected to accelerate the demand for radiation monitoring coupled with detection equipment and tools in the region. Asia Pacific also presents substantial scope for growth and development of the dosimetry market with growing industrialization and investments across the region.