The Digital Oilfield Market is expected to reach USD 54.4 billion during the forecast period at a 7.08% CAGR.
The global digital oilfield market was valued at USD 23,837.3 million in 2018. Oil & gas firms face tremendous strain on both their CAPEX and OPEX budgets. Big data investments and research in the oil and gas industry are expected to grow over the next couple of years. Therefore, during the forecast period, high adoption by oil and gas companies is anticipated to drive the digital oilfield market.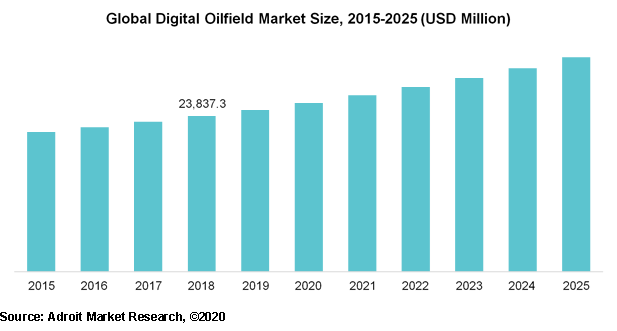 Digital oilfield refers to the process of automating operations on the upstream, midstream, and downstream oilfield. This is a part of the energy industry that integrated advanced software and data analysis techniques into its operations to produce better performance and increase production process profitability. Digital oilfield offers advantages such as enhanced health, optimized hydrocarbon production rates, environmental security and ease in discovering and exploiting reserves to the fullest. Digitisation of oilfields in business terms is the application of capital (man and machine) to achieve cost-effective and reliable production.
The global digital oilfield market has been segmented based on solutions, processes, application, and region. Based on solutions, the global digital oilfield market is categorized into hardware, software and services, and data storage. On the basis of processes, the global digital oilfield market is segmented into small and medium enterprise, and drilling optimizations. Based on application, the digital oilfield market is classified into offshore, and onshore.
Key players operating in the global digital oilfield market include Schlumberger, Halliburton, Baker Hughes, Sinopec Oilfield Service, Honeywell International, Siemens, National Oil well Varco, ABB, Kongsberg Gruppen, Cisco Systems, Emerson Electric, General Electric, Weatherford International, Rockwell Automation, Pason Systems, International Business Machines (IBM), Accenture, Wipro, and Dell EMC among others.
Digital Oilfield Market Scope
| | |
| --- | --- |
| Metrics | Details |
| Base Year | 2022 |
| Historic Data | 2020-2021 |
| Forecast Period | 2022-2030 |
| Study Period | 2020-2030 |
| Forecast Unit | Value (USD) |
| Revenue forecast in 2030 | USD 54.4 billion |
| Growth Rate | CAGR of 7.08 % during 2022-2030 |
| Segment Covered | By Process, By Solution, Regions |
| Regions Covered | North America, Europe, Asia Pacific, South America, Middle East and Africa |
| Key Players Profiled | Schlumberger, Halliburton, Weatherford International, ABB, Emerson, CGG, Siemens, Rockwell Automation, Kongsberg |
Key Segment Of The Digital Oilfield Market

By Process, 2022-2030 (USD Million)
• Drilling Optimization
• Reservoir Production
• Production Optimization
• Safety Management
• Others
By Solution, 2022-2030 (USD Million)
• Hardware
• Software
• Data Storage
• Others
By Application, 2022-2030 (USD Million)
• Onshore
• Offshore
By Technology, 2022-2030 (USD Million)
• IoT
• Advance Analytics
• Robotics
• Cloud Computing
• Mobility
• Others
Regional Overview, 2022-2030 (USD Million)
North America
• US
• Canada
Europe
• Germany
• France
• UK
• Rest of Europe
Asia Pacific
• China
• India
• Japan
• Rest of Asia Pacific
South America
• Mexico
• Brazil
• Rest of South America
Middle East and South Africa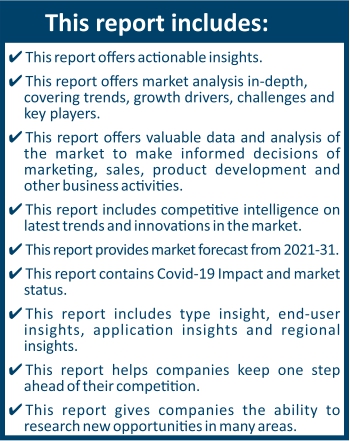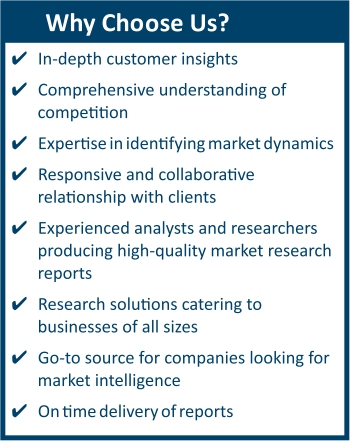 Frequently Asked Questions (FAQ) :
The market value of digital oil field market in 2025 was USD 32,855.3 million
the digital oil field market is growing at a CAGR of 4.8% during the forecast period
North America dominated the market for digital oilfield market and accounted for the largest revenue share
In the last few years, oil companies around the world have made dramatic advances to the way in which they operate their oilfields. Today's oil operations are safer, more collaborative, and much more productive than ever before. The processes and technologies that have allowed these improvements are centered on better workflows and efficiencies. More data from more areas of the operation is coupled with advanced analytics to provide an increased understanding of the physics and activities of the oilfield. The different trends that have always made the upstream an exciting theater of technology still come and go, but the main focus remains on advancements in workflows that provide long-life benefits and OPEX-driven savings. To meet the increasing and challenging demands of safety, collaboration, and enhanced oil recovery, Oil & Gas companies require a reliable and versatile network infrastructure that offers high performance and security, and supports multiple end devices which are often moved to different locations around the field. Each element of this network must operate with mission critical reliability and in extreme environmental conditions while supporting a multitude of business applications simultaneously. The result is an Intelligent Digital Oilfield that has a high-performance IP-core network with a high-capacity, low-latency wireless transport which operates across a large range, in extreme climates, provides non-line of sight functionality and is interoperable with devices from many vendors.
The digital oilfield revolution was born, in part, due to the emergence of Big Data and Internet of Things technologies in the software industry. The oil & gas sector, in turn, applied the concepts of Big Data and Internet of Things directly to its upstream activities. Specifically, innovations in hardware, data analysis, and networking & communications technologies have enabled new E&P processes to what it is now known as the digital oilfield. With the potential to extract hydrocarbons more efficiently and environmentally, the digital oilfield represents a significant business opportunity for the oil & gas industry. The precursor to establishing a digital oilfield centers on information and data collection, which has fostered innovation in sensor technologies designed specifically for oil & gas applications. Wireless-based sensors have enabled oil & gas companies with continuous data collection and real-time monitoring of their oilfields. Specific measurements in sensor technology range from seismicity, temperature, pressure, vibration, leaks, etc. Leading companies in oil & gas sensor technologies include Silixa, Welldog, and GasSecure
The global digital oilfield market segmented based on solutions was dominated by hardware segment and accounted for nearly 40% in 2018. The hardware solutions segment includes Distributed Control System (DCS), Supervisory Control and Data Acquisition (SCADA), Smart Wells, Protection Devices, Wireless Sensors, Programmable Logic Controller (PLC), Computer Equipment & Device Hardware, Process Automation Manager, and Human Machine Interface Instrument. The global digital oilfield market hardware segment is expected to expand at a rapid pace over the forecast period. Oilfield operators' capital investment in technology enhancement and process automation helps companies to reduce unproductive time, maximize output and enhanced control, and regulate oil & gas fields.
The global digital oilfield market segmented based on region was dominated by Middle East and Africa, generating nearly 33 % share of the overall market size in 2018. However, North America is expected to be the fastest growing region during the forecast period.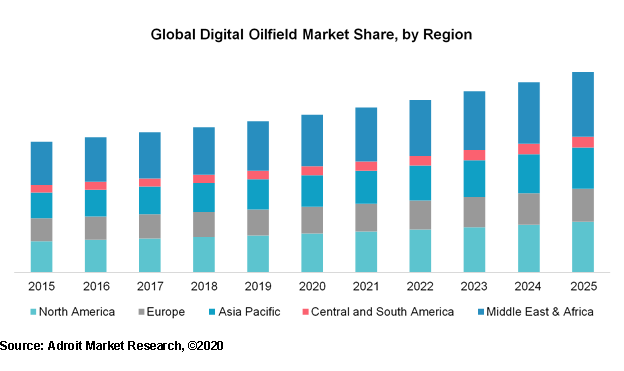 North America is positioned to develop due to the emergence of leading oil and tech companies, having superior technical capabilities. A number of DOF products and solutions are sold by the Schlumberger, Halliburton, BHGE, Rockwell and others. Surge in domestic production and discoveries on the oilfield have changed the scope of the industry. With its total capital expenditure and shale & traditional reserves forecast to grow by about 10 percent by the end of 2018, the US remains the largest investment center for the investors.